Onkyo TX-RZ3100/1100 Atmos A/V Receivers & Inflated Power Ratings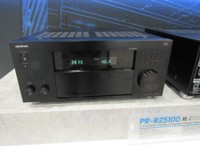 Custom home theater installers will be happy to see Onkyo's new lineup of A/V receivers this week at the CEDIA show in Dallas, Texas. Built with custom integration in mind, each Onkyo RZ Series receiver contains features to make installation and integration with control systems easy. The THX Select2 Plus-certified 11.2-channel TX-RZ3100 Network A/V Receiver and the 9.2-channel TX-RZ1100 Network A/V Receiver, along with a flagship THX Ultra2 Plus-certified 11.2-channel PR-RZ5100 Network A/V Processor are some of the best Onkyo products we've seen despite their ridiculous power ratings. Read on to find out why.
Onkyo's new TX-RZ3100 and TX-RZ1100 Atmos/DTS:X A/V receivers, and PR-RZ5100 Processor are built with custom integration in mind and everything you need including inflated power ratings?