AURO-3D Auriga AV Receiver Preview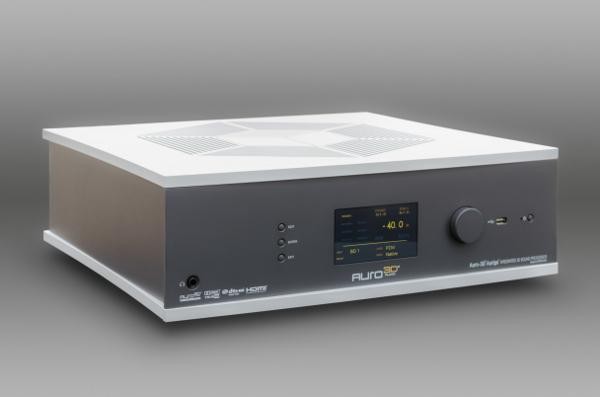 AURO-3D Auriga Receiver
Summary
MAIN HARDWARE FEATURES
200 watts/ch x 13 channels
Professional grade quality design
Set-up and parameters via LAN or Wi-Fi connection
Remote control over LAN or Wi-Fi, via Smartphones, iPads or Android-based devices
Sophisticated equalization and multi-subwoofer management
16 audio channels (13 amplified channels plus 4 RCA lines)
4 HDMI inputs, 1 HDMI output
Remote monitoring capabilities
MAIN SUPPORTED AUDIO AND VIDEO FORMATS
3D High-Definition Audio: Auro-3D® (Auro 8.0 up till Auro 13.1)
High-Definition audio: DTS-HD Master Audio, Dolby® TrueHD
3D HD video support
TECHNOLOGY AND PROCESSING CAPABILITIES
Auro-3D® Engine (includes Auro-Codec® Decoder and Auro-Matic®)
HDMI V1.4a compliant digital audio with video pass-thru
2 ADI SHARC 4 processors
1 Sigma DSP
HDMI 192kHz audio support
Executive Overview
With all the talk of Dolby Atmos, it is easy to forget that there are competing height and top sound solutions coming to market. AURO-3D is one such solution. They have a similar channel-based solution as Atmos adding height and top channels to your system. Like Atmos, AURO-3D can take 5.1 or other non-AURO-3D encoded content and expand it to include the height channels. Unlike Atmos, AURO-3D doesn't have nearly the market penetration to date. Right now, they have only a handful of non-Indian movies encoded for AURO-3D. I checked Amazon on a few and AURO-3D is not listed as a supported format. If you want to get an AURO-3D-encoded version, you may have to contact AURO-3D directly ([email protected]).  They did send us a music Blu-ray from Mando Diao which demonstrated incredibly good fidelity in 7.1 DTS Master Audio per our listening tests.  We look forward to evaluating the Auro 9.1 surround track when we get our hands on an Auro 3D capable processor or receiver like the Auriga. 
AURO states that the main differences between them and Atmos are:
Atmos has two vertical layers, AURO-3D has three
AURO-3D has one top "voice of God" speaker placed directly overhead
Atmos speakers are placed much higher than AURO-3D speakers - AURO speakers are in line with existing 5/7.1 speakers but elevated allowing more precise vertical sounds

AURO-3D is based on uncompressed PCM, Atmos uses lossy AC-4*
AURO-3D is a mixing format as well as a native encoding format (Atmos is only the latter according to AURO)
*Editorial Note About Dolby Atmos and TrueHD


While Auro claims Dolby uses lossy AC-4 for Atmos, according to the Atmos White Paper, Dolby claims Atmos over Blu-ray can be rendered losslessly via TrueHD.  So we suspect the lossy AC-4 statement applies to streaming Atmos which we will confirm as these services become available.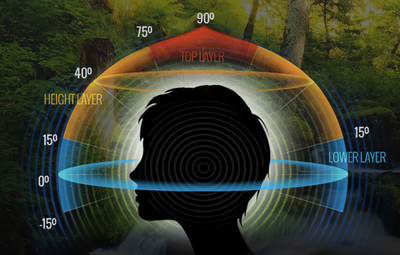 AURO-3D Speaker Layers

While no receiver manufacturers have partnered with AURO as of yet, they have released their own receiver - the $16,700 Auriga. The AURO Auriga has four HDMI inputs and one output along with three coaxial and three optical digital inputs. Five pairs of RCA-style analog inputs round out the inputs. The Auriga sports 13 channels of amplification (at 200 watts per channel, 8 ohms, all channels driven according to AURO) with pre-outs for up to 16 different speakers. Right now it doesn't support 4K but will through a firmware update.
While the Auriga supports all the popular legacy high-def surround formats (DTS HD, Dolby TrueHD) as well as the expanded formats (DTS Neo:X, Dolby ProLogic IIz), it is the only one that supports AURO-3D. If there is no AURO-3D metadata, it will take whatever format is available (including PCM) and expand it to the existing speakers. The Auriga supports up to 24/192 audio over HDMI and has full bass management for up to three subwoofers. There are 10 parametric filters per channel and 12 global system configuration memories but no mention of any specific room correction system. The Auriga does have an XLR microphone input but we don't know if that will be used for auto setup or other calibration solution.
The Auriga can be controlled over IP or from your phone or tablet via an app. There is no mention of a remote but we have to believe there is one. It can be connected to the Internet via an Ethernet connection or an included WiFi dongle. There is a second zone of audio but it only supports stereo audio (RCA analog input). The HDMI connections are only version 1.4a so those interested in maintaining future compatibility with HDMI 2.0 or HDCP 2.2 may have cause for concern.
Conclusion
AURO-3D may well be a superior technology than Atmos but we may never know as there are only (from the AURO-3D site) four theaters in the US that are AURO-3D equipped. What's exciting is that there is now competition for Atmos giving us (hopefully someday) options. Once all the receiver manufacturers adopt Atmos and they start looking for the new "new thing," AURO-3D might be it. Or they might all turn to DTS UHD. Only time will tell.  We are hearing from industry insiders that Auro 3D processing requirements aren't too resource intensive and it's very possible that new Atmos capable receivers coming out now can later be firmware updated to Auro.  We hope this is true so early adopters won't have to do yet another upgrade to get the latest surround codecs into their home theaters. In any event, for the time being if you want Auro 3D processing, you're gonna have to pony up almost $17k on their new Auriga AV receiver.
For more information, please visit www.auro-3d.com.

Unless otherwise indicated, this is a preview article for the featured product. A formal review may or may not follow in the future.