Denon S-Series A/V Receivers Preview
Summary
AVR-S500BT

Number of power amps: 5
Power output: 90 watts per channel (6 ohms, 1 kHz, THD 0.7%, 2ch driven)
70 watts per channel (8 ohms, 20Hz - 20 kHz, THD 0.08%, 2ch driven)
Output connectors: 4 - 16 ohms
Power supply: AC 120 V, 60 Hz
Power consumption: 310 W (Standby 0.1W, CEC-Standby 3.6W)
Dimensions (W x H x D): 17.1" x 5.9"x 12.6"
Weight: 16.5 lbs

Ports
IN
HDMI x 5
Composite (video) x 2
Analogue Audio x 2
Digital Optical x 2
Digital Coaxial x 1
USB Port x 1

OUT
HDMI Monitor x 1
Composite Monitor x 1
Audio Preout (SW) 0.2 ch
Phones x 1
AVR-S700W
Number of power amps: 7
Power output: 110 watts per channel (6 ohms, 1 kHz, THD 0.7%, 2ch driven)
75 watts per channel (8 ohms, 20Hz - 20 kHz, THD 0.08%, 2ch driven)
Output connectors: 4 - 16 ohms
Power supply: AC 120 V, 60 Hz
Power consumption: 400 W (Standby 0.1 W, CEC standby 0.5 W)
Dimensions (W x H x D): 17.1" x 5.9"x 13.3"
Weight: 18.9 lbs

Ports
IN
HDMI x 6 (1 front)
Composite (video)x 2
Analogue Audio x 2
Digital Optical x 2
USB Port x 1
OUT
HDMI Monitor x 1
Composite Monitor x 1
Audio Preout (SW) 0.2 ch
Phones x 1
AVR-S900W
Number of power amps: 7
Power output: 125 watts per channel (6 ohms, 1 kHz, THD 0.7%, 2ch driven)
90 watts per channel (8 ohms, 20Hz - 20 kHz, THD 0.08%, 2ch driven)
Output connectors: 4 - 16 ohms
Power supply: AC 120 V, 60 Hz
Power consumption: 460 W (Standby 0.1 W, CEC standby 0.5 W)
Dimensions (W x H x D): 17.1" x 6.6"x 13.3"
Weight: 21.4 lbs

Ports
IN
HDMI x 8 (1 Front)
Component x 2
Composite (video) x 2
Analogue Audio x 4
Digital Optical x 2
Digital Coaxial x 1
USB Port x 1
OUT
HDMI Monitor x 2
Audio Preout (SW) 0.2 ch
Component Monitor x 1
Phones x 1
Executive Overview
With the HDMI 2.0 specification released, it was only a matter of time before Denon jumped on the bandwagon. Fresh for 2014, they've released their new S-Series lineup of A/V receivers; consisting of three new models, the range includes the entry level S500BT (SRP $249), the midline S700W (SRP $449), and the top dog S900W (SRP $599). As you might guess by the names alone, HDMI 2.0 isn't the only thing Denon's latest and greatest bring to the table: all models include Bluetooth connectivity, while the S700W and S900W step things up with integrated WiFi. So what else do you get for your hard earned cash?
| | | | |
| --- | --- | --- | --- |
| Model |  AVR-S500BT | AVR-S700W | AVR-S900W |
| Expected UAP | $249 | $449 | $599 |
|  WiFi | No |  Yes |  Yes |
|  Bluetooth |   Yes |   Yes |  Yes |
|  4K30 Pass Through |   Yes |   Yes |   Yes |
|  4K60 Pass Through |   Yes |   Yes |   Yes |
|  4K Scaling |  No |  No |   Yes |
|  HDMI Version |  2.0 |  2.0 |  2.0 |
|  HDMI In/Out |  5/1 |  6/1 |  8/2 |
|  Channels |  5.2 |  7.2 |  7.2 |
|  Auto Setup |  Yes |  Yes |  Yes |
|  Power |  140/90/70 Watts |  165/110/75 Watts |  185/125/90 Watts |


AVR-S500BT
If you're in the market for an entry level receiver, there's no doubt in our minds that the S500BT has a heck of a lot to offer. You get 5 channels of discrete amplification boasting 70W of output per channel (into 8 ohms, 20Hz-20kHz, 0.08% THD, 2 ch driven), a pair of subwoofer outputs, and 5 HDMI inputs plus one output. Potential customers should take note: only two of the HDMI inputs are 2.0 compliant, namely the Blu-ray and GAME inputs; consequently, if you need to pass a 4K/60Hz signal, those are the inputs to use. As mentioned, the S500BT also brings Bluetooth audio streaming to the table, which is a nice touch at this price point. For those that prefer to wire up their mobile devices, the entry level Denon also offers a USB port on the front panel which is compatible with MP3, WMA, and AAC formats. Another unexpected addition is an auto-setup/calibration routine. However, unlike its brethren, the S500BT forgoes Audyssey in favor of a proprietary auto-setup/EQ program. Wrapping things up, the S500BT also comes with a power saving Eco mode, which is something that will have interesting implications in the higher level models.
Overall, the S500BT looks like a solid starter receiver; you don't get all the bells and whistles or an unlimited supply of power. In addition, speaker outputs are limited to spring clips as opposed to the binding posts seen on its bigger brothers. But let's face facts: for $249, most people don't really expect much more than the basics. The S500BT delivers that and a few nice perks that you ordinarily don't see at this level.
AVR-S700W
Given that it's nearly double the price of the S500BT, you'd rightly expect a lot more out of the S700W. Fortunately, the middle child looks to step things up in every way. The S700W offers 7.2 channels of audio (with two assignable amp channels for a second zone of audio), as well as a marginal increase in power, bumped to 75W per channel. Another HDMI input is added, placed on the front panel; however, as with the S500BT, only two are HDMI 2.0 compliant. In addition, as the W suggests, the S700W is a full-fledged networking receiver with on board WiFi antennas, which brings about a plethora of benefits. The S700W is Airplay and DLNA 1.5 compatible, allowing you to stream music from just about any device. In addition, it offers Sirius/XM, Pandora, Spotify, and vTuner streaming services, as well as a control app for iDevices and Android.
But wait, there's more! The S700W also steps up the auto-setup/calibration system to Audyssey MultEQ (and includes Dynamic EQ and Dynamic Volume). Meanwhile, the USB port on the front panel receives an upgrade as well, introducing support for WAV, FLAC, 192/24, DSD64, ALAC, AIFF, and JPEG formats. And remember that Eco mode we mentioned? The folks at Denon smartly tied that in with 4 ohm certification. No, the S700W won't deliver huge output into low impedance loads. However, the current limiting aspect of the Eco mode (a requirement for the European market) was something that engineers found they could retool slightly to allow folks to safely drive a 4 ohm load without excessive heat buildup.  Just realize that once you flip the switch to low impedance mode, you also significantly reduce available output power to your speaker system. 
See our take on How to Set the AV Receiver Impedance Switch
AVR-S900W
Honestly, we'd expect a receiver like the S700W to fill the needs of most users. But what if you're not "most users?" For an additional $150, the S900W ups the ante a bit further. Power receives another modest upgrade up to 90W per channel, and there are a total of 8 HDMI inputs on board (including one on the front panel), all of which are HDMI 2.0 compliant. In addition, there is a second HDMI output, which is particularly helpful for those who utilize a projector as well as a flat panel display in the same room. Want more? The S900W also comes with video processing capabilities, offering video scaling to 4K & 1080p resolutions with Picture Adjust and noise reduction. Analog video can also be scaled and converted to HDMI, which is useful given that the S900W adds pair of component video inputs (though it offers one component video output as well). Last but not least, the S900W also comes with a web control application in addition to the smartphone/tablet control apps seen in the S700W.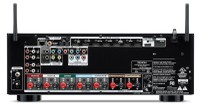 Summary
It's always exciting when manufacturers release their latest and greatest. In the case of Denon's S-series, there's a lot to talk about, which is especially impressive given the low price points. We're particularly wowed by the value offered from the middle child S700W; you can always add more features to drive up cost, but we're willing to bet for a great many users, the S700W fits the bill nicely. About the only thing we could ask for from it and its big brother the S900W would be preamp outputs for users that want to add a bit more power to the equation. Interested in one of Denon's new A/V receivers? Tell us about it on our forums.
Confused about what AV Gear to buy or how to set it up? Join our Exclusive Audioholics E-Book Membership Program!
Recent Forum Posts:
Marshall_Guthrie posts on July 23, 2014 07:47
Adam, post: 1042436
Steve, have you guys gotten a chance to check these out in person, yet?
The video review just got posted to YouTube. You'll see it on the website within a few days.
Marshall
Adam posts on July 23, 2014 07:45
Steve, have you guys gotten a chance to check these out in person, yet?
rojo posts on May 08, 2014 10:07
These look nice. I'm still hoping for Audyssey XT32 and Sub EQ HT to trickle down do more lower-priced receivers, though. Maybe next year. I'm sure I'll be recommending these at some point, though.
Post Reply