Marantz SR6009 / SR7009 Dolby Atmos Network AV Receivers Preview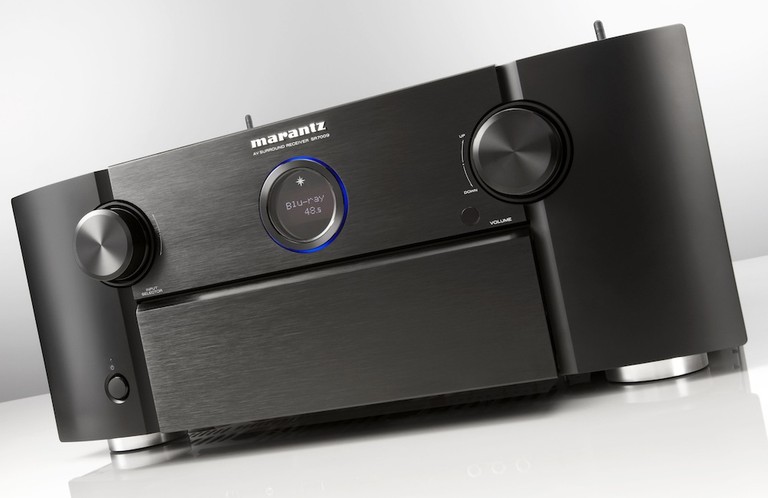 Marantz SR7009 Network AV Receiver with Dolby Atmos
Summary
Product Name:

SR7009; SR6009

Manufacturer:

Marantz

Review Date:

August 28, 2014 08:00

MSRP: $1,999 (SR7009); $1,299 (SR6009)
First Impression:

Pretty Cool
SR6009 Network AV Receiver – Main Features
Wi-Fi and Bluetooth built-in
Current Feedback topology and new Marantz HDAM
7ch discrete power amplifier, 110 W per channel
New small trapdoor design; aluminum front panel
Dolby TrueHD and DTS HD Master Audio
Audyssey MultEQ XT room calibration (Pro ready)
Audyssey DSX; dts-Neo:X (7.1ch)
Latest HDMI version with 4k 50/60Hz 4:4:4 resolution
7+1 front HDMI in / 2 out (zone out) (4k 50/60Hz, 3D, ARC, Deep Color)
HDMI scaling 1080p, 4k 50/60 Hz
MP3, WAV, AAC, WMA, AIFF
HD Audio streaming: FLAC 192/24, DSD, ALAC
Gapless Playback
USB port
vTuner Internet Radio, Spotify Connect*, Pandora,*, Sirius XM*, (*where available, subscription required)
Phono (MM) input
Setup Assistant and Advanced GUI
4 Smart Select buttons for fast selection of listening presets
7.2ch pre-out, RS232
7.1 ch External Inputs
Marantz Remote App for iOS and Android devices
ECO mode
110 watts per channel (8ohm, 20-20kHz, THD 0.08%)
Dimensions: 17.3"W x 15.7"D x 6.3"H
Weight: 25.1lbs

SR7009 Network AV Receiver – Additional Features
9ch discrete power amplifier, 125 W per channel
Big trapdoor design
Dolby Atmos
Audyssey MultEQ XT32, LFC, Pro ready
Audyssey DSX; DTS Neo:X (11.1ch)
Audyssey Sub EQ HT
3 HDMI out (2 + 1 zone)
125 watts per channel (8ohm 20-20kHz, THD 0.05%)
11.2ch signal processing and 13.2ch pre-out (with 2 independent subwoofers)
Dimensions: 17.3"W x 16.2"D x 7.3"H
Weight: 30.4lbs

Have you been looking for a reason to upgrade your receiver? Do 3D and 4k lack the "Wow" factor to get you to open your wallet because one is headache inducing and lame and the other requires you to purchase a display that costs more than your car? Do you have a stack of unused speakers in your closet just begging to be repurposed?
Dolby Atmos is the latest feature attempting to grab consumers' attention (and their hard-earned dollars). While we've talked about Dolby Atmos ad nauseam, the gist is that it allows for your normal 7.1 (or more subs we hope) system with up to four speakers on the ceiling. The idea is to increase the listeners immersion in the material.
Since Marantz was brought into the D&M family, they've quickly become the go to choice for those that want all the features offered by the likes of Denon with support for more esoteric gear such as external amps. Their first offerings with Dolby Atmos have been announced in the SR7009. At the same time, the new SR6009 has been announced. First the SR6009.
Marantz's offerings all have their distinctive porthole look. The SR6009 will ship for $1299 and sports 7.2 channels at 110 watts per channel (8ohm, 20-20kHz, THD 0.08%). There are 7.2 channel outputs for connection to external amplifiers and 7.1 channel inputs for legacy gear. Vinyl lovers will appreciate the phono input while custom installers will appreciate the RS-232 port and IR inputs and outputs.
Both SR6009 and SR7009 are ISF certified and contain Marantz's HDAM analog preamplifier circuitry for improved audio performance.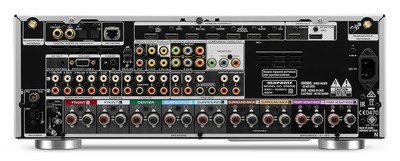 Marantz SR6009 Rear Panel

While there is an Ethernet port for a direct connection to your home network, the Marantz SR6009 has dual WiFi antennas for the best possible wireless streaming. Also included is Bluetooth compatibility for streaming from your phone or portable device.  Streaming is also supported via ethernet and USB.
Lest you think we forgot, there are seven HDMI inputs on the back and one on the front (under the new trapdoor in the aluminum face). Dual HDMI inputs are onboard with one supporting ARC (Audio Return Channel) and the other for a Zone 2. A pair each of coaxial and optical digital inputs is available as are RCA analog inputs. An extra pair of speaker connections allow the repurposing of amps on the fly without having to manually switch speaker connection.
The SR6009 can accept MP3, WAV, AAC, WMA, and AIFF through the USB port, can stream FLAC 192/24, DSD, ALAC, and can connect to vTuner Internet Radio, Spotify Connect, Pandora, and Sirius XM. Audyssey MultEQ XT in on board along with DSX and DTX Neo:X. For those that want one connection to their display, the SR6009 can upscale any analog input to 1080p or 4k at 50/60 Hz. 
The $1999 SR7009 is the first receiver from Marantz with Dolby Atmos. It has all the features of the SR6009 with a number of improvements. First, it bumps up the number of channel to nine with 125 watts per channel. Audyssey has been improved to the latest XT32 with SubEQ HT and LFC version with DTS:Neo:X being improved from 7.1 to 11.1 channels. There are now three HDMI outputs (two that are mirrored and one that is for Zone 2). The SR7009 has 11.2 channel processing including two independent subwoofers. There are outputs for 13.2 channels. (7.2 channels with dual height pairs and one pair of width speakers).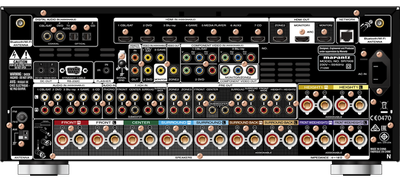 Marantz SR7009 Rear Panel (rendering)

So, how does the Dolby Atmos thing work? The SR7009 has the processing power to run, 7, 9 or 11 channel Dolby Atmos layout using 5.1.2, 5.1.4, 7.1.2, 7.1.4 or 9.1.2 configurations utilizing ceiling mounted, or Dolby Atmos-enabled speakers. A 5.1.2 or 5.1.4 speaker configuration is based upon a traditional 5.1 speaker layout complemented by 2 or 4 overhead or Dolby Atmos-enabled speakers. A 7.1.2 or 7.1.4 configuration is based on a 7.1 speaker layout with 4 overhead, or Dolby Atmos-enabled speakers. A 9.1.2 configuration is based on a 9.1 speaker layout with 2 overhead speakers.
The SR7009 and SR6009 are shipping now with Dolby Atmos technology enabled (SR7009 model only) so you'll be ready to try it out once you add more speakers.
Unless otherwise indicated, this is a preview article for the featured product. A formal review may or may not follow in the future.