Marantz SR5009 A/V Receiver HDMI 2.0 Preview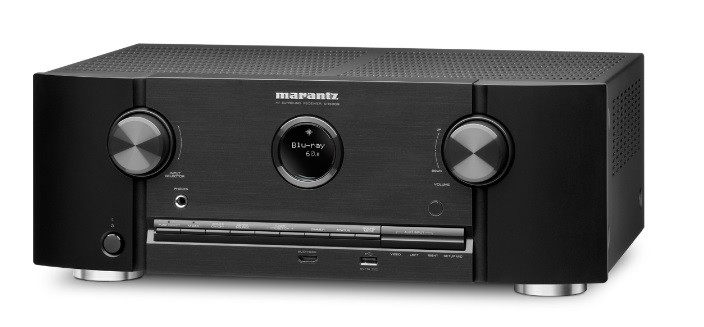 Meet the Marantz SR5009.
Summary
HDMI inputs back / front: 7 / 1
HDMI outputs main / zone: 2 / -
Analogue to HDMI scaling: up to 4k 24/25/30 Hz
HDMI to HDMI scaling: up to 4k 24/25/30 Hz
Power Output (6 ohm, 1 kHz, 1% THD, 1ch Driven): 180 W
Power Output (6 ohm, 1 kHz, 0.7% THD, 2ch Driven): 140 W
Power Output (8 ohm, 20 Hz-20 kHz, 0.08% THD, 2 ch Driven): 100 W
Maximum Power Consumption: 650 W
Power consumption No-Sound (ECO on / off): 45 W / 75 W
CEC Standby Consumption: 0.5 W
Dimensions (W x D x H): 17.32" x 13.62" x 6.34" (440mm x 346mm x 161mm)
Weight: 22.66lbs (10.3 kg)

With the recent release of the AVR-X*100W series receivers from Denon, we figured it was only a matter of time before sister company Marantz would have something new to talk about. Today that something is the SR5009 A/V receiver. Priced at $899 like its predecessor, the SR5009 steps things up a notch, bringing HDMI 2.0 as well as integrated Wi-Fi and Bluetooth to the table. Want to know more? Let's dig in!
Feature Set
As you'd expect from a receiver in this price class, the Marantz SR5009 is loaded with almost every feature you might want. Eight HDMI 2.0 inputs are available (including one on the front panel), as well as two outputs (both for the main zone). Video upscaling is on board for both analog and HDMI sources, all the way up to 4K/30Hz resolution. As mentioned previously, wireless networking is included, as is Apple Airplay, DLNA 1.5, Spotify Connect, Flickr, and vTuner internet radio. Gapless playback is supported, as is a wide variety of file formats, including MP3, WAV, AAC, WMA, AIFF, FLAC 192kHz/24bit, DSD, and ALAC. In addition, Marantz's remote app is available for iOS and Android devices.
The rear panel of the Marantz SR5009 spots a useful assortment of connection options, as well as a pair of Wi-Fi antennas.

Beyond wireless and HDMI, the SR5009 has a wide array of connectivity options. A USB port is located on the front panel for connecting your mobile devices. On the rear panel, there is a pair of component video and composite video inputs, as well as a single output for each. On the audio side, there are two digital coaxial and optical digital connections, as well as a quartet of stereo analog inputs. Last but not least, the SR5009 includes an Ethernet jack, just in case you have some aversion to wireless (or if your receiver happens to be conveniently located near your wireless router).

So what about features for the audiophile? No worries, Marantz hasn't forgotten about you. The SR5009 includes Audyssey MultEQ XT auto-setup and calibration to optimize sound quality. The other big plus seen here is a full complement of 7.2 channel preamplifier outputs, allowing users to run their own amps if desired.
The Specs
So what can this baby actually do? To find that out we had to dig just a little bit. The Marantz release proudly boasts of 180W per channel times seven channels of amplification. Unfortunately, mum was the word on how that figure was derived. Fortunately, the SR5009 page is already live on some of Marantz's European sites, so we can tell you that 180W figure is into 6 ohms, at 1kHz, 1% THD, with 1 channel driven. Suffice it to say, 180W is a pipe dream made for ads, rather than a true measure of what the Marantz is capable of. In terms of real power, the SR5009 is specified to deliver 100W, 20Hz-20kHz, 0.08% THD, with two channels driven. In other words, specified power is identical to the outgoing SR5008.

Of course while the amplification hasn't changed, we were handed several measurement reports from Marantz Engineering regarding updates to the HDAM circuitry used in the preamplifier stage of the SR5009. According to Marantz, the new HDAMs have brought about a significant increase in slew rate, from 6.2V/μs to 41.7V/μs. However, we did note this measurement was done at different gain levels on the old & new units, and consequently wasn't an apples to apples comparison. Nonetheless, the new design looks promising , boasting an improved signal to noise ratio (109dB vs 119dB, A weighted), and distortion is more consistent across the audible bandwidth when comparing 20Hz, 1kHz, and 20kHz sweeps. We'd also note that the improved slew rate looks pretty cool on a scope.
Summary
As you can see, there's quite a lot to like about the Marantz SR5009. Yeah, we can dream about them tossing in MultEQ XT32 with SubEQ, multiple HDMI zones, etc. However, at the $899 price point, there's no question that the SR5009 delivers big time on feature set. The addition of HDMI 2.0 and wireless networking really step things up compared to the outgoing SR5008, and there's no increase in price, nor does Marantz appear to be skimping on the built in amps. Moreover, thanks to the inclusion of preamp outputs, you're not necessarily limited to the power provided by on board amplification. That's a win-win situation in our book.
Unless otherwise indicated, this is a preview article for the featured product. A formal review may or may not follow in the future.