Denon AVR-X4200W and AVR-X3200W Atmos/DTS:X AV Receiver Preview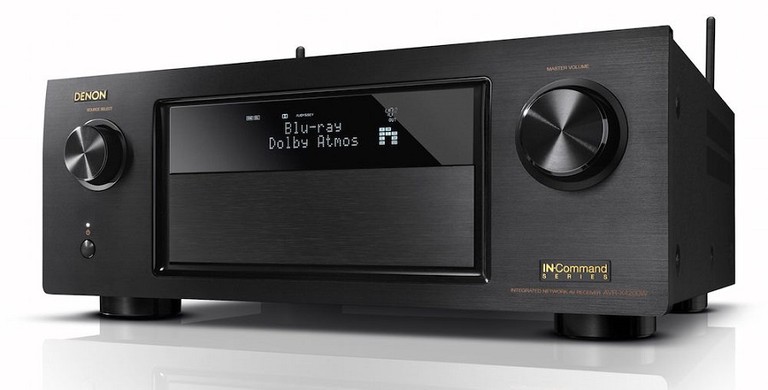 Denon AVR-X4200
Summary
AVR-X3200W
Power Output: 105W x 7ch (8ohm, 20-20kHz, THD:0.08%)
Built-in Dolby Atmos (up to 5.1.2); DTS:X ready (via firmware update later in 2015)
HDMI: 2.0a standard with 4K/60Hz full-rate pass-through on 4:4:4 resolution, HDR, BT.2020 on all inputs
HDMI: 8 inputs (1x front) and 2 HDMI outputs with full HDCP 2.2 support
Up-scaling of lower resolution signals up to 1080p and 4k Ultra HD
ISF Certification: yes
Built-in Wi-Fi with dual diversity antenna,
Built-in Bluetooth:
Front panel USB input: yes
Streaming formats: Lossy; MP3, WMA, AACDSD: Lossless; FLAC, ALAC, WAV, AIFF
AirPlay: Yes
DNLA: Yes
Denon AVR Remote App: yes for Android and iOS
Setup Assistant in 3 languages; Color-coded speaker terminals
System Remote Control: RC-1192
Maximum Dimensions (W x H x D) in mm: 434 x 167 x 388 (434 x 237 x 388 with antenna vertical)
Weight: 11.3 kg / 24.9 lbs
AVR-X4200W includes all features listed above, plus:
Power Output: 125W x 7ch (8ohm, 20-20kHz, THD:0.08%)
9.2ch processing
Auro-3D, Auromatic (up to 9.1ch; through a paid upgrade)
D.D.S.C.-HD Digital and AL24 Processing Plus; Denon Link HD
D/A Converter: 192kHz / 32bit
HDMI: 8 HDMI inputs (1x front) and 3 HDMI outputs with full HDCP 2.2 support
Phono (MM) input
Clock Jitter Reducer
13.2ch pre-out; 3 multi-room zones
System Remote Control: RC-1192
Maximum Dimensions (W x H x D) in mm: 434 x 168 x 389 (434 x 236 x 388 with antenna vertical)
Weight: 12.6 kg / 27.8 lbs
Executive Overview
It's no secret that we've been a fan of Denon X series receivers since they came out a few years back. The X4000 and X5200W received very high marks in our officials reviews, and both the X4000 and X1100 received Audioholics Product of The Year Awards. Needless to say, we were excited to see what Denon had prepared for this year. Well, the wait is over. Read on to learn about the new AVR-X3200 and AVR-X4200.
AVR-X3200W
Following the recent release of the AVR-X2200W and AVR-X1200W, Denon is rounding out their upper level offerings with the AVR-X3200W receiver. Its amp features a respectable 105 Watts across all seven channels. To bring it in line with other offerings in this range, the X3200W will also feature the Dolby Atmos decoder and Dolby Surround Upmixer to deliver "multi-dimensional" sound through height speakers or the less preferred Dolby Atmos elevation speakers. The receiver is also ready for DTS:X and the DTS Neural:X Upmixer which tries to create an immersive sound field around the listener no matter the number of speakers installed. The DTS functions will require a firmware update later this year.  Please note the AVR-X3200W is limited to only two height channels for a 5.2.2  system or a standard 7.2 speaker configuration.  If you want four height channels, you will have to step up to the AVR-X4200W model.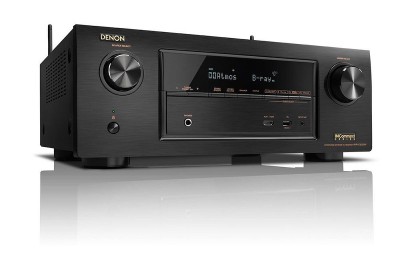 Denon AVR-X3200 front panel

The seven amplifier channels can all be dedicated to the main zone, or the surround back channels can be re-purposed to bring the same or different audio signal to a second zone. Furthermore, the receiver offers impressive installation flexibility thanks to a 7.2 channel pre-out section, an RS232 port, and flexible amp assignment options. Denon has also included the Audyssey Gold package, which includes MultiEQ XT, Dynamic Volume, and Dynamic EQ to help tailor the sound to the owner's room characteristics and personal taste. 
The video portion of the receiver includes compatibility with the latest HDMI 2.0a and HDCP 2.2 specifications required for 4K Ultra HD copy protected content. Eight HDMI inputs, of which one is conveniently located at the front panel, are enough to connect today's modern HDMI devices. The AVR-X3200W further supports full-rate 4K Ultra HD video along with 4:4:4 Pure Color sub-sampling, HDR and BT.2020 pas through. This receiver can also upconvert standard definition and high definition video sources to full rate 4K Ultra HD resolution. Furthermore, the AVR-X3200W has two HDMI outputs, so users can enjoy a surround movie in the main room and a separate stereo program with video from a different source in the second room. Lastly, the AVR-X3200W is certified by the Imaging Science Foundation (ISF) for video quality, and is equipped with the full suite of ISF CCC advanced video calibration controls.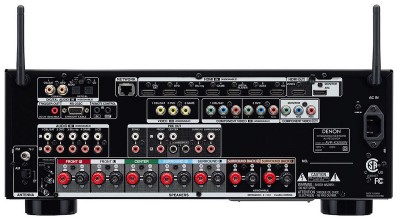 Denon AVR-X3200 rear panel
As expected, the AVR-X3200W comes with built-in Bluetooth and Wi-Fi. Apple AirPlay, network attached storage devices, Internet Radio, Pandora, SiriusXM and Spotify Connect are all supported and high resolution audio files like FLAC, AIFF and DSD are also supported.
AVR-X4200W
The AVR-X4200W resembles the Denon reference class A/V Receivers visually by the bigger size chassis, as well as the control buttons hidden behind the trap door. Sharing all the same features as the AVR-X3200W, it also comes with even more power at 7x125wpc. Denon claims its Dynamic Discrete Surround Circuit High Definition and unique AL24 Processing Plus add to the 192kHz/32bit D/A conversion to increase sound refinement. The system also includes Denon Link HD Connection to reduce jitter from a supported Denon Blu-ray player.
Denon AVR-X4200 front panel
The receiver also includes a third HDMI output adding more convenience when connecting multiple displays. It includes nine channel processing capability, eleven speaker terminals, and 13.2 channel pre-out connections for increased multi-room flexibility. Although only nine speakers can be used at any one time in a single room, the extra terminals and pre-outs eliminate the need to swap connections when adjusting which speakers you want to use or a surround codec calls for. Additionally, note that an external amplifier is needed to run anything beyond a  speaker system, such as a big Dolby Atmos setup with 5.1.4 or 7.1.2 configurations. The receiver can also be upgraded through a paid offer to the Auro-3D sound processing engine in order to add another 3D sound experience. In addition to the Audyssey options of the AVR-X3200W, the AVR-X4200W includes Denon's Audyssey MultEQ XT32, Sub EQ HT and LFC (Low Frequency Containment).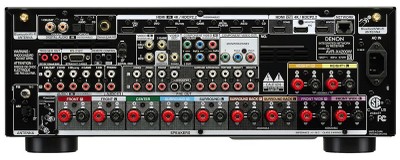 Denon AVR-X4200 rear panel
Both the X3200W and X4200W offer Denon's ECO mode, which reduces power consumption when listening at lower volume levels. Lastly, they offer Denon's setup assistant in 9 languages and an app available for iOS and Android devices to control it all.
Conclusion
Denon has definitely piqued our interest with these two new products. They kept everything we loved about previous models and added all of the cutting-edge features new receivers require to take advantage of the technological advancements being made in the industry. We are eager to see these two receivers in action and will put them through their paces when we get a test model in the lab.  With the introduction of these new receivers, Denon's premium line up is fully armed and operational to support immersive audio and the latest in HD video too.

Unless otherwise indicated, this is a preview article for the featured product. A formal review may or may not follow in the future.