Yamaha AVENTAGE RX-A 80 Series AV Receivers Feature Artificial Intelligence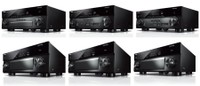 With CEDIA just around the corner we're seeing an influx of new AV receivers from all the major manufacturers. Yamaha decided to update their entire AVENTAGE RX-A lineup of receivers with their new and improved AVENTAGE RX-A 80 series. With the top three receivers adding artificial intelligence for surround and dialogue optimization and all six adding wireless surround options, Yamaha is looking to stand out and be noticed. Read on to see if their mission is accomplished.
Yamaha released their newest AVENTAGE receivers, the RX-A 80 series. The top three models come with Surround Artificial Intelligence! Check out our comparison of these 6 new Yamaha AV receivers.