Denon's New AVR-S960H Receiver Boasts 8K Upscaling for $650!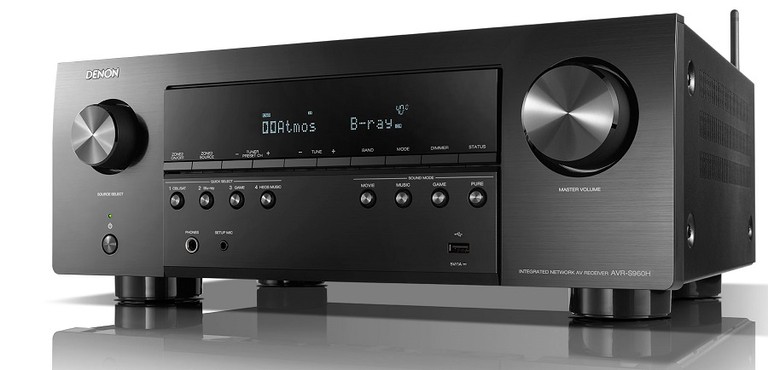 Denon AVR-S960H AV Receiver
Summary
Product Name:

AVR-S960H 8K Ready Receiver

Manufacturer:

Denon

Review Date:

July 06, 2020 19:00

MSRP: $649
First Impression:

Gotta Have It!
Power: 90W x 7CH (8 ohms, 20Hz-20Khz, THD: 0.08%, 2ch driven)

Audio Codecs: Dolby Atmos, Dolby Atmos Height Virtualization Technology, DTS:X, DTS Virtual:X
Dedicated 8K HDMI input enabling 8K/60Hz and 4K/120Hz video pass-through and upscaling
HDR format support including HDR10+ and Dynamic HDR
New HDMI feature - Quick Media Switching (QMS)
HDR10, HLG (Hybrid Log Gamma) and Dolby Vision
4:4:4 Pure Color subsampling and BT.2020 pass-through
Auto Low Latency Mode
Amazon Alexa, Google Assistant or Apple Siri
Audyssey MultEQ, Dynamic EQ and Dynamic Volume (Audyssey MultEQ editor app available for purchase)
32bit AKM DAC
Enhanced Audio Return Channel (eARC) on HDMI
Executive Overview
Last month we brought you details of the worlds first 8K ready receivers with our review of Denon's X-Series AVR Receivers. Denon now has released details on its latest 8K-ready AV receiver, the AVR-S960H, the first 8K-readyin their S-Series line. Te AVR-S960H features Denon's well known sound quality and engineering plus a suite of new AV technologies and simple setup features designed to produce an amazing 4K home theater system today with 8K on tap to easily upgrade the family room in the future.
"On the heels of the X-Series launch earlier this month, we're excited to offer another AV receiver that gives users the ability to dramatically upgrade their movie and gaming nights at a price we think is really going to excite people. The AVR-S960H checks all the boxes to easily build a really excellent 4K home theater and gaming experience while also arming your system for 8K when you're ready. While theaters remained closed and family time is more important than ever, now is the time to build the home theater and gaming system of your dreams."
--Jake Mendel, product marketing manager for Denon AVR & Hi-Fi components.
We're seeing a trend in the last few years of the video features becoming the major selling point in AV receivers, Denon's new AVR-S960H receiver has all the video must have boxes checked off even at the $650 price point. The most notable being the "8K" HDMI input enabling 8K/60Hz and 4K/120Hz video pass-through, new HDR format support including HDR10+ and Dynamic HDR, and a new HDMI feature called Quick Media Switching (QMS), which allows a source to instantly switch the resolution or frame rate to eliminate screen blackout. The latest S-Series models still support HDR10, HLG (Hybrid Log Gamma) and Dolby Vision, as well as 4:4:4 Pure Color subsampling and BT.2020 pass-through. The Denon AVR-S960H can also upscale existing HD and 4K content to 8K so more people can experience the power of 8K resolution.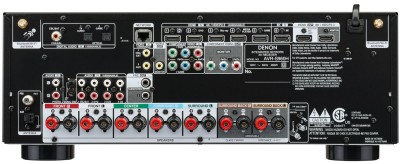 On the audio side the newest AV receivers geared towards home theater and gamers must have the latest 3D immersive audio codecs. The Denon AVRS960H has Dolby Atmos, Dolby Atmos Height Virtualization Technology, DTS:X, and DTS Virtual:X support so you can add speakers to your system over time. With 7 channels of Denon's revered amplification and low impedance driver capability (90W per channel at 8 ohms, 20Hz to 20Khz, THD: 0.08%, with 2 channels driven), all of your speakers can boast balanced, quality sound. The new Denon AVR-S960H continues to support eARC (enhanced Audio Return Channel), which delivers uncompressed and object-based audio from the TV to the receiver via a single HDMI cable. TVs play video directly from TV apps at best available picture quality—either 4K or 8K—while the receiver identifies the best available surround format for decoding. With eARC and the latest HDMI connectivity up to 8K Ultra HD, the new receiver should be able to simply pair with the latest 8K TVs, streaming devices, gaming consoles, and other source players without a hassle.
Several new features make gaming on the AVR-S960H more fun than ever, including razor sharp motion clarity with 4K/120Hz pass-through and Variable Refresh Rate (VRR) to reduce frame tearing and improve overall precision. Features that will help you get a jump on the competition include Auto Low Latency Mode (ALLM) and Quick Frame Transport (QFT), each designed to reduce lag and improve stats.
Denon Setup Assistant
We've liked Denon's setup assistant in the past. It does a good job of visually guiding you through each step in the setup process. Because every home theater is unique, Denon uses Audyssey's premium room calibration technology to automatically take precise measurements and optimizes the receiver's performance. Audyssey then tailors the 3-D experience to the acoustic properties of the space. The AVR-S960H comes with Audyssey MultiEQ for room correction and the Audyssey MultEQ Editor app is available for purchase for those who want more customization options.
Like the X series of AV receivers from Denon, the AVR-S960H model also now supports the newly adopted Dual Audyssey Preset function which allows you to store and instantly switch between two Audyssey configurations. For example, you can store both the Audyssey calibration result straight from the receiver and a customized MultEQ curve or frequency range made through the Audyssey MultEQ editor app on the receiver simultaneously, allowing you to easily compare differences and select their preference. Listeners can also perform Audyssey measurements for two different speaker settings, including 2.0 for music listening and 5.1.2 for movie surround.
Dual Speaker Preset Mode in 2020 Denon AV Receivers YouTube Discussion

You might wonder why you would need two presets for a receiver that never leaves the room. Denon presented to us a very real scenario where a user might have a drop down screen for a projector and blinds that close to keep out light.  The acoustics of the room would change significantly when the screen was up and the blinds were open against large sliding glass doors. Before the Dual Preset function, you would have to rerun the calibration of the room every time you open or closed the screen or blinds!  Now this can be customized with the pressing of a button to let you optimize your sound for both scenarios. You can also customize the sound for two money seats with this feature. This is useful for when a guest takes your primary listening seat but you can still have optimized sound at a different calibrated location.
HEOS Built-In Multiroom Music Listening
The AVR-S960H will come with HEOS Built-in. With HEOS you can stream music wirelessly across compatible HEOS components from a variety of free and premium streaming services, including Spotify, Pandora, Amazon Music HD, TuneIn, iHeartRadio, SoundCloud, SiriusXM, TIDAL, and more. You can also enjoy your favorite music in any room of the home wirelessly. Play the same song in every room or select a different song for each connected room via a variety of streaming sources. Add Denon Home speakers to more rooms and control it all with the HEOS app. Apart from HEOS, Apple AirPlay 2 and Bluetooth are also supported. Apple Music streaming is supported through AirPlay 2.
Roon Tested and Hi-Res Playback
The new S960H is Roon Tested certified so you can get more out of your music library through the advanced Roon music interface on their PCs and smart devices. Denon Roon Tested AVRs can be found and setup easily by Roon via AirPlay 2 or hardwired into a Roon Core device. Each receiver features a front-panel USB port that offers convenient audio playback of MP3 and high-resolution audio formats (WAV, FLAC, ALAC and DSD 2.8/5.6 MHz files).
Voice Enabled Enhancements
We saw a big push at last years CEDIA show for smart home automation and voice controlled devices. The Denon AVR-S960H works with Amazon Alexa, Google Assistant, Josh.ai, and Apple Siri for voice control. Listeners can use Amazon Alexa for a variety of commands, including switching inputs for different media players, while the Google Assistant and Apple's Siri can be used to adjust the volume, skip to the next track, and more. Josh.ai offers custom integrators greater control over voice integration into a variety of existing smart home platforms.
What We Think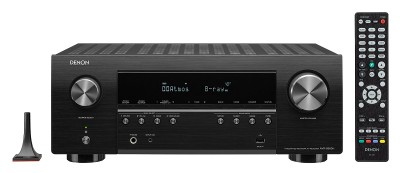 Like the new X-series from Denon, there is not much we DON'T like about the AVR-S960H.  Personally, I like the price! At $650 you get a top notch receiver with all the immersive and upconverting codecs you need for a 5.1.2 setup along with 8k upscaling on the video side. Even if you forget about the audio, this receiver might just be a "Must Have" for gamers. The AVR-S960H will be available in July 2020 for $649 at authorized Denon retailers.
Confused about what AV Gear to buy or how to set it up? Join our Exclusive Audioholics E-Book Membership Program!