Pioneer Elite VSX-LX103 7.2CH Atmos AV Receiver Inflates Power Not Price!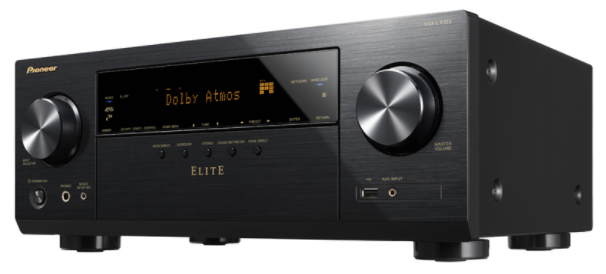 Summary
170 W/ch (6 ohms, 1 kHz, THD 10 %, 1ch Driven)

80 W/ch (8 ohms, 20 Hz-20 kHz, THD 0.08 %, 2ch Driven, FTC)

Digital Core DSP Engine

: Digital Quad-Core 32-bit DSP (Cirrus Logic)

High-Definition Copy Protection (HDCP)

: 2.2

Audio DACs

: 384 kHz/32-bit D/A Conversion with AK4458 (AKM)

Dolby Atmos

and DTS:X: Yes

4K 60p Ultra HD Passthrough

: Yes (HDR10, Dolby Vision Compatible)

4K 60p Ultra HD Video Scaler: Ultra HD Upscaling
HDMI Input / Output

: 6 in / 1 out

Wi-Fi Built-In

: Yes (Dual Band 5 GHz/2.4 GHz)

Bluetooth Built-In

: Yes (Version: 4.1, Profile: A2DP/AVRCP, Codec: SBC/AAC)

Warranty

: 3 Years

W x H x D (inches): 17-1/8 x 6-13/16 x 14-9/16
Weight: 20.7 lbs.
We recently reviewed Onkyo's newest receiver the TX-SR383 7.2-Channel AV Receiver with mixed enthusiasm. With a $400 price point, the TX-SR383 does have some really great features, but with the lack of Dolby Atmos or DTS:X, it might shy some people away.  Similarly, Pioneer released their newest receiver recently, the VSX-LX103 and being Audioholics we have to call Pioneer out on their flaws. Since Onkyo bought Pioneer's Home Theater Entertainment section a few years ago we figured we would see a similar receiver come out. For $499 you DO get Dolby Atmos and DTS:X in the Pioneer VSX-LX103 as well as all the video bells and whistles that we liked about the Onkyo TX-SR383.  You also get 170 watts of pure raw unadulterated power!
Wait. What is the fine print here?
(6 Ohm - at 1 kHz - THD 10% - 1 channels)
It looks as though parent company Onkyo is rubbing off on Pioneer by artificially and erroneously inflating the power ratings just like the Onkyo TX-SR383. Further reading shows that the power rating for 2 channels is actually 80 watts (8 Ohm - 20 - 20000 kHz - THD 0.08%)!  So now we have receiver companies more than doubling the power ratings of the unclipped full bandwidth power.
For more information on The A/V Receiver Power Ratings game, you can watch our Youtube video on the subject to make sure you're getting what you think you're buying.

But the VSX-LX103 does have many great features for a $600 receiver including 5.2.2 channel surround sound with Dolby Atmos and DTS:X, and Powered Zone 2 outputs to enjoy audio from speakers in another room. 
It also features 6 HDMI In / 1 Out and supports Ultra HD pass-through with HDCP 2.2, 4K / 60 Hz, Dolby Vision, HDR10, HLG (Hybrid Log-Gamma), WCG (Wide Color Gamut) and Ultra HD upscaling (1080p to 4K).
Pioneer receivers do have one of the easiest setups on the market and their Multi-Channel Acoustic Calibration System (MCACC) helps create a better acoustic environment via the receiver's custom microphone so that the system automatically compensates for differences in speaker size, level and distance, and equalizes the response.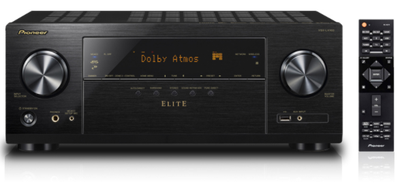 Additionally, Pioneer's onboard Phase Control compensates for phase lag between the subwoofer and the main channel speakers by improving sound synchronization to achieve a clearer reproduction of sound in the middle and high-frequency bands.
Additional features include:
Reflex Optimizer enhances object-based audio reproduction from upward firing Dolby Atmos 'enabled' speakers.
Works with Google Assistant so you can tell the VSX-LX103 to turn up the volume, skip tracks, or stop the music using a device with the Google Assistant built-in, like Google Home.
Wireless connectivity includes Chromecast built-in, Apple AirPlay, Bluetooth, DTS Play-Fi, Wi-Fi as well as FlareConnect, Pioneer's wireless protocol that mirrors any audio source connected to the receiver on compatible speakers in other rooms.
Enjoy a limitless flow of music, sports, talk, and news entertainment from internet radio stations and online music services, including Amazon Music, Pandora, Spotify, TIDAL, and Deezer.
In addition to high-resolution sound source (192kHz / 24-bit) in FLAC, WAV, AIFF and ALAC file formats, DSD (2.8/5.6MHz) and Dolby TrueHD files are also supported.
Conclusion
The VSX-LX103 comes with Pioneer's three-year warranty and is available for purchase now. There are many other 7.2 channel receivers in the sub $500 range with similar features and power ratings (the TRUE power ratings of course!), but if you're already committed to the Pioneer ecosystem with other devices, the VSX-LX103 should integrate nicely into your system. Fans of Pioneer's MCACC system will also appreciate having that feature on this model.
Onkyo fans may want to consider the TX-NR585 which is the equivalent model to the Pioneer VSX-LX103 with regards to feature set, power and price class. 
While it may seem we've been coming down hard on receiver manufacturers to honestly disclose power ratings per FTC, we think it's necessary to keep them honest.

Unless otherwise indicated, this is a preview article for the featured product. A formal review may or may not follow in the future.