Denon AVR-S700W 7.2 Channel AV Receiver Review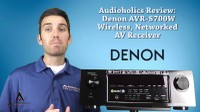 On paper, the Denon AVR-S700W AV Receiver offers a lot of bang for the buck. For $499, you get HDMI 2.0, integrated WiFi and Bluetooth networking, and Audyssey's Bronze Built-in package which includes MultEQ auto-setup and calibration. As you might guess, a useful array of network streaming options are also available including Pandora, Spotify, and Sirius/XM. The question of course is whether or not Denon had to cut any corners. To answer that, we got our hands on a review sample and gave it a thorough examination. How did Denon's $500 offering hold up? Click to find out!
Review: The Denon AVR-S700W AV Receiver is priced at $499 and features HDMI 2.0, built in WiFi and Bluetooth, as well as Audyssey's Bronze package. Ease of use and great sound. Read on.