Sony STR-DA3700ES AV Receiver Review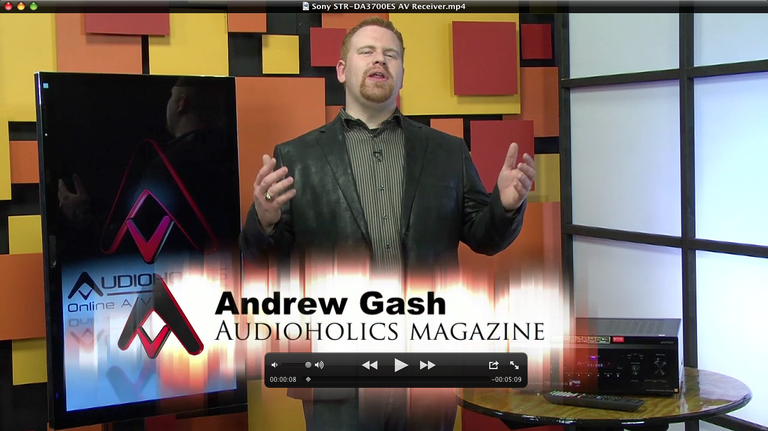 Sony STR-DA3700ES AV Receiver
Summary
Executive Overview
Hi, Andrew Gash with Audioholics. Today we're looking at the new Sony STR-DA3700ES Receiver. We're actually pretty excited about this one because we got to see it up close and personal at this year's CEDIA event in Indianapolis. What's the big deal? Well, Sony has completely redesigned the GUI on-screen display and setup system. They haven't just redesigned the setup menu, they've took an axe to the whole way you connect and engage music, video and streaming media. In all honesty, we had to restrain ourselves from lifting up the receiver to look for an Apple logo.
When we first set up the system it asked us for language and then took us through a series of guided steps to set up our network and speakers. This is done via a set of largely automatic, graphically-intensive prompts that make it so that even neophytes can get through the process unscathed. For speaker setup it used the included microphone to detect and configure our speakers. When it got to networking it asked a few questions and then proceeded to automatically configure the network and assign an IP address. There were no hassles and no hang-ups - it was really easy. In fact, it was far easier than any other AV receiver we'd ever used.
If you go back into the Setup menu you can see that it has an extensive graphic visual interface for setting up your room, noting the number of speakers and their designation. So to reconfigure your system - you just match what you see on the screen to what you're using.
Going back to the Main menu of the receiver we find six graphical menus: Watch, Listen, Favorites, Easy Automation, Sound Effects and Settings. The first three and Settings make sense right from the start, but Easy Automation might scare some people off, and Sound Effects is just plain wrong unless you click it and get explosions, car crashes and bullet ricochets... actually, that would be really cool.. but make no sense... OK, moving on...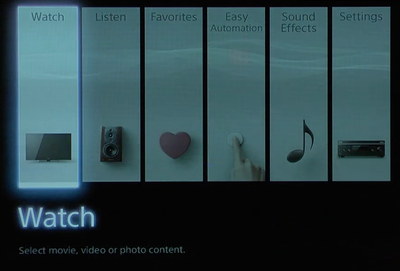 The first place we went was Watch Now to check out the Internet Video subsection. It ran a quick update and landed us into a PS3-like menu system that displayed our options. Available was Video Unlimited, Amazon Video on Demand, Hulu Plus, Netflix, VUDU, NHL Vault, YouTube, Blip.tv, Crackle and tons of other micro apps. Basically, you can watch hours and hours of television and movies without ever connecting a single source component to the STR-DA3700ES receiver. That's pretty profound and this is one of the first AV receivers we've seen where content isn't an afterthought.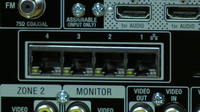 And it's not just the front end interface that's prolific - the receiver itself is amazingly advanced. On the back, for example - you've got your traditional complement of HDMI connections (5 in, 1 out) and speaker connections - there are 9 pairs but you'll have to rewire to switch your amps between Zone 2 and the Surround Back channels. But get this, there is a 4-port Ethernet hub on the back with RJ45 connections. How cool is that? That's about the most practical thing we've seen in a receiver since they started killing off the S-video connector. If manufacturers want the AV receiver to be the hub of your entertainment center - and having spoke to many of them, they absolutely DO - this is a great first step towards that goal.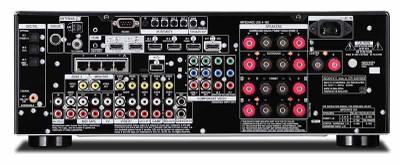 This video's going to get out of control really fast - there's simply too much to talk about. For listening tests we streamed music from iTunes and listened to the Eagles' Hell Freezes Over album. "New York Minute" came across beautifully, with crystal clear highs and punchy bass - as we'd expect. It was great to HEAR the Sony and know that the amps weren't being sacrificed for the plethora of network features and the menu interface. Movies were equally impressive, with some streaming through the VUDU interface and others being sent over HDMI via an Oppo BDP-93 Blu-ray player. What we really appreciated was that the HD streaming looked almost as good as the uncompressed Blu-ray. The difference was audio, with the uncompressed Dolby TrueHD taking a front seat over the basic Dolby Digital, stereo and occasional Dolby Digital Plus of streaming media sources.
Sony is back in the game, except that they never really left, they just haven't been pushing the envelop over the past several years. Now other manufacturers are going to have to sit up and take notice - because if these features stay with Sony alone, there are going to be a lot of people taking a good hard look at the new ES line and considering jumping ship from their usual brands - at least if networking audio and video and ease of use is a high priority. At $1100, the STR-DA3700ES is more than a little attractive.
As always, if you liked this video please hit the 'Like' button in YouTube and subscribe to our channel so we can be sure to bring you more great reviews. Also reach out to us at Facebook.com/audioholics or via Twitter @AudioholicsLive.

Unless otherwise indicated, this is a preview article for the featured product. A formal review may or may not follow in the future.
Confused about what AV Gear to buy or how to set it up? Join our Exclusive Audioholics E-Book Membership Program!