Denon AVR-4520CI, Marantz, Boston and More at CEDIA HiPer Demo Room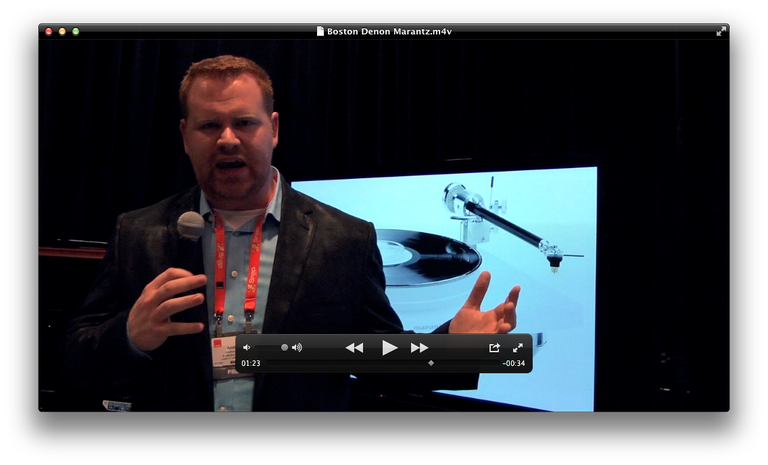 Denon AVR-4520CI, Marantz, Boston at CEDIA HiPer Demo Room
Summary
We checked out some cool Marantz, Denon and Boston Acoustics gear at the 2012 CEDIA High Performance (HiPer) Listening Rooms. This entailed sinning up some Dire Straits on vinyl and also listening to some tracks on SACD from Marantz' new SA-11S3 SACD Reference player. Everything was being played back through a pair of Boston Acoustics M-Series tower speakers. What we loved was the detail and clarity of the tracks, particularly in the Dire Straits album - there was no compression to be found anywhere. The M-Series tower speakers also put out an incredible amount of bass that wasn't bloated or overdone - but it really made us wonder if "DenonMatt" was pulling the wool over our eyes and using a pair of subs to sweeten the soundstage (he wasn't). At times we could swear there were subs in the room.
During this demo, the stereo Boston speakers were driven solely by the new PM-11S3 Reference Series integrated amp from Marantz. We next moved on to the surround sound demonstration and that's when things got really interesting. Denon powered 9 channels of our 11.2 room with its new flagship receiver, the AVR-4520CI and again utilized the PM-11S3 to power the stereo mains. The 11.2 configuration features 7.2 channels up front - left, right, wide left, wide right, center, height left, height right, surround sides and backs and the two subwoofers.
Matt queued up a scene from Tron - the one where he ventures into the gaming arena for the first time and crowd cheers filled the well-dampened room vertically and with a wide perspective that didn't seem possible with just a pair of speakers or more traditional 5.1 surround. It was a great demo and we'll be excited to take a closer look at these products in the near future.
Don't miss out! Check out our full 2012 CEDIA Expo video coverage for all our event videos. And stay up to date on all our coverage, including photos and video, by Liking us at facebook.com/Audioholics.

Unless otherwise indicated, this is a preview article for the featured product. A formal review may or may not follow in the future.