Pioneer Elite SC-55 & SC-57 9.1 Channel A/V Receivers Preview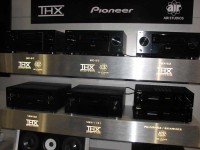 Pioneer Electronics announced its new flagship SC-57 ($2000) and SC-55 ($1600) Elite receivers that bring state-of-the-art audio and visual content performance into any room. Both Elite models incorporate Pioneer's new Class D3 digital amplifier technology (rated at 140wpc x 9). The integrated Class D3 amplifier can deliver Pioneer's highest-ever continuous power simultaneously to all dedicated channels with extremely high efficiency, significantly less heat production and ultra-low distortion. We spoke with Pioneer about the concerns we had with past products using the ICE modules (ie. SC-07) when driving 4 ohm loads and they claimed these their new D3 module is much more robust at handling low impedance loads. This is something we look forward to bench testing via a formal review. Packed with the latest in A/V processing and functionality, these A/V receivers appear to be a trend setter in the upscale A/V receiver marketplace.
Pioneer announced two new 9.1 channel A/V receivers (SC-57 @ $2000 and SC-55 @ $1600). Both utilize their new D3 amp module rated at 140wpc x 9.