Pioneer Elite VSX-82TXS Receiver Review
Pioneer Elite VSX-82TXS Receiver Review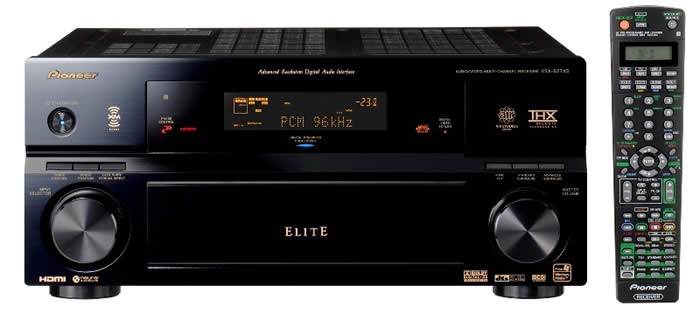 Product Name: Elite VSX-82TXS Receiver
Manufacturer: Pioneer
Performance Rating:
Value Rating:
Review Date: October 17, 2006 19:00
MSRP: $ 1200
Power
Surround Power: 130W x 7 (20Hz-20kHz, 8-ohms, .09% THD FTC)
Stereo Power: 130W x 2 (20Hz-20kHz, 8-ohms, .09% THD FTC)
Digital Decoding & Processing
Digital Engine: New Sharc-EX + 48-bit Freescale DSP
Dolby Digital 5.1, Dolby Digital EX, DTS 5.1, DTS-ES Discrete 6.1, DTS 96/24, DTS NEO: 6, Pro-Logic IIx, Windows Media(R) Audio 9 – Professional, THX Select2, Air Studios Tuning, Advanced Surround Modes, Sound Retriever, Virtual Surround Back, Midnight Listening, Dialog Enhancement, Hi-Bit Sampling, Loudness
Analog to Digital Conversion: 96 Khz / 24-Bit
Digital Analog Conversion (DAC): 192 kHz / 24-Bit
Calibration:
Advanced MCACC, Speaker Identification, Speaker Size, Speaker Level, Speaker Distance, Acoustic Equalization (9 Band Adjustable), Phase Control, Standing Wave Control, X-Curve Compensation, Advanced MCACC 3-D Display via PC
Convenience
On-Screen Display, Dot Matrix Display
Remote Type (LCD Preset / Learning Remote with Preset Multi-Operation) - Pre-programmed, Learning, IR Macro Commands
Warranty: Elite 2 Year Warranty
Connectivity
Analog Audio Inputs/Outputs – 4/3 (includes tuner)
Phono Input
Digital Inputs – 7 (5 optical, 2 coax)
Optical Digital Outputs - 1
Multi-Channel Input - 8 Channel
Audio Pre-Output - 8 Channel
Composite Video Input - 7
Composite Video Output - 2
S-Video Input - 5 (includes front)
S-Video Outputs - 2
Component Video Inputs/Outputs – 3/1 (100MHz)
HDMI Inputs/Outputs – 3/1
Video Scaler - Faroudja DCDi - 480P, 720P, 1080i
Video Conversion – HDMI, Component, S-video
Headphone Output
Multi-Room and Source Output - 3 Zone - Main, 1 A/V, 1 Digital Audio
12 Volt Trigger - 2
Front A/V Inputs
RS-232C
System Remote Plus (SR+) Port
IR In/Out
Speaker B - B Speaker or Surround Back Speaker
Assignable Surround Back Speaker - 4 Mode - Normal / 2nd Zone / Front Bi-Amp / MR&MS
Made for iPOD (audio, video, photo. Cable included),
XM Ready, XM HD with Neural Surround

Dimensions (inches) - 16.54 x 7.36 x 18.35 (WxHxD)
Weight: 35.1 lbs.
Pros
Lots of inputs
Plenty of power
Fairly well written manual
One of the better auto calibration system's on the market
Cons
Video conversion adds artifacts
Limited variability on crossover
Obfuscating remote
OSD missing AV Parameter menu
Pioneer Elite VSX-82TXS Introduction
The Pioneer VSX-82TXS is quite a looker. Even though it spends most of its natural life in the dark, the few times it does see the light of day, it never fails to impress. The front plate has a reflective finish that is the bane of the photographer (notice the reflections?) but the boon of the owner. You can get lost in that faceplate. The display is adequate for viewing from a distance though many of the less important readouts are invisible from more than a foot away. What is most important in day to day operation is what mode you are currently in and the volume. The mode is clearly visible at all times though the volume is a bit small at rest. When making changes, the volume takes stage center and is clearly visible. If I had to make a change to the display, I'd make the readout to which speakers are currently receiving input a bit bigger. On my Denon AVR-3805 , you can see a graphical representation of what is coming in and what is going out (2 speakers in, 7.1 out for example). With the 82TXS, there is a graphical representation of what is coming in. I'd like to have both but if they are going to stick with only the inputs, I'd like to make it a bit bigger. It just seems a little too close together and condensed at the top. 


Confused about what AV Gear to buy or how to set it up? Join our Exclusive Audioholics E-Book Membership Program!