Final Sound HD Receiver 201 Preview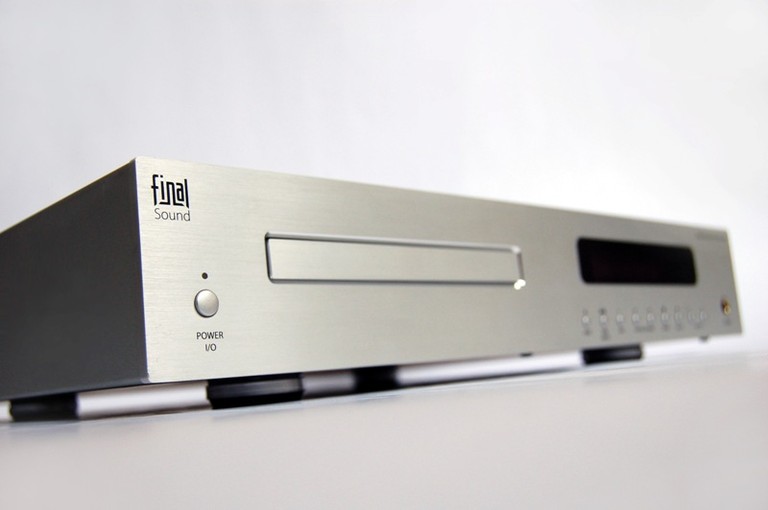 Final Sound HD Receiver 201
Summary
Product Name:

HD Receiver 201

Manufacturer:

Final Sound

Review Date:

January 06, 2008 23:05

MSRP: $999
First Impression:

Pretty Cool
System CD-DA, CVC VIDEO, VCD 2.0, S-VCD, CD-MP3, Mpeg4
Video Inputs S-Video (Y/C) 3x, Composite 2x, Component 1x
Video Output S-Video (Y/C) 1x, Composite 1x, Component 1x
Video + Audio Connector SCART with RGB and Composite for European Version
HDMI input, HDMI output, DCDI Video Upscaling to 1080p
Progressive Scan, Digital Zoom
TV Type Setting PAL, NTSC, Auto, Multi-region solution
Audio Power Output 2 x 75W
Audio Input Analog input 3x RCA, Digital Audio Input 2x RCA, Optical 1x
Audio Output Subwoofer out 1x, speakers out
Decoding MPEG-2 Multi-ch, MP3, MP3 USB, Dolby Digital, 2Ch down mix,
Dolby Pro Logic II, Dolby Virtual
DTS support, DTS 2, 1ch out
Tuner Section FM, AM, RDS
Remote Control Universal RC
Filtering Specific Filtering, High pass, shelving filtering,
Acoustical controls and base management are built in for Final Sound speakers 90i, 150i, 300i, and 400i
Dimension (cm) 42x33x6
Color Brushed aluminium or brushed black

Executive Overview
Final Sound Solutions has begun shipping the Final Sound HD Receiver 201, the first compact virtual surround sound system to integrate high-end electrostatic speakers and a subwoofer for seamless integration. The Final Sound HD Receiver 201, the corner stone of the Final Sound HD System 8 family, combines a 75-Watt Audio/Video receiver with two high-definition electrostatic speakers and a subwoofer. This unique receiver combines a DVD/CD player and a virtual surround sound DSP chip. The Final Sound HD System 8 also includes a matching subwoofer, the Final Sound S95 subwoofer, but can also use two other models of Final Sound subwoofers.
The HD Receiver is a compact virtual surround sound system that reportedly creates a unique figure-eight-shaped sound wave that fills any size room without the sound reflections that plague other virtual surround designs, bringing the extraordinary sound quality and clarity of high-definition virtual surround to consumers— even in larger rooms! In addition, the HD Receiver easily scales any source to a quality 1080p in HDMI.
The Final Sound HD Receiver features an integrated Tuner/CD/DVD/MP3 player and lets the consumer select from four different models of Final Sound's ultra thin, electrostatic loudspeakers.  Setting up the Final Sound 201 receiver is easy. After connecting the speakers, subwoofer, and television to the receiver, an intuitive on-screen display navigates the user through the configuration process. By selecting from the list of speaker models, the system will automatically configure the crossover and filter settings, ensuring that the panels are perfectly matched with the subwoofer.
Once the system is configured, the system can create the surround sound effects for that favorite DVD. An added benefit of the system is when you are done with that favorite movie, the system is able to create a very detailed and life-like musical experience that electrostatic speakers are famous for, using a standard two-channel recording from a CD.
The HD Receiver, paired with Final Sound's line of electrostatic speakers leverages Final's patented Inverter Technology to deliver a room-filling surround sound effect – more powerful and lifelike than ever before. Since Final Sound panels are line array dipole speakers, the sound reaches deeper into a room with virtually no reflections from the audio signal bouncing off the wall, floor, or the ceiling. In addition, the panels successfully separate high tones from medium low tones on the diaphragm of a speaker, resulting in a broader stereo image.
The Final Sound HD Receiver 201 bundled with the S95, S110 and S220 is now available. Suggested retail price for the HD Receiver with the S95 begins at $999.00 (USD). Panels are priced separately, depending on selection. For more information, please visit www.finalsound.com.
Confused about what AV Gear to buy or how to set it up? Join our Exclusive Audioholics E-Book Membership Program!