Harman Kardon AVR-146 AV Receiver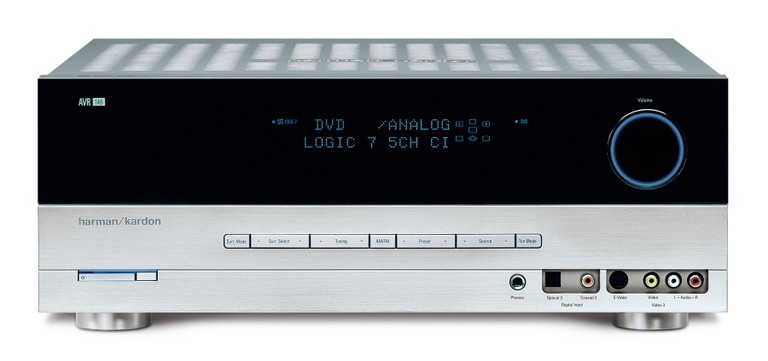 Harmon Kardon AVR-146 AV Receiver
Summary
| | |
| --- | --- |
| Power | 40 watts x 5 channels |
| HDMI In/Out | 2/1 |
| Component In/Out | 3/1 |
| Digital Audio | 3 coaxial/3 optical |
| Front Panel Inputs | 1 S-video; 1 composite video; 1 coaxial; 1 optical; 1 analog stereo |
| DImensions | 17 5/16" (W) x 6 1/2" (H) x 15" (D) |
| Weight | 21 pounds |
Executive Overview
Do you have components in your current home theater system that offer better video signals via their HDMI outputs, but you cannot utilize that feature because you have not upgraded your A/V receiver to a unit that can switch HDMI signals?  You probably think it's going to cost you $400 - $500 to upgrade to a HDMI switching receiver. Well it doesn't have to. The Harman Kardon AVR-147 offers HDMI switching among other great features and has an MSRP of just $299 and a street price of less than $250 at the time of this review!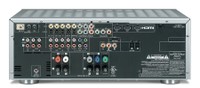 For a receiver that's easy on your bank account, it doesn't skimp on the features. Capable of switching the video from its two Simplay HD-verified HDMI inputs, you can now use those HDMI outputs on your new components. Since it only switches the video feed and sends audio straight through to the display, you will have to run the digital audio output from the source to the AVR-146 via one of its three optical or coaxial inputs. Front panel optical and coaxial inputs offer a convenient third digital audio input option. It also comes equipped with three HD-compatible component inputs.  The back panel is very logically laid out and the inclusion of 5-way binding post speaker terminals is a great bonus at this price.

However, lest you think all you are getting with this receiver is HDMI connectivity (not that you should expect much more at this price), it also has several other great features. Cirrus Logic's latest 24-bit twin core DSP provides the processing for the receivers surround sound modes.  Surround sound modes included are DTS (96/24), DTS (Neo:6), DTS, Dolby Digital, Dolby Pro Logic, and Dolby Pro Logic II.  If you're into digital music, Harman Kardon's optional The Bridge allows you to access all the music and video stored on your iPod. Discrete amplifier circuitry offers you 30 watts into each of the receiver's 5 channels driven at full power into 8 ohms (this rating is way more honest than most manufacturers who would call this a 60W/channel receiver).  Another really nice feature is a very well written and illustrated user manual that easily walks you through setting the receiver up in your room.  Other unexpected features at this price include on screen display, source input renaming, programmable remote, and A/V sync delay.

Bottom line on this receiver is that it packs a lot of very useful features and tons of connectivity options for an amazingly low price.

Confused about what AV Gear to buy or how to set it up? Join our Exclusive Audioholics E-Book Membership Program!
Recent Forum Posts:
allargon posts on July 03, 2008 03:55
One can get (last year's) Onkyo TX-SR505 or Sony STR-DG510 pretty cheaply if you just want to do HDMI video switching. The HK might do better audio processing than the Onkyo or (highly likely) the Sony. It would be nice to hear/read an audio blowout between the cheap(er) switching only receivers like the Denon-AVR588, Onkyo TX-SR506 and this HK AVR-146.

Hopefully, Audioholics will review the upcoming HK AVR 254.
FatStrat85 posts on July 02, 2008 21:03
It's only 30 watts per channel…
mike c posts on July 02, 2008 19:45
my 335 also needs a composite cable, but was hoping these new receivers (like my two denons) can now send directly through the main output.

but he did say, he didn't have a picture AT ALL. which means there's a wrong connection somewhere.

i used to assemble the zoids toys without the help of the manual/assembly guide but this really doesn't help with receivers. (read the manual Gary)
Alex2507 posts on July 02, 2008 19:43
mike c, post: 429538
are you sure you connected the component cables to the right output on the HK? sometimes i plug in stuff to inputs instead of outputs
HK might only send the on screen menus out via composite video for all we know. That's how my AVR 430 does it. The manual will tell you for sure. Then when you do access the OSD, you can have at the input setup. You might have to change the source on your TV.
Not reading the manual and not having it work go hand in hand. Usually I have questions even after reading the manual.
mike c posts on July 02, 2008 19:32
are you sure you connected the component cables to the right output on the HK (it should say monitor out, and not TV in)? sometimes i plug in stuff to inputs instead of outputs
Post Reply