Pioneer VSX-815 Receiver Review
Pioneer VSX-815 Receiver Review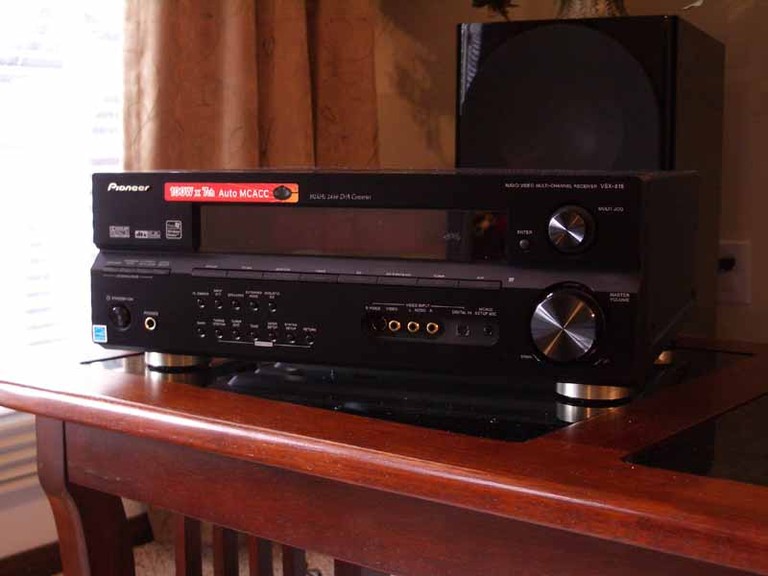 Pioneer VSX-815-K Receiver
Product Name: VSX-815
Manufacturer: Pioneer
Performance Rating:
Value Rating:
Review Date: June 19, 2005 19:00
MSRP: $ 365
Power Amplifier Design: Thermal Compensation Transistor

Surround Power: 100 watts x 7 (1kHz; 1% THD @ 8-ohms) 700 Watts total system power

Stereo Power: 100 watts x 2 (20Hz-20kHz; 0.7% THD @ 8-ohms) 200 Watts total system power

Digital Decoding & Processing: Double-precision 48-bit Motorola DACs; 192kHz/24-bit DACs, 96kHz/24-bit ADCs

DSP: Dolby Digital 5.1/EX, DTS-ES 6.1 Discrete, DTS 96/24/Neo6, Pro Logic IIx/Game Mode, WMA9 Pro, 9 Advanced Surround modes, 7-chanel stereo, Virtual surround bac

Inputs: 4 audio/video/s-video, 5 digital ins (2 optical/1 front optical/2 coax), 5.1 multi-channel input, 3 component video, front AV inputs (including optical)

Outputs: 1 component, 2 audio/video/s-video, headphone output, 7.1 preamp outputs (includes subwoofer)

Room EQ: Auto/Manual MCACC (including 5-band EQ),

Additional Features: Sleep timer, dimmer option, multi-way loudspeaker binding posts, AM/FM tuner

Remote: Preprogrammed with manufacturer codes and 1-line 8-character LCD

Dimensions: 16 9/16 " W x 6 1/4" H x 15 13/16" D

Weight: 22 lbs. 4 oz.

Warranty: 1 year parts & labor

MSRP: $365
Pros
Three (3) 40MHz HDTV-compatible component video inputs
Plays loud
Flexible amplifier assignments
Dolby Pro Logic IIx Game Mode
Front A/V Inputs
Easy to Setup
Cons
Auto Setup not accurate for bass management
No video upconversion
No On-Screen Display (expected at this price point)
Pioneer VSX-815 Introduction

Despite all of the mid-fi and hi-fi product reviews written by us at Audioholics, we get a steady stream of reader requests for more entry level systems. In fact, it's almost imperative that we provide them because to assume that a manufacturer's flagship products necessarily reflect the quality and usability of its entry-level units ignores the lessons learned from our article on Product Managing Receiver Platforms & Power Ratings .
So, it was with a desire to investigate Pioneer's new entry-level line of receivers that we requested the VSX-815 and HTP-4600 , two products that give us a nice slice of Pioneer's lower-priced offerings. The VSX-815 is a 100 watt x 7 product with auto setup and room EQ. Main features for this receiver include:
MCACC auto setup with calibration microphone
100 watts x 7 (1kHz; 1% THD @ 8-ohms)
Integrated biamping mode for 5.1 systems (using Surround Back amplifiers)
Powered Zone 2 (using Surround Back amplifiers) *not independent source
Programmable remote control with 1-line 8 character LCD
Speaker delay settings with 0.5ft increments
Selectable crossover (50/80/100/150/200)
Confused about what AV Gear to buy or how to set it up? Join our Exclusive Audioholics E-Book Membership Program!