Harman Kardon AVR 130 Review
Harman Kardon AVR 130 Review
by
Toby Daalsgard
—
August 18, 2004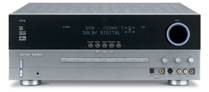 Product Name: AVR 130
Manufacturer: Harman Kardon
Performance Rating:
Value Rating:
Review Date: August 18, 2004 19:00
MSRP: $ 449
Power (2-channel FTC): 55 W/channel (<0.07% THD, 20Hz ­ 20kHz, 8 ohms, both channels driven)
Power (five-channel): 45 W/channel (<0.07% THD, 20Hz ­ 20kHz, 8 ohms)
Signal-to-Noise Ratio (IHF-A): 100dB
Surround System Adjacent Channel Separation:
Dolby® Pro Logic® I and II : 45dB
Dolby® Digital : 55dB
DTS® : 55dB
High Instant Current Capability (HCC): 25 Amps
Slew Rate : 40V/µsec
FM Tuner Signal-to-Noise Ratio: 70dB/68dB (Mono/Stereo)
FM Tuner Distortion: 0.2%/0.3% (Mono/Stereo)
Stereo Separation: 40dB @ 1kHz
Selectivity: ±400kHz, 70dB
Image Rejection: 80dB
IF Rejection: 90dB
Video Input Level/Impedance: 1Vp-p/75 ohms
Output Level/Impedance: 1Vp-p/75 ohms
Video Frequency Response: 10Hz ­ 8MHz (­3dB)
Power Consumption: 68W idle, 540W maximum (2 channels driven)
Dimensions: 17.3(W) x 6.6 (H) x 15 (D) [440mm x 168mm x 382mm]
Unit Weight: 23.8 lbs; 28.2 gross (10.8 kg; 12.8kg gross)
Pros
5.1 channel inputs ideal for SACD and DVD Audio sources.
Complete array of front panel inputs, including optical and coaxial.
Friendly enough for a beginner and powerful enough for a serious listener.
Cons
No A/B speaker outs
Sleek compact remote means tiny buttons that don't glow or have a backlight.
No on-screen display
No component inputs or switching
Only 5.1 outputs
Harman Kardon AVR 130 Introduction

A friend at work mentioned to me that he was in the market for a receiver to center his budding home theater around. He'd never had a home system, but he was ready to enhance his listening and viewing experience at his apartment. I asked what he had in mind and what he was willing to spend. "I want it to have good surround sound and I don't want to spend a lot of money" was his response. This wasn't what I'd call a very specific demand, but one that probably reflects the needs of many casual readers or home theater beginners. While I understand that big expensive blinking components are the pickup truck and pitbull for the geek set, there are those who want to begin modestly and to understand what they are seeing and hearing before they ever consider dropping some serious cash into a more powerful deck in the future.
After work one day, I came home to find the Harman/Kardon AVR-130 at my door. I'd heard and read a lot about this receiver before, so I was anxious to bust it out and start playing. Before even plugging in the device, I read the user's manual which proved to be friendly, unthreatening and easy to understand. It was clear that it would speak to a novice as well as someone versed in "home theater speak". A great color-coded quick start guide made installation a snap and large print input/output terminal labels on the rear panel made the neck contorting chore of hooking up any piece of gear into a cramped entertainment center much easier.
Confused about what AV Gear to buy or how to set it up? Join our Exclusive Audioholics E-Book Membership Program!