Denon AVR-588 AV Receiver Review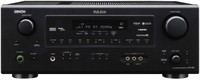 Denon AVR-588 Front Panel
Summary
| | |
| --- | --- |
| Power | 75 watts x 7 channels |
| HDMI In/Out | 2/1 |
| Component In/Out | 3/1 |
| Digital Audio Inputs | 2 coaxial/2 optical |
| Front Panel Inputs | Composite; analog stereo |
| Dimensions | 17 3/32 (W) x 6 3/4 (H) x 15 (D) |
| Weight | 24.5 pounds |
Pros
HDMI 1.3a video switching
Plenty of power to all 7 channels
2 zone multisource capable
XM Ready
Cons
Less than intuitive setup menu
Operating 2-sided remote in dark proved difficult
Gear Corner Review
The new entry level Denon AV receiver is out and it is packed with more features than anybody has a right to expect for around $350. With plenty of connectivity options, features, and power, it's hard to think of any reason a serious home theater enthusiast on a budget wouldn't want to anchor their system with the AVR-588. While it is a very impressive A/V receiver, it will require some work to set it up in your theater and make full use all of its features.
Connectivity and Features
The high quality video connectivity options include HDMI 1.3a switching (2 in/1out) that is capable of 1080p video pass-through. If you've got more than two high definition video sources, no worries, it also offers 3 component inputs and one output. With 4 assignable digital audio inputs (2 coaxial and 2 optical), there are plenty of options to make sure you can also hook up the digital audio from all those sources as well.

Not only does this receiver offer you plenty of input and output options, it also features decoders for Dolby Digital EX and DTS ES to decode all the latest movies into 7-channel surround sound. Dolby Pro Logic IIx allows you to enjoy even your older analog movies and music sources in 5- or 7-channel surround. If you are into multi-channel music, the receiver also features 7.1 channel analog external inputs. It is both XM ready and iPod friendly (audio, photo, and video playback), if you purchase the required optional equipment.
It offers a more than adequate 75 watts for each of its 7 channels. Its Surround Back amplifiers are assignable, so it is capable of operating as either a two zone multi-source receiver or keeping all of the amps for full 7-channel surround sound. During the listening tests, it offered plenty of power to drive my Axiom Audio 7.1 speaker system to levels plenty loud enough to rattle the windows. It also sounded great in a 5.1 configuration while it drove my outside patio speakers as a second zone.
Set Up and Use
Initially during the initial configuration in my theater, I thought the Denon setup menus were a bit less than intuitive for an entry level receiver. Once I figured out the menu and the remote control operations, however, the process went fairly smoothly. The Setup menu began with establishing the size and distance for all seven of the surround speakers and selecting the subwoofer and one of the ten available crossover frequencies for the LFE. After setting up the speakers, I moved on to the second step in the Denon Setup menu: assigning the HDMI inputs and digital audio inputs. For this review, I connected my Toshiba HD-A2 HD DVD player using the HDMI video inputs and one of the optical audio inputs; my HD-DVR cable box using component video input and one of the coaxial audio inputs; and my Pioneer DV-588A-S DVD player to access its 5.1 multi-channel music outputs. Setting all the options came next. This is one area where Denon has made their entry level receivers a cut above any others I've recently reviewed. In this step you can set the receiver up for either 7.1 surround, or 5.1 surround plus a second zone. This step also allows you to set a volume limit, which is a great option for any home theater owner that also has teenage boys who love to impress their friends with how loud their home theater is! With this receiver powering the theater, I did not have to worry about the torture (and possible damage) my teenage son and his friends would inflict on my system as they piled into my theater to enjoy Spider Man 3 in high definition. Another great option on the Denon AVR-588 is the Power On Level setting which allows the owner to fix the initial volume when the main system's power is turned on.
The included feature set and connectivity options make this a pretty serious A/V receiver. I think anyone would be impressed with its performance once they have it set up. Unfortunately, this may be the catch with this receiver. Most people in the market for an entry level receiver may be uncomfortable (or lack the know-how) with making the tweaks necessary to really dial it into their room. The owner's manual does not offer much help in educating those that do not already possess a good knowledge of A/V terminology and concepts. So for those that are just getting into home theater, this receiver may require some extra work and some possible movement out of their comfort zone, but it is definitely worth it if they are willing to invest the extra set up time. To counter the incredible tweakability that might intimidate some, Denon includes three preset Quick Select buttons for the most-used settings. These small buttons are located in the middle of the receiver's front panel. The default settings for these three buttons are: Quick Set 1 - DVD playback; Quick Set 2 - TV/Cable playback; and Quick Set 3 - VCR playback. Fortunately, it is very easy to change these settings to your favorite input source, input mode, surround mode, and volume settings, if desired.
The only negatives I noted with this receiver were related to ease of use. Since my components are behind my seating position, the lack of an on-screen display (OSD) made the initial setup process inconvenient. I also found the 2-sided remote control a bit much to operate in my darkened theater. I kept trying to open it from the wrong side and winding up with the door to the controls on the back completely off the remote. Consequently, I had to stop the movie, turn the lights up enough to see and figure out how to re-attach the door. Of course, it may not be fair to hold this against the receiver as it may be more related to the reviewer's mechanical abilities! Once the initial setup was accomplished, and I became accustomed to the remote and manipulating the menu system, tweaks to correct small issues during my review were much easier.
Listening Tests

Since this is an A/V receiver, once I got it all dialed in and tweaked, I started my review by watching some of my favorite DVDs. If you are thinking the setup required to make this receiver perform to its highest capability might be a little more than you are ready for, its performance during your favorite movie or multi-channel audio disc will erase any doubts. The receiver performed well above its price point with all the movies and music I used during this review. I was particularly impressed with the audio channel separation from front to back and left to right, of the burst of gun fire in The Patriot during the scene where Mel Gibson's character takes his two youngest sons to rescue his oldest son from the British troops. Another great disc for testing separation of audio channels is The House of Flying Daggers. Both the drum dance and the bamboo forest scenes found me completely immersed in the action with knives and swords (and those weird scarves she uses during the drum dance) flying all around my theater. The AVR-588's HDMI video pass-through had no problem with any of the video I fed it, including the bamboo forest fight scene and the amazing color saturation this movie is known for.
To test out 5.1 multi-channel music, I turned to my trusty DVD-Audio disc of Blue Man Group's The Complex. The drum layers in "It's Time to Start" and "Your Attention" are torture on underpowered systems, but the AVR-588 had no problems handling the energy and percussion in these tracks. On the more laid back tracks from this disc, like "The Complex" and "Sing Along", the system did a great job of producing the vocal tracks through the center channel. I also used the AIX Recording sampler disc to test out the receiver's DVD-Audio, DTS 96/24, and Dolby Digital capabilities. Ernest Ranglin and Alana Davis's cover of "My Boy Lollipop" is an amazing track and both the DVD-Audio and DTS 96/24 versions placed me in the middle of the recording studio with the musicians.
Conclusion
This is an awesome receiver at any price. The fact that this is Denon's entry level product says a lot about their entire line of receivers. This is a device that, while it may edge up the price slightly over competing products on the market, will not need to be upgraded for some years to come. Because of this, you'll be able to allocate your future home theater budget towards other components. It loses some ease of use points due to its less-than-intuitive menu system – and unhelpful owner's manual. Nevertheless, if rated based simply on its features and clean power source to 7 channels, this is a great receiver at a very reasonable price.
The Score Card
At Audioholics Gear Corner we give you a quick but comprehensive look at consumer electronics from several different categories. All products in the Gear Corner have been individually evaluated through hands-on testing by our reviewers in order to give you a quick but detailed overview that we hope will help you in your purchasing decisions.
| | | |
| --- | --- | --- |
| The Price: | Bargain | |
| | About right | |
| | Pricey | |
| | | |
| --- | --- | --- |
| Recommended For: | Acoustic/folk/bluegrass | |
| | Rock/country | |
| | Classical | |
| | Jazz | |
| | Home theater | |
| | | |
| --- | --- | --- |
| Category: | Stereo | |
| | 5.1 | |
| | 6.1 | |
| | 7.1 | |
| | | |
| --- | --- | --- |
| Feature Set: | Basic | |
| | Average | |
| | Loaded | |
| | | |
| --- | --- | --- |
| Setup: | No-brainer | |
| | Average | |
| | Complicated | |
| | | |
| --- | --- | --- |
| Is it Easy to Use?: | If you have a pulse | |
| | It helps to be a bit geeky | |
| | Not unless you are a rocket scientist | |
| | | |
| --- | --- | --- |
| Build Quality: | Flimsy | |
| | Poor | |
| | Rock-solid | |
| | Average | |
| | Furniture-grade | |
Confused about what AV Gear to buy or how to set it up? Join our Exclusive Audioholics E-Book Membership Program!