NAD T 787 & T 777 Modular AV Reciever Preview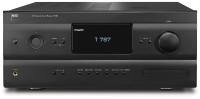 NAD has built a reputation on "audio quality first". Their latest generation of modular receivers (T 787 & T 777) once again proves they are living up to their heritage as evident by their beefy power supplies and full disclosure of amplifier power. NAD has done a lot to make sure that their amplifiers and components will give you all the power you need without any distortion. For video...well, the receivers will pass the signal unmodified. The seven HDMI inputs and two outputs are a great improvement for the company as is the inclusion of Audyessy MultEQ XT room correction. These products don't come cheap. However, the fact that NAD provides an upgradable path via their "Modular Design" approach will likely ease audiophiles concerns about future obsolescence. The question is whether the rest of the public will value their sound quality as much as the hard-core audiophiles. NAD knows their fan base well and NAD owners rarely seem displeased with product performance or feature sets.
We take a look at the NAD T 787 & T 777 flagship modular A/V receivers. NAD employees beefy power supplies and rates their amplifiers "all channels driven". They are future proof with upgrades.