TEAC Distinction AI-3000 Stereo Integrated Amp Preview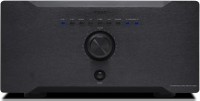 The new Distinction line of Integrated amplifiers from Teac appear to offer some high quality construction and parts which should appeal to audiophiles wanting clean quality raw power. Regardless of the stereotypical black color scheme, the brushed aluminum front plate looks to be very attractive and, dare we say it, distinctive in a sea of gloss black components. The no-frills operation hints toward high fidelity and ease of use. The largest in the series, the AI-3000 is rated at 200wpc into 8 ohms and 360 watts into 4 ohms. Although these amps seem a bit pricey, they do appear to offer all the ingredients of a quality no-frills audiophile piece of gear as evident by the large power supply, heatsinks and clean board layouts. The $1000 AI-1000 may be a nice solution for a budding audiophile's first two channel system. The Distinction series of Integrated Amplifiers appear to be a hopeful line from TEAC and one that we'll be keeping an eye on.
The new Distinction series from TEAC appear to be a nicely crafted, high performance audiophile line of integrated amplifiers ranging from 85wpc to 200wpc and stable into 4 ohms.