Yamaha RX-V863 AV Receiver Overview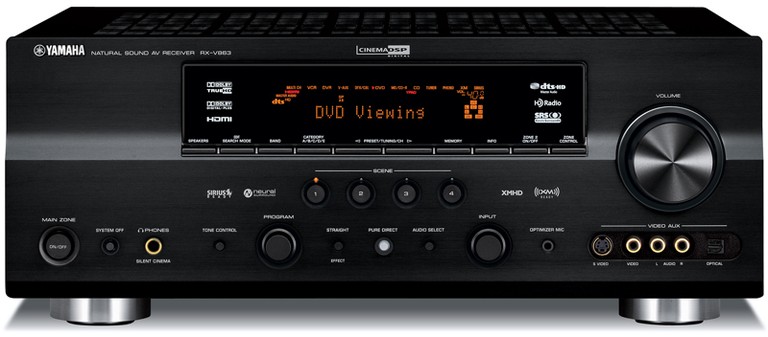 Yamaha RX-V863
Summary
High Sound Quality

HD audio format support: Dolby Digital Plus, Dolby Digital TrueHD, DTS-HD High Resolution Audio and DTS-HD Master Audio
7-channel 735W powerful surround sound (105W x 7)
Digital ToP-ART and High Current Amplification
Pure Direct for higher fidelity sound reproduction
Burr-Brown 192kHz/24-bit DACs used in all channels
Assignable amplifiers for bi-amp connection


High Picture Quality

Analog video (480i or 480p) upscaling to full HD 1080p

1080p-compatible HDMI (3 in/1 out)
Supports Deep Color (up to 36 bit), x.v.Color, a double speed Refresh Rates of 120Hz and 1080p/24Hz transmission, and Auto Lip-Sync compensation
Analog video to HDMI digital video upconversion and deinterlacing with TBC


Advanced Features

4 SCENE buttons offering greater operating ease (with 19 preset SCENE templates)
HD Radio™ digital broadcast reception capability
XM ready with XM HD Surround powered by Neural Surround
SIRIUS Satellite Radio ready
Improved YPAO for automatic speaker setup
iPod compatibility via Yamaha Universal Dock
Bluetooth (A2DP) compatibility with Yamaha Bluetooth® Wireless Audio Receiver (YBA-10)
Superior multi-zone control compatibility

Surround Realism

Fine-tuned CINEMA DSP and Adaptive DSP Level
Improved Compressed Music Enhancer
Adaptive DRC (Dynamic Range Control)

Other Notable Features

XM ready with XM HD Surround powered by Neural Surround
SIRIUS Satellite Radio ready
40-station preset tuning / Auto preset tuning
HD Audio LPCM 7.1-channel reception (up to 192kHz)
High dynamic power and Linear Damping
Low Jitter PLL Circuitry
Assignable amplifiers for bi-amp connection
Initial Volume and Maximum Volume Setting
iPod song titles displayed in English and Western European languages ISO 8859-1 (Latin 1) on the front panel and on-screen display
Improved Compressed Music Enhancer with Straight Enhancer program
Adaptive DRC (Dynamic Range Control)
SILENT CINEMA and Virtual CINEMA DSP
Preout terminals for front, center, surround and surround back, and dual mono subwoofer out
9 selectable subwoofer crossover frequencies
Subwoofer phase select
Front panel video Aux input terminals with optical digital and S-Video input terminals
8-channel or 6-channel external input
Phono input
Speaker A, B, A+B selection
Preset remote unit with illuminated buttons
Executive Overview
It wasn't that long ago that Audioholics was showcasing the flagship RX-Z11 at last year's Audioholics Annual State of the CE Union Show in Clearwater Florida. That 11.2 receiver sure made waves but what made many of our attendees (and those that read about the event in envy afterward) was what that meant for Yamaha's next wave of receivers. Well, wonder no longer because they are here!
The Yamaha RX-V863 is the top of the new line offering from Yamaha. At a paltry $999, I was surprised that Yamaha didn't have an offering at a higher price point. Frankly, $1k isn't that much for a higher end receiver and competitors usually have one or two at higher price points. This made me wonder if the RX-V863 had skimped on features. Fortunately I was mistaken.
The RX-V863 supports native decoding of all the latest audio formats with 3 in/1 out HDMI 1.3 ports. On top of that it also supports Deep Color (up to 36 bit), 120Hz refresh rates, and 1080p/24Hz transmission. Essentially, all the latest goodies. Two of the seven 105 watt amplifiers are assignable for bi-amp or Zone 2 configuration and it has plenty of connections for all your AV gear (including 3 in/1 out component video). 192kHz/24-bit Burr-Brown DACs and ADCs ensure that quality will be top notch when the audio is encoded and/or decoded for final consumption.

Want to take advantage of that single cable to your display but don't feel like upgrading all your source components? No problem, the Yamaha RX-V863 performs analogue video (480i or 480p) upscaling to 1080p. 7.1 channel analogue inputs will keep you future-proof in case Toshiba decides to make another run at high definition DVD using crystals or something. Of course, 7.1 analogue preamp outputs are available for integration with external amps.
As to be expected with Yamaha, extras abound with no less than 17 DSP surround modes. On top of that, we have more useful extras like iPod and Bluetooth compatibility (both require peripherals), an HD radio tuner, and the receiver is XM and Sirius Satellite-ready. But probably the coolest extra is the "extra" subwoofer output. This is a feature that makes our little audioholic hearts jump for joy. While Joe Consumer may not understand why he needs two subs, he understands that he's got two ports so he obviously need two, right? The only downside is that these dual subwoofer outputs can only be used in zone one and not split between the primary Zone and the secondary. Yamaha's YPAO is back again, ensuring that setup will be a breeze and you can use the integrated automatic parametric EQ to tweak your room (or even configure it manually if you so desire). The remote is roughly the same remote we've seen for the past few years in this line and offers nothing new or impressive, though it is certainly functional. The keys do seem to be better backlit than in prior iterations and for that we are thankful.
While it is easy to get excited about new AV offerings, the price and features of the Yamaha RX-V863 have definitely piqued our interest. We can't wait to get a unit in for a full review. For more information, please visit www.yamaha.com or check it out online at store.audioholics.com.

Unless otherwise indicated, this is a preview article for the featured product. A formal review may or may not follow in the future.
Confused about what AV Gear to buy or how to set it up? Join our Exclusive Audioholics E-Book Membership Program!
Recent Forum Posts:
scooterp7 posts on March 03, 2010 04:23
So I just got around to connecting my 863 for 2 ch listening. I finally disconnected my 800VA/600W 42 lb Yammy cr-2040 and replaced it with this 26 lb. 500VA/400W receiver. (sniffle). Can someone tell me, for just 2 channel music, is the 863 really an upgrade, SQ wise, from my vintage beast?
cym_city posts on February 01, 2010 11:32
agray posts on January 31, 2010 23:59
RX-V863/ 120hz refresh rate?

I had a quick question, i recently purchased the V863 and noticed that the HDMI pass through isnt rated @ 120hz, as stated in the overview (1080i&p) but instead is rated @ only 60hz. Did I miss something and whats the real difference between 120 vs 60hz?
JStew posts on August 19, 2008 21:06
ECM Carl, post: 446260
been reading thru and thinking about this unit or the yam 663
will this upconvert my 480i-1080i anaolg/component to 1080p hdmi ?

is there a manual for this thing floating around ?
It's on Yamaha's website.
s52e368 posts on August 19, 2008 14:28
been reading thru and thinking about this unit or the yam 663
will this upconvert my 480i-1080i anaolg/component to 1080p hdmi ?

is there a manual for this thing floating around ?
Post Reply