Yamaha RX-V661 AV Receiver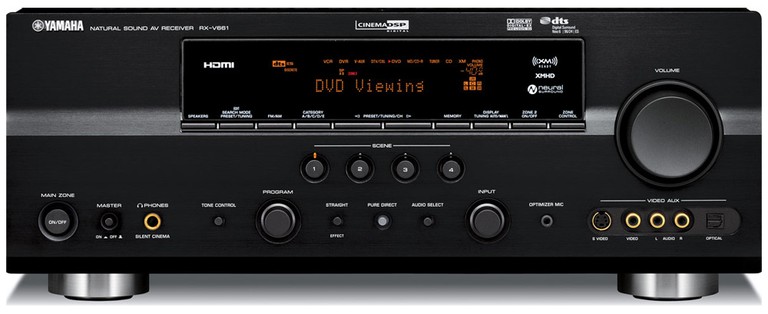 Yamaha RX-V661 AV Receiver
Summary
HDMI 1.2a with support for Super Audio CD & DVD-Audio

4 SCENE buttons on front panel and remote unit offering easier operation
XM Ready with XM HD Surround powered by Neural Surround
iPod compatible via optional Yamaha YDS-10
iPod song titles displayed on front panel and OSD
Improved YPAO supporting low frequency to 31.5Hz with auto setup
Superior multi-zone control compatibility
On-screen display

7-channel 630W powerful surround sound (90W x 7)
Pure Direct for high quality sound reproduction
Digital ToP-ART and High Current Amplification
Burr-Brown 192kHz/24-bit DACs used in all channels
Assignable amplifiers for bi-amp connection or Zone 2
1080p/60 - compatible HDMI (2 in/1 out)
Video up-conversion and component video output with TBC (Time Base Corrector)
3 HDTV compatible component video inputs
Executive Overview
If you are looking for an AV receiver that gives you access to plenty of power, features, and connectivity options the Yamaha RX-V661 is a great option. We were impressed with this receivers value, features and ease of use. It is truly a bring it home, plug it in and start enjoying your movies and music receiver.
This receiver is so loaded with technology we cannot cover everything it is capable of in this review. We were very impressed with the feature set on this receiver that allows you to watch all the major movie formats in surround sound (including Dolby Digital EX, DTS ES, and DTS 96/24), plus enjoy just about any format of music and video games. Speaking of music, it can handle up to 8- channel audio, and offers plenty of music (and video game) surround modes. During our listening tests we were very impressed with the RX-V661's Pure Direct mode for 2-channel and multi-channel listening. Pure Direct is a special listening mode that provides the highest possible signal purity from the source (either digital or audio) to your speakers. The result is a great sounding option for us stereo purist! The receiver also offers a second zone audio only output option to power speakers in a separate room.
Build Quality and Specs
The receiver has plenty of other great features like being XM and HDXM radio ready (requires the XM mini-tuner) and is iPod ready (requires the optional YDS-10 universal dock). The receiver also provides Silent Cinema which makes it possible to enjoy surround sound through normal headphones. We kicked off our listening tests by running Yamaha's YPAO automatic system calibration. We found the calibration system easy to use and it did a nice job setting all the audio levels in our reference theater. The auto calibration system uses a small microphone (included with the receiver) to run through a series of tests to make sure you are getting the best possible sound in your room.
The RX-V661 also offers more than enough audio and video connections. The highlight of the connectivity options are the 1080p compatible HDMI (Version 1.2a) switching (2 inputs/1 output), but the RX-V661 also includes component (3 inputs/1 output), s-video (5 inputs/ 1 output), and composite options for connecting a variety of video sources. The audio options are just as impressive with both digital (4 optical and 2 coaxial) and analog inputs.


Note the 2 HDMI 1.2a inputs and 1 output with support for DVD-Audio and SACD
All speaker connections are via 5-way binding posts and the amplifiers are assignable - meaning that you can choose to bi-amp the fronts, or send a couple of powered channels to Zone 2. This is a great feature that we see creeping down product lines to appear in lower-priced models. The remote control for this unit was very easy to use and was logically laid out. One disappointment was that the remote did not offer a backlight to make operation easier in darkened theater settings. This is typical with most receiver remotes in this price range.
However, the single feature that impressed me the most on this receiver was the SCENE settings. The receiver comes with four preset SCENE buttons (available on the front panel and the remote) that make the four most typical operating scenarios easier than ever. These four SCENE settings (accessed from the component front or the remote by buttons numbered 1, 2, 3, and 4) are initially set to DVD viewing, Disc Listening, TV Viewing, and Radio Listening. Pressing the SCENE button that corresponds with what you want to do (watch a movie, listen to a CD, watch TV, or listen to the radio) launches all the necessary functions to enjoy that activity. Note, these are just the preset SCENES, you can also customize the SCENES to include other options like, Sports TV Viewing, XM Listening, or Video Game Playing. For example, if you want to watch a movie, you simply push SCENE button number 1 and the receiver selects the DVD video input, selects the Dolby Digital or DTS audio setting for surround sound, and you are ready to watch your movie. Once the movie is over if you'd like to listen to XM Radio, all you would need to do is press the SCENE that corresponded to your set up for XM Radio.
Conclusion
Yamaha has produced an incredibly versatile AV receiver in the RX-V661. On features alone this would be a product worthy of a second look, but when you factor in the Yamaha sound quality and ease of use, you've got a device that is truly worthy of the center seat in anyone's home theater system. At under $500 this may be the perfect receiver for those looking to get into a flexible system that is just forward-thinking enough to handle the new high definition products which have been flooding our home for the past few years.

See also:
Confused about what AV Gear to buy or how to set it up? Join our Exclusive Audioholics E-Book Membership Program!
Recent Forum Posts: