Yamaha Soavo-1 Floorstanding Speaker Review
Yamaha Soavo-1 Floorstanding Speaker Review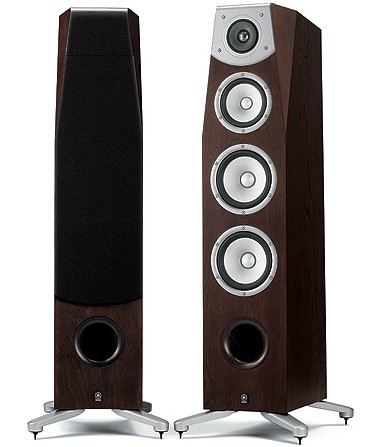 Yamaha's Soavo-1 Speakers
Enclosure Type: 3-Way bass-reflex floor-standing
Veneer options: Black, Dark Brown, Brown Birch
Speaker Impedance: 6-ohms
Video Shielded: Yes
Woofer Size: Dual 6-1/2" (16cm)
Woofer Type: Advanced PMD Cone
Mid Size: 5" (13cm)
Mid Type: Advanced PMD Cone

Tweeter Size: 1" (3cm)
Tweeter Type: Aluminum Dome
Biampable
Frequency Response: 35 Hz - 50 kHz
Power Handling: 200W
Sensitivity (1W/1m): 89 dB/2.83 V/1 m
Dimensions (HxWxD): 41-3/8" x 13-3/4" x 19-3/16"
Weight: 59.5 lbs
Pros
Above par build quality
Beautiful finish
Plays low and smooth
Magnetic grills
Outriggers standard
Biampable
Cons
Midrange could feature more detail
Moderately narrow sweet spot
Introduction
Considering Yamaha has such a good reputation with making fine instruments the introduction of their new Soavo series loudspeakers is no surprise. We put the Soavo-1 towers through its paces and they convinced us that Yamaha has successfully re-entered the realm of high end home audio.

Seemoss posts on August 01, 2008 06:40
Yes, according to Yamaha's Soavo-1 brochure (PDF) Solen metalized polypropylene capsitors are used. But your pictures shows the tweeter net-work, I think, as Yamaha's photo of the Woofer crossover features several capacitors and resistors, not just two.
Could the subdued mid-range be due to the loss of the "Wave-Guide-Horn" in the Soavo-1, rather than the driver design? But why has Yamaha stopped using its White Spruce (WSD) cones. It was claimed, at the time, to the "world's lightest cone material."
Audioholics posts on June 24, 2008 16:19
That is certainly possible. We couldn't really take apart the speakers further. What's odd is that Yamaha peer reviewed the article for technical accuracy and said nothing…
mardelgo posts on June 24, 2008 13:09
"Uses electrolytic caps in series with tweeter"

I Think this is wrong. What you show in the picture is the crossover for the bass drivers and not for the tweeter. (In many speakers that are bi-ampable they put the crossover for the bass drivers in front of the crossover for the mid and tweeter) I think they (Yamaha) use a high quality Solen capacitors for the mid and Tweeter. Here is a picture of the crossover components:
junchoon posts on February 23, 2008 09:41
Pheaton, post: 379643
Hi,
Glad I could help. I purchased my Macross Plus soundtrack back when it was released in the US. Now I would try ebay.

If you are a fan of Macross Plus music you might also like the music from Cowboy Bebop. It was written by the same person, Yoko Kanno. The opening song from Cowboy Bebop is called "Tank", and I think it just rocks!

Good luck with your speaker search and your CD search.

Pheaton
i already have the best of cowboy bebop, and also escaflowne: lovers only. they are very good. if u think cowboy is good, then u most definitely seek out escaflowne if u like orchestral work ( for example carmina burana or conan the brabarian soundtrack). no ebay for me, too many fake ones. so i will get them from hmv japan.
cheers,
wps
Pheaton posts on February 22, 2008 20:08
mike c, post: 379185
thanks for sharing
Hi,
Your welcome.
By the way, those are some of the cutest baby pictures I have ever seen. They make me smile everytime I see them.
Pheaton
Post Reply
Confused about what AV Gear to buy or how to set it up? Join our Exclusive Audioholics E-Book Membership Program!