RBH Sound TK-5CT Floorstanding Speaker Review
RBH Sound TK-5CT Floorstanding Speaker Review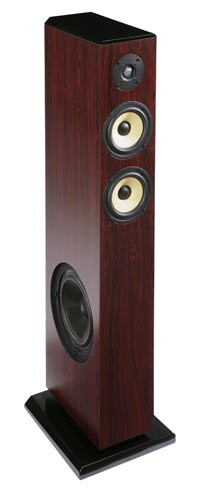 RBH Sound TK-5CT
System Type: 3-way Sealed & Bass Reflex
Frequency Response: 45Hz-20kHz ±3dB
Sensitivity: 87dB (2.83 Voltz @ 1 Meter)
Recommended Power: 70-150 Watts
Drive Units: (1) 8" (203mm) Pulp Kraft Cone Subwoofer
                     (2) 5 3/4" (146mm) Fiberglass Cone Woofer
                     (1) 1" (25mm) Silk Dome Tweeter
Tweeter Protection: Yes
Crossover Frequency: 120 Hz/3000 Hz
Crossover Slope: 12dB/Octave
Impedance: 8 Ohms
Color: Black/Rosewood (gloss black accents)
Grille: Black Cloth
Video Shielding: Yes
Dimensions: 11" W x 42 1/2" H x 13 3/4 D
                  (279mm W x 1079mm H x 349mm D)
Weight: 40 Lbs.
Warranty:
5 Years
Pros
Full range speaker for $800 a pair?!?
Phenomenal upper end
Great imaging
Pretty much does everything right sonically
Cons
Average aesthetics
No biamping ability
Introduction
Winner of the Audioholics 2007 Product of the Year Tower speakers under $1k, the RBH Sound TK-5CT's are among the best we've heard in this price class. Their ability to deliver clean unadulterated sound quality with plenty of bass makes them ideal for someone looking to assemble a cost effective home theater system that also does music equally well. You owe it to yourself to demo these at your local dealer or take a plunge online with the virtually identical EMP Ef30T offering at the Audioholics e-store.

Confused about what AV Gear to buy or how to set it up? Join our Exclusive Audioholics E-Book Membership Program!
Recent Forum Posts:
sheedoe posts on February 21, 2009 18:42
I bought the Tk series speakers based on Tom's review. I love the TK-5CT. I admire Tom for comparing these speakers to almost every other speakers he reviews, even the ones that are 5x its price. It gives me a prospective of where my speakers stand. I would love for Tom to to do a review of the Monitor Audio RS6 speakers. They have been highly rated in many pro reviews. And since its in the price category of the TKs, it'd be a great comparison. Tom are you listening??
DFCall posts on February 09, 2009 00:08
RBH tower speakers for corner entertainment center

Thank you for the review, and posts of the RBH TK-5CT. I have a family room with a corner entertainment center, as I think many do. The space on the sides of the cabinet is too narrow for subs, and when I place the subs behind the cabinet it's OK for movies, but seems muffled and not engaging to the music. On some bass passages the cabinet resonates, which is fine for movies, but is a show stopper for music. Because, the speakers have to set on the sides of the cabinet I have not been able find speakers that could provide decent soundstage and imaging.
I found a pair of the RBH-TK-5CTs on eBay. I am familiar with the RBH speakers, but not the TK line. After reading the review and posts I went ahead and bought the TK-5CTs. Yes, the finish is cheesy up close; however the speakers look nice unless you are examining them closely, and they have a good WF.
For the first time I am getting a great sound stake, imaging, and harmonious bass out of this corner. If you have a corner entertainment center that is a real challenge for music, look at the RGH tower speakers.
nova posts on September 21, 2008 11:14
They will still be available, they just won't have the RBH name. You should still be able to get the F300T with the Destination Audio name or the EF30T from EMPTek.

As for what's going to replace it in the RBH line????
Biggiesized posts on September 21, 2008 02:14
Clint DeBoer, post: 422635
From what we understand, RBH TK is being discontinued, however the same engineers that made that great speaker are bringing to market some very interesting products for EMP…
WHAAT?! Say it ain't so!
What are they planning to bring to the market that will be SUPERIOR to the TK series as well as cheaper?
bans25 posts on June 14, 2008 11:17
If anyone knows where I can get one rosewood TK?5C I may be interested!

Also is there any wall mounts that work with the TK?5Cs?

So far I have been impressed with the sound on this $900 package !
Post Reply