Pioneer VSX-94TXH 7.1 A/V Receiver with HDMI 1.3a Review
Pioneer VSX-94TXH 7.1 A/V Receiver with HDMI 1.3a Review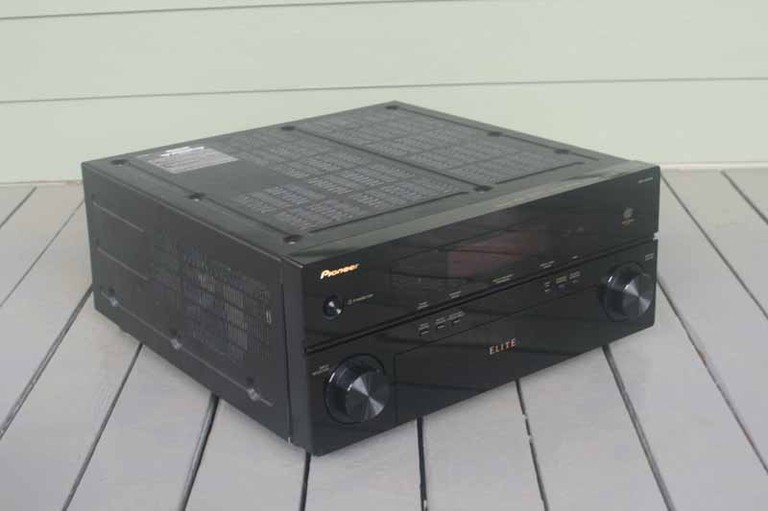 Pioneer VSX-94TXH 7.1 Receiver
Product Name: VSX-94TXH
Manufacturer: Pioneer
Performance Rating:
Value Rating:
Review Date: April 28, 2008 01:55
MSRP: $ 1800
HD Audio Support: Dolby TrueHD, Dolby Digital Plus, dts-HD Master Audio

DSP: 3rd Gen. Analog Devices SHARC + 48-Bit Freescale DSP

Power Ratings: 7 x 140 watts per channel (8 ohms, 20 Hz-20 kHz, <.09%THD)
Audio DAC: 192 kHz/24bit DAC x 7

HDMI: 1.3a with support for Deep Color, 24p and SACD/DVD-Audio support

Crossover: 50, 80, 100, 150, 200Hz

Remote: Programmable/learning remote (glow keys, not backlit)

Video Inputs: 4 x HDMI (1.3); 3 x Component Video (100MHz); 7 sets composite and S-video inputs

Video Outputs: 100MHz Component video output, 3 composite/S-video outputs, Multi-Zone composite video output

Audio Inputs: 7.1 multi-channel inputs, 6 assignable digital inputs (4 optical, 2 coaxial), 8 analog inputs

Audio Outputs: 2 optical digital outputs, multi-zone stereo pre-amp level audio outputs, 7.1 preamp outputs

Additional Connections: RS-232C port for third party control Systems, remote I/O ports, 2 assignable +12V triggers
Dimensions: 16 9/16" x 7 3/8" x 18 1/16"

Weight: 41.1 lbs
Pros
THX Select2 Certification
4 x HDMI 1.3a inputs
Deep Color, xvYCC Support
RS-232C control & dual 12V triggers
Home Media Gallery system
Cons
No Zone 2/3 Remote
Using S/PDIF source alongside HDMI video requires front panel setting
Cluttered remote control w/ no backlight
Non-removable power cord
Confusing Setup/Menu interface
VSX-94TXH Introduction
The last Pioneer receiver review I personally did was in 2005 on an entry-level product (the VSX-815) which struck me as a good balance between available features and power. It will seem pretty obvious when I say that this flagship Elite AV receiver product trumps my last experience by quite a bit. It also, however brings a certain amount of expectation. Being a top of the line model, the VSX-94TXH has a lot of competition and is going to need to distance itself in some areas before being crowned the leader in any particular department.
Keeping Up with the Joneses?
While I don't recommend it for personal finances, keeping up with the Joneses is a necessity for today's flagship receiver products. If you can't maintain some sort of edge in this market, there are plenty of companies with the infrastructure to deliver a product that can quickly dominate the market. Pioneer has its share of special features, but let's see how they compare in a quick survey of the market:
| Manufacturer | Pioneer | Marantz | Denon | Yamaha | Onkyo |
| --- | --- | --- | --- | --- | --- |
| Model | VSX-94TXH | SR8002 | AVR-4308CI | RX-V3800 | TX-NR905 |
| MSRP | $1800 | $1999 | $2499 | $1699 | $2099 |
| Power | 140Wx7 | 125Wx7 | 140Wx7 | 140Wx7 | 140Wx7 |
| HDMI In/Out | 4/1 | 4/1/1 | 4/2 | 4/1 | 4/2 |
| HDMI Version | 1.3a | 1.3a | 1.3a | 1.3a | 1.3a |
| Deep Color | Yes | Yes | Yes | Yes | Yes |
| xvYCC | Yes | Yes | Yes | Yes | Yes |
| HDMI Upconvert | 1080p | 480p | 1080p | 1080p | 1080p |
| THX Certification | Select2 | Select2 | No | No | Ultra2 |
| Room EQ | MCACC | MultEQ | MultEQ XT | YPAO | MultEQ XT |
| Video Processing | DCDi | SD-only | DCDi | ABT1010 | Reon-VX |
When taking a look at the other AV receivers in this price range, the Pioneer has the cards somewhat stacked against it. It's not overpriced and it certainly has a lot of important features, but it isn't exactly rising to the top of the pack. What that said, companies like Harman Kardon don't even have a seat at the table. Some of the notable features of the Pioneer VSX-94TXH include:
THX Select2 Certified
Home Media Gallery (Internet radio, Neural Music Direct)
Support for Dolby TrueHD, Dolby Digital Plus, dts-HD Master Audio
Deep Color, xvYCC and SACD Support by HDMI
1080p Upconversion of SD signals via HDMI
XM HD Surround by Neural THX Technologies
RS-232C control, two 12VDC triggers
2nd Zone Audio/Video Output
Faroudja DCDi video processing
See also:
Confused about what AV Gear to buy or how to set it up? Join our Exclusive Audioholics E-Book Membership Program!
Recent Forum Posts:
TheFactor posts on May 08, 2008 02:56
Wow thats a bummer, I think my surge protector has a in and out for cable and figured I didnt need it and was afraid it might effect the picture but after what you said I might be looking a little closer at that. I think the warranty might be a good idea after all.
Thunder18 posts on May 07, 2008 23:40
No problem. Great feedback on the receiver by the way.
In my experience i've always bought the warranty and the only time I used it is when my receiver was electrocuted. The warranty covered that replacement and several other warranties covered my TV, PS2 and powered subwoofer that all received the power surge from the receiver. (Surge came over the cable line, traveled to my receiver via the s-video cable which subsequently sent it to all my other equipment) The only item that didn't have a powered subwoofer and Circuit city fixed it for a nominal charge. This is all because I didn't have a surge protector that protected the 2 coax inputs going to my cable box.
TheFactor posts on May 07, 2008 22:45
Thanks again Thunder18 For posting that link review for me on my original thread and your input had a lot to do with my Decision and I couldnt be happier. Thanks again
TheFactor posts on May 07, 2008 22:37
Now I just have to decide if I want to spend another 149 dollars for a four year if they cant fix it they'll replace it warranty. Im a little gun shy sorta speak from previous receivers so I might get it just for a peice of mind .
TheFactor posts on May 07, 2008 22:31
Thunder18, post: 410217
Congrats. Did the audioholics review sway you any? I really like that receiver, but I just can't seem to stand the remote ;-p
Ah well, from the looks of the other post, it looks like you're happy with it. Good luck with this one. I've had 4 Pioneer receivers and none of them have ever had a lick of trouble save the one that was electrocuted.
Thanks and actually the review made me lean towards it more, I like the power it has and how cool it runs. I put it and my paradigms threw some tests for sure by that I mean listening to it louder than I normally would, im in a house so I can crank it up when im in the mood and probably dont tick off to many of my neighbors lol im pretty considerate though after 10 but anyway my point is after a 2 hour movie with the volume loud enough to were I was reaching for the remote so I wouldnt go deaf and the 94 was just warm. All my other receivers were pretty hot by then especially above the receiver on the audio rack was toasty hot with others but not the 94 it was just warm. Im very impressed with the sound quality and picture to. I think what sold me on the review was the statement at the end " if you want a powerhouse look no further " I think with out going seperates this reciever should should keep me happy for a long time and it makes me even happier to know your pioneers have been good to ya actually im getting use to the remote its not that bad and im learning were all the important buttons are on it like for quick access for speaker level ect, thx, adv surround and so on can easliy be navigated in the dark movie mode now : ).
Post Reply