2008 A/V Receivers & Preamp/Processors - Breaking Down Barriers
2008 A/V Receivers & Preamp/Processors - Breaking Down Barriers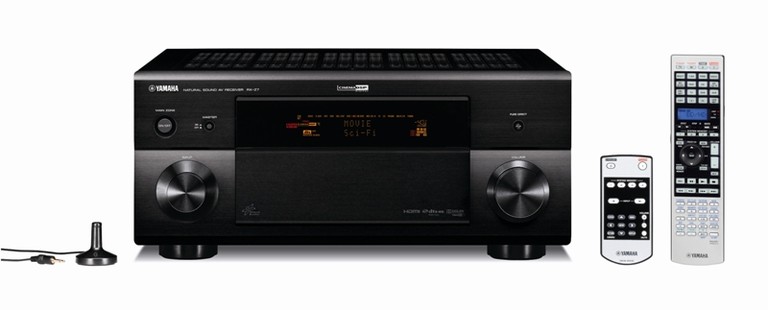 Yamaha RX-Z7 AV Receiver
2008 has really taken features in receivers to the next level. Just a few years ago, it was nearly impossible to get A/V receivers for under $500 with HDMI switching. Today, not only are those commonplace, but you are now also getting HDMI 1.3a with audio support at this price range. This is great news for the most part, but we are noticing a trend with some manufacturers whom are trading amplifier quality for features which I plan on writing more about in a separate editorial. In the meantime, we found some really cool innovations being done by the likes of Denon, Yamaha, Marantz, Integra and Anthem and Rotel that will likely please the audiophiles and videophiles alike.
Denon A/V Receivers & Processor Updates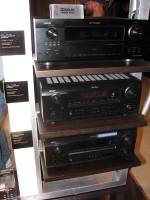 Denon perhaps exemplifies "breaking down the barriers" theme in this article by introducing a complete line of receivers starting at $299 (AVR-589) that support Audyssey Dynamic Volume. This is a super cool feature that allows you to do late night viewing without sacrificing sound quality. Its a form of compression that works in conjunction with the Audyssey EQ to ensure the optimal frequency response at all listening levels while also ensuring the bass and surrounds are still prevalent at low listening levels. In comparison, Dolby Volume is currently only offered in two flagship receivers from Arcam and Harman Kardon both of which cost several thousand dollars. Denon is providing HDMI 1.3a video switching starting at $299 and TrueHD / DTS HD decoding, video upscaling to 1080p and 90 watts x 7 at $599 (AVR-789).
Denon also announced FREE upgrade to Audyssey Dynamic volume for AVP-A1HDCI and AVR-5308CI owners. Models below that support this upgrade via an ethernet firmware upload should expect to pay around $100.
For more information, visit: www.usa.denon.com

Integra A/V Receivers & Processor Updates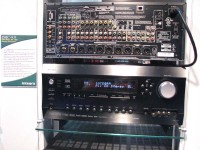 DHC-9.9 A/V Pre/Pro
Integra appears to have their head in the game with the latest updates that are bestowed upon their flagship products. It was like pulling teeth getting a press kit or reliable info at their booth but we did manage to get some cool relevant info on their product updates.

The DHC-9.9 A/V is the worlds first AV preamplifier-processor to include Imaging Science Foundation's Certified Calibration Controls (ISFccc) which facilitate individual image quality calibration of video source components while simplifying system configurations. The Integra DHC-9.9 is a three-zone THX Ultra2 Plus certified AV preamplifier-processor. It replaces the company's highly successful DTC-9.8 processor from last year.
The heart of the video circuitry is Silicon Optix' premium HQV Reon-VX processing for studio-quality upscaling of all sources to 1080p over HDMI, and also provides analog component video upscaling to 1080i. The DHC-9.9 has four HDMI, three component video, and six S-Video/composite inputs. There are two HDMI outputs to facilitate applications such as a second monitor in the same room with a projector. The DHC-9.9 has three advanced TI Aureus™ 32-bit DSP chips to provide onboard decoding for every major format in use today, including the latest high definition and lossless audio formats specified for the Blu-Ray disc formats. With Audyssey MultEQ XT and Dynamic Volume, built in, you are getting virtually every usable feature an audiophile could hope for at a meager $2k price tag. This is shaping up to be one of the best values in high end preamp/processors today.
DTR-9.9 & DTR-8.9 A/V Receivers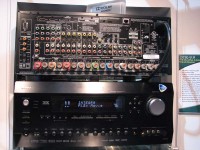 If you're looking for the same great features in an A/V receiver. Integra's got you covered with two new models. Conservatively rated at 145 and 140 watts per channel respectively and certified for use with 4 Ohm speakers, the DTR-9.9 and DTR-8.9 A/V receivers appear to have very capable amplifier performance. Each features a massive high-current capable power supply with low-feedback WRAT (Wide Range Amplifier Technology) and parallel push-pull topology for extremely detailed performance across the frequency spectrum. The rear surround amplifier channels can also be repurposed to bi-amp the front L/R channels for compatible speakers, or bridged with the front L/R channels to deliver even higher current and power output.
The Integra DTR-9.9 and DTR-8.9 will be available in September at suggested retail prices of $2,600 and $1,900, respectively.
For more information, visit: www.integrahometheater.com
Marantz A/V Receivers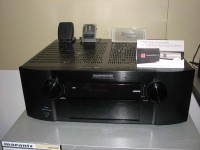 Marantz added to their arsenal of receivers with a few new models, namely the SR4003 ($549), SR5003 ($799) and SR6003 ($1,199). You will have to step up to the SR5003 if you want Audyssey MultEQ and TrueHD / DTS HD decoding but for audiophiles that love the signature Marantz sound quality it shouldn't give them a second thought. Incidentally Audioholics is giving away a brand new SR6003 as part of a complete 5.1 A/V system giveaway this October at our SOTU Trade Show Event.
With fresh new cosmetics and an array of the latest audio and video decoding technologies, Marantz has put themselves back on the tightly competitive receiver map as a serious contender.
For more information, visit: www.us.marantz.com
Anthem Statement D2 V.2 A/V Processor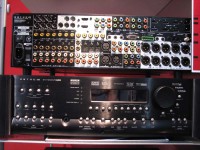 Anthem updated their venerable D2 processor with HDMI switching which currently only support video but will be upgraded to full audio support via a firmware update soon. For an additional fee, you can update your D2 to their ARC room correction system which is based on IIR filters and is fully editable for each channel. The D2 V.2 sports 8 HDMI inputs and 2 outs with deep color (36 bit) support and eventual audio support. It will support DVD Audio up to 192kHz and 7 channels.
Expect to pay in the ballpark of $7,999 if you wanna roll with this baby.
For more information, visit:
www.anthemav.com
Rotel RSX-15 Series A/V Receivers & Preamp/Processor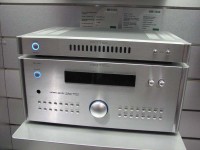 If we were handing out awards solely on looks, Rotel would win it hands down with their new line of Krellish looking receivers. These things look like a million bucks and will surely rally the Rotel fan boys to upgrade their equipment to their latest offerings.
Two new A/V receivers (RSX-1550 & RSX-1560) and a new preamp-processor, all feature HDMI v1.3 connectivity and full compatibility with the high-resolution audio formats Dolby® TrueHD and DTS HD™ Master, and the forthcoming video enhancements Deep Color (enhanced color depth) and xvYCC (extended color gamut). All three components incorporate onboard video processing, courtesy of technology leader Faroudja, that delivers 1080p scaling with 24 Hz capability for reference-grade performance with both movie and video programming. The receivers and pre-pro also boast unsurpassed multizone potential, with audio and video pathways and control functions for second, third, and even fourth zones or remote rooms.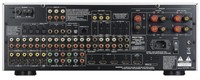 The flagship 7.1-channel RSX-1560, headlines with 7x100W of class D power (with assignable channels for bi-amp or second-zone use), four HDMI v1.3 inputs, and 1080p/24Hz Faroudja video processing, with assignable 12V triggers and RS-232C serial connectivity for easy integration into a customized system—all in a 4U rack-mountable package. The second A/V receiver, the RSX-1550, is a 7.1-channel design with 5x100W of onboard class A/B power: its flexible power amp-assignability makes expansion via any of Rotel's new compact 2-channel or multichannel power amps a snap
The RSP-1570 Surround Processor/Preamplifier marries the functionality of the RSX-1560 flagship receiver to the unrestricted quality format of separate components, while retaining 4xHDMI v1.3, Faroudja 1080p/24HZ, and highly flexible multi-zone abilities—all in a 3U rackmount (4.5 inch) cabinet.
RSX-1550 Home Theater Receiver (7.1-ch., 5x100W, HDMI v1.3, Faroudja 1080p/24 Hz) $1999.00
RSX-1560 Home Theater Receiver (7.1-ch., 7x100W, HDMI v1.3, Faroudja 1080p/24 Hz) $2599.00
RSP-1570 Home Theater Surround Pro/Pre (7.1-ch., HDMI v1.3, Faroudja 1080p/24 Hz) $2199.00
RMB-1565 - Five-Channel Home Theater Power Amp (5x100W Class D, 2U height)...... $1299.00
RMB-1575 – Five -Channel Home Theater Power Amp (5x250W Class D, 3U height).... $2799.00
RB-1562 - Two-Channel Home Theater Power Amp (2x100W Class D, 2U height)............. $799.00
RB-1572 - Two-Channel Home Theater Power Amp (2x250W Class D, 2U height).......... $1299.00
RB-1510 – Two-Channel Installation Amplifier (2x65W Class D, 1U height)....................... $499.00
RMB-1506 - Six-Channel Installation Amplifier (6x60W Class A/B, 3U height).................... $999.00
RMB-1512 - Twelve-Channel Installation Amplifier (12x100W Class D, 3U height)........ $2999.00
I'm a bit perplexed that Rotel chose Class D amplification on their flagship receiver which is boasting only 100wpx x 7.  We will have to get this product in for review to see how it performs in real world usage.
For more information, visit:  www.rotel.com
Yamaha RX-Z7, RXV-3900 & RX-V1900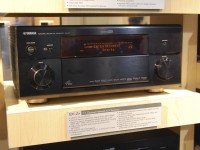 Not only did Yamaha unveil their very first Blu-ray player at CEDIA, but they also launched three new receivers - the RX-V1900 ($1,299), RX-V3900 ($1,799) and the RX-Z7 ($2,499)  While all three models appear to have a similar power rating, there is more than meets the eyes going on here.  Yamaha has traditionally released several models with similar power specs that performed very differently in the real world.  It all has to do with the size of the power supply and quality of the output transistors which determines how well the particular receiver will drive multiple channels simultaneously and low impedance loads.
The RX-Z7 shares many of the same virtues as their RX-Z11 flagship but with an improved implementation of Anchor Bays top end video processor which does mosquito noise reduction, block noise reduction and fine detail and edge enhancement.  The RX-Z7 incorporates Anchor Bay's PReP (Progressive ReProcessing)  for improving progressive video signals and artifact removal.  Their video processing also provides seven different video adjustment parameters with six independent storage settings to ensure all of your video sources can be properly calibrated through this receiver.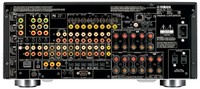 On the audio side, all of the latest hidef formats are supported for decoding and the RX-Z7 features a digital system clock generator which is said to isolate the DSP devices and DAC's from digital inputs to prevent jitter.  The RX-Z7 is the only receiver of the three mentioned herein that offer this level of video and audio processing as well as a preamp mode which redirects all seven internal channels to other zones or turns them off entirely so you can use a more powerful separate multi channel amplifier when needed.
Both the RX-Z7 and RX-V3900 sport dual HDMI outputs with simultaneous transmission.  While all three models feature a new feature called Enhanced Adaptive DRC (Dynamic Range Control) which in conjunction with YPAO automatically adjusts  the dynamic range and equalization of the sound according to the volume that is selected. 
For more information, visit: www.yamaha.com/yec/
Confused about what AV Gear to buy or how to set it up? Join our Exclusive Audioholics E-Book Membership Program!
See also:
Recent Forum Posts:
Davemcc posts on September 11, 2008 09:10
It doesn't look like these things are getting any cheaper. There seems to be some hefty price increases over the previous equivalent models.
fredk posts on September 10, 2008 16:30
Nice article Gene. I'm still sitting on the sidelines while I wait for bluray players to come down in price to something more afordable.

I'm looking forward to your article on the features/power/amplification tradoffs. Since I am running 4ohm fronts this is important to me.

For instance, the RXV663 seems like a real bang for the buck receiver, but I wonder whether it can handle the higher current demands of a 4ohm speaker.
jostenmeat posts on September 10, 2008 16:22
gene, post: 454184
Who knows, Sherwood is always unapproachable at these trade shows and their booth is so small and packed with dealers that you can't get any useful info from them
Well . . . were their girls any prettier?
gene posts on September 10, 2008 16:09
Whatever happened to Sherwood and their Trinnov EQ?
Who knows, Sherwood is always unapproachable at these trade shows and their booth is so small and packed with dealers that you can't get any useful info from them
ned posts on September 10, 2008 15:54
Whatever happened to Sherwood and their Trinnov EQ?
Post Reply