LCD and DLP Projector Updates - Mostly Incremental
LCD and DLP Projector Updates - Mostly Incremental
DLP & LCD projector round-up
LCD and DLP projectors received mostly incremental updates this year. Both DLP and LCD didn't particularly impress us with anything that was incredibly visual or outstanding beyond current models, but everything seemed to get a little tweak, including some impressive LCoS models. Everyone, including me was hoping for a showing of LED front projection technology, but since neither DLP, Texas Instruments, or the people behind PhatLight didn't have a booth this year, the only LED demo was an off-site OEM demo by a Chinese manufacturer named Chilin. Could this be the year to get a good bargain on last year's model?

Sony VPL-HW10 LCoS Projector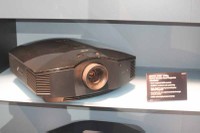 This new $3500 model from Sony was one of the more impressive systems we'd seen and seemed to really break a price barrier for Sony. They did things like drop electronic zoom, focus and lens shift in favor of manual controls in order to get the price down and offer a truly impressive product to consumers. Black levels looked excellent, colors were natural and accurate and I was quite impressed with the demo overall. The projector has manual horizontal and vertical lens shift, is a full 1080p SXRD light engine and has the Bravia 2 video processing features for deinterlacing and scaling. It has 1000 lumens and a stated contrast ratio of 30,000:1. It is shipping this month and really seems to bring most of Sony's important technologies home for a very reasonable price.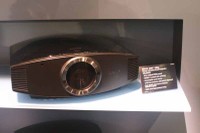 Higher up the food chain is the VPL-VW70 which retails for $8000 and uses the new Bravia Engine PRO video processor. Unlike the Ruby, which uses a Xenon lamp costing around $1000, this projector uses a standard 200W UHP lamp that retails for around $350. For the higher price tag, Sony delivers electronic (1.6x) zoom, focus and lens shift. There is also an anamorphic zoom scaling mode which eliminates the need for a separate scaler when using a panamorph (or other) lens. Dual 12V trigger outputs and an RS-232C port are included and Sony puts its stated contrast ratio number at 60,000:1 with an 800 lumen output. The VPL-VW70 is also very quiet - rated at just 20dB. Availability is this November.
Both projectors are equipped with a panel alignment adjustment function that aligns each red, green and blue pixel for precise images. The adjustment range is an incredible +/-2 pixels in 1/10 pixel steps. The VPL-VW70 takes it a step further with panel zone alignment allowing even finer control. The model also adds a unique automatic lens cover (similar to Sanyo) that helps protect the lens surface from dust.
For more information please visit www.sonystyle.com.
JVC DLA-HD750 & DLA-HD350 LCoS Projectors
JVC showed off its newest LCoS projector, the DLA-HD750, which looked pretty sweet and had some very impressive specs. The rep told us that it has a 30,000:1 contrast ratio before factoring in the iris. The video processing for this projector is handled by an onboard HQV Reon processor which also provides an anamorphic zoom mode - something we're seeing more and more of in front projectors. This all but eliminates the need for a dedicated video processor, even if you plan to purchase an anamophic/cinemascope lens sled. The projector also features keystone control - new for JVC. Horizontal/vertical lens shift as well as the 2x zoom and focus lens are fully motorized. The system is THX certified and puts out 800 lumens which is perfect for most home theater applications that don't intend on using IMAX-sized screens. It features two HDMI 1.3 inputs and 1 component and VGA video input and supports CEC (Consumer Electronics Control). RS-232C is included of course and there is a 12VDC trigger output as well for controlling a screen or anamorphic lens sled.
The new projector is expected to ship around the end of November and will be priced just under $8000. If it's anything like some other JVC projectors we're fond of, look for tons of knockoffs to appear across the industry throughout 2009.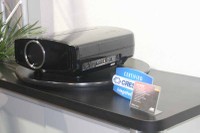 The DLA-HD750 also showed with its little brother, the DLA-HD350, which has a different form factor entirely and sports a 15,000:1 contrast ratio and a motorized 2x zoom/focus lens. This projector also carries the HQV Reon processor and sports similar features such as keystoning and horizontal/vertcal lens shift. This might be the bargain product for JVC fans as you can pick up the DLA-HD350 for under $6000.
For more information please visit www.jvc.com.
Panasonic PT-AE3000U Projector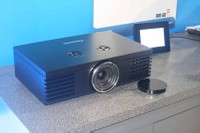 Fans of Panasonic will really want to demo the new PT-AE3000U projector. This updated model is going to sell for $3499 and will be available around October. The new model has 1600 lumens - brighter than the former iterations - and has the same wide angle 2x zoom lens we've come to expect from Panasonic projectors. There are also three HDMI inputs and a new lens memory mode which can even support a setting for their new anamorphic zoom mode - which Panasonic says eliminates the need for an anamorphic lens (we think it will be a nice "poor man's" anamorphic mode). The projector adds a new high pass filter to its redesigned optical path designed to generate better black level performance and also added a version of 120Hz technology that employs frame interpolation to reduce motion blur. They also do this with 24p sources - something that will be exciting to test out and see how it affects the picture quality of Blu-ray titles.
Panasonic also introduced a new "Split Adjust Mode" where the projector will take the center part of the screen image and duplicate it on the left and right sides of the screen. When you apply color and contrast settings to the right side you can see how it looks against the original unaffected image before accepting the changes. Panasonic is also claiming a contrast ratio of 60,000:1. We'll have to see how that plays out in real world use. We're excited about the new system and hope to review it quite soon after the show.
For more information please visit www.panasonic.com.

Pioneer Elite PRO-FPJ1 Projector
Pioneer showed off its new PRO-FPJ1 projector which is simply a rebadged JVC DLA-RS2. I'm sure Pioneer tweaked something on the unit, but enough said. It retails for around $9000. It looked awesome and if you're going to base your product on an OEM model, this isn't a bad one to do it with.
For more information please visit www.pioneerelectronics.com.
DigitalProjection 3D DLP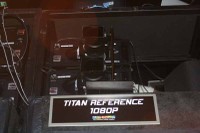 The DigitalProjection 3D DLP demonstration was kind of silly. Apparently the best way to demonstrate the new 3D technology (which takes 2 projectors to pull off) is to simulate a Pepper's Ghost effect through overlays. Playing a brief clip called "Back in 5" a guy walks by a street musician's abandoned rig and sits down to play. Various dancers show up and the scene plays out with all of the elements looking like they werr very poorly photoshopped on top of a static background. I sincerely hope 3D front projection is going to be better then this and far easier to implement. If not, then they can keep it. Of course we already know that 3D in the movie theater is far more advanced that what we saw here, so I'll just chalk it up to not having adequate demo material (rights) available for use.
For more information please visit www.digitalprojection.com.

Epson New 3LCD Projector Lineup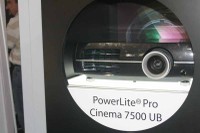 We checked out Epson's new line-up of projectors, however nothing looked to be too much more than a simple incremental change from their current lineup, though some of the updates seemed very helpful. The Pro Cinema 7100 has an 18,000:1 dynamic contrast ratio, and the Pro Cinema 7500 UB punches out a stated 75,000:1 ratio. It will be very interesting to see what this means in terms of actual perceived black levels. Both projectors are based on the current D7 3LCD panels. The Pro Cinema 7100 will retail for about $2999 and be available in November, and the Pro Cinema 7500 UB will retail for $4499 and be available in December.
The 6100, 7100, 6500 UB, and 7500 UB all share a newly redesigned case - some in black and white. The Pro Cinema 7500 UB is also equipped with Silicon Optix's HQV Reon-VX video processor for scaling and deinterlacing of SD and 1080i HD signals, and features mosquito and block noise reduction, along with multi-level contrast enhancement and other picture improvement options. The Pro Cinema 7500 UB also features Color Space selection, which allows a user to select between the three industry color space standards – SMPTE-C for standard definition (Rec.601), HD (Rec. 709) for high definition, and EBU to match the European PAL video standard. xvYCC (xvColor) is also supported. Like a lot of projectors we've seen this year, the Pro Cinema 7500 UB offers anamorphic lens compatibility and "vertical stretch" picture modes out of the box.
The new PowerLite Pro Cinema 7100 has a higher brightness of up to 1,800 lumens and offers ISF Day and Night modes which provide for easy one-button switching between picture modes and lamp output, as well as Epson's Color Isolation system to allow for quick, easy and accurate fine-tuning of color saturation and hue without the need for blue and red optical filters.
For more information please visit www.epson.com.

Audioholics posts on September 08, 2008 12:05
Bluesmoke, post: 452787
Mine has Reon, manual lens shift, 1100lum and pretty loud, but cost me $849.
Isn't that incredible? This is a good place to be for projector aficionados.
The projector news would have been considered HUGE had even one manufacturer demoed an actual LED-driven system.
Bluesmoke posts on September 06, 2008 19:45
Mine has Reon, manual lens shift, 1100lum and pretty loud, but cost me $849.

Oh, the projector is a BenQ W500. Not up to Super Star Destroyer specs but it's good enough for lil'ol me for the time being…. :o
jostenmeat posts on September 06, 2008 19:15
I'm not sure what constitutes incremental vs HUGE, but I like what I'm seeing. The pixel shift and price point for the Sony's seem nice, I like that JVC is now including Reon, and motorized shift at the "mid-level". Panny looks to be significantly brighter. The 2000U was already known to be a quiet PJ, and its neat to see Sony drop the noise floor even further…

Mine is loud-ish, with manual zoom, no Reon, 700 lumens. I LOVE it, but some of these "incremental" bonuses would be nice.
Post Reply
Confused about what AV Gear to buy or how to set it up? Join our Exclusive Audioholics E-Book Membership Program!