Yamaha RX-V665 A/V Receiver plus Line Upgrades Preview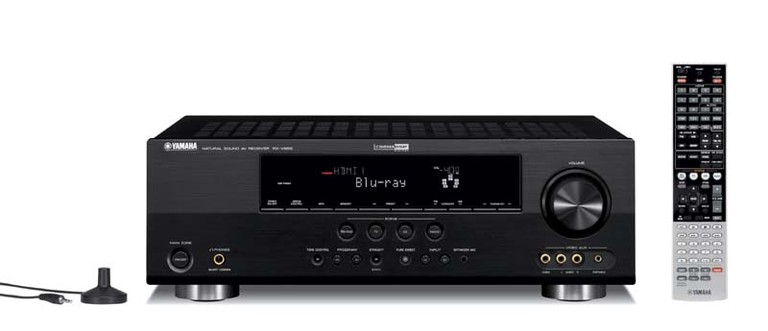 Yamaha RX-V665 Receiver
Summary
Executive Overview
In Yamaha's continuing commitment to making your new receiver obsolete each and every year, they have released updates to their RX-V line lead by the RX-V665. The RX-V663 was the best selling receiver in 2008 and Yamaha wants to build on that success. Included in the new releases are the RX-V765, MSRP: $649.95; RX-V565, MSRP: $479.95; RX-V465, MSRP: $379.95; and RX-V365, MSRP $249.95 The RX-V665 will retail for $549.95.
Audio and video suites are very advanced in these new offerings with the RX-V465 and up all equipped with 1080p compatible HDMI inputs and a all the necessary surround sound decoders including Dolby TrueHD and DTS-HD Master Audio. The RX-V565 and up also feature upscaling analogue video to 1080p.
Macros seem to be a new thing with Yamaha with these releases. While the RX-V465 and up have four pre-set SCENE buttons that will not only change the audio and video output but also turn on the desired components and surround mode combinations. The way this works is you program into the remote the IR codes of your components. This is a nice change from what we expected. Most manufacturers will have similar features that only work with their own components or sometimes only through HDMI-CEC. The RX-V365 can do similar macros but they are manually set by the user in 13 templates.
For ~$550, Yamaha is pushing to make the RX-V665 (90W x 7) the new market leader. In addition to the features outlined above, the V665 includes Deep Color (30/36 bit) technology, 120Hz/24Hz Refresh Rates and Auto Lip-Sync compensation, which automatically (according to Yamaha) eliminates audio/video sync issues. Assignable amplifiers for bi-amping, powering presence speakers (back surround or front) or a second zone are included, as well as zone 2 on/off control from the front panel, remote in/out and programmable +12V trigger outputs. The RX-V665 is also Sirius/XM satellite radio ready with XM HD Surround powered by Neural Surround.
The step-up RX-V765 (95W x 7) offers more power and high-quality discrete amplification circuitry and for those who may not need multi-zone capabilities, the RX-V565 (90W x 7) provides a strong full-featured home theater centerpiece, as well as on-screen capabilities. The five-channel RX-V465 (105W x 5; 4 1080p-compatible HDMI inputs) and RX-V365 (100W x 5; 2 HDMI inputs) round out the line.
Other features found throughout all or most of the line include:
Compressed Music Enhancer - all units

Adaptive Dynamic Range Control - available in models from RX-V465 and up

Yamaha Parametric room Acoustic Optimizer (YPAO) - starting at the RX-V465

Yamaha's Cinema DSP audio processing - all units

Silent Cinema technology - all units
The Silent Cinema technology needs a little explanation. Essentially it makes it possible to hear large-scale surround sound through standard headphones—ideal for late-night home theater listening when the rest of the family is asleep. One of the biggest cosmetic changes for the new line of Yamaha's is the switch from the amber display color to blue. While we understand that blue is the new pink for audio equipment and is often quoted (somewhat sarcastically I might add) by reviewers as being "soothing," the fact is that the amber was Yamaha's signature. It will be interesting to see how consumers react to this change.
For more information, please visit www.yamaha.com/hometheater.

Unless otherwise indicated, this is a preview article for the featured product. A formal review may or may not follow in the future.
Zaluss posts on November 29, 2009 16:11
Adam posts on November 29, 2009 16:05
Alex2507, post: 653036
You got the Oppo?
Yeah, but like I said, it's the DV-980H…not the BDP-83.
I guess that you're
memory
isn't that good after all.
Alex2507 posts on November 29, 2009 16:02
You got the Oppo?
I just died a little inside … envy.
:o
That's it! I'm getting the $900 one !!!
… "will not spend" … I just shrunk a foot … "will not spend" … my car
really
needs an oil change … "will not spend" …
Seriously I would love to know that the Oppo SE did sound better but it probably doesn't.
Adam posts on November 29, 2009 15:44
You have quite a memory, my man.

I can't speak to how well SACD and DVD-A over HDMI compares to those signals over multi-channel analog inputs on some systems, but HDMI is far superior on my Pioneer. Granted, I didn't try the analog inputs on my VSX-23, but it won't apply the MCACC or bass management settings to those inputs (just like my VSX-1015, and I thought the multi-channel inputs on that sounded bad because of it). Heck, I bought my receiver and the Oppo in large part so that I could listen to SACD over HDMI (and finally enjoy your recommendation of Dire Straits).
Alex2507 posts on November 29, 2009 15:36
Actually the 2 HDMI thing on a 663 is not enough. I'll be needing 3.

For SACD and DVD-A the 6/8 channel in thing is cool. Not sure if you get similar quality through HDMI.

I am figuring out that I want to pull an anti-Phil and enjoy the gear that I have until it rusts.

As soon as Obama fixes the economy and sends Buckeye to Guantanamo I'll look into new gear.

new mantra: … "will not spend" … Clenches @ss cheeks … "will not spend" …
wakes up in Arizona … "will not spend" … knows mechanical engineering … "will not spend"
locks keys in car … "will not spend" … goes for a long walk … "will not spend" …

I don't know …
Post Reply
Confused about what AV Gear to buy or how to set it up? Join our Exclusive Audioholics E-Book Membership Program!