Yamaha RX-V3900 Receiver Preview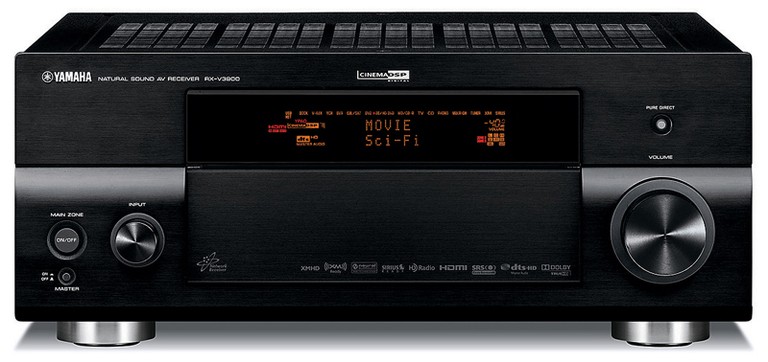 Yamaha RX-V3900 recevier
Summary
7.1 channel (140W x 7) network receiver

Decoders for HD Audio formats: Dolby TrueHD and DTS-HD Master Audio (192kHz); Dolby Digital Plus and DTS-HD High Resolution Audio
Burr-Brown 192kHz/24-bit DACs for all channels
Digital System Clock Isolator and Ultra Low Jitter PLL circuitry for HDMI and any digital sources
Intelligent Assignable Amplifiers for bi-amp or Front Presence connection

Analog and HDMI video upscaling to full HD 1080p
1080p-compatible HDMI v1.3a 4 inputs and 2 outputs (simultaneous)
Supports Deep Color (30/36 bit), x.v.Color, 120Hz/24Hz Refresh Rates and Auto Lip-Sync compensation
PReP™ (Progressive ReProcessing) with 2:2/2:3 Pull-Down Detection, Motion Adaptive Deinterlacing
Anchor Bay VRS™ video processing technologies

Network Receiver capabilities, connecting Internet Radio (MP3/WMA), Streaming Service (Rhapsody®/SIRIUS), music files on PC (WAV, MP3, WMA, AAC) and Yamaha MusicCAST via LAN
Windows Vista and DLNA network device support
USB port for portable audio players and flash drives (MTP/MSC)
HD Radio™ with iTunes tagging
XM ready with XM HD Surround powered by Neural Surround
SIRIUS Satellite Radio ready
SIRIUS Internet Radio Coming March 2009 via online firmware update.
iPod compatibility via optional YDS-11 Universal Dock
Bluetooth (A2DP) compatibility with optional Yamaha Bluetooth® Wireless Audio Receiver YBA-10
Executive Overview
The Yamaha RX-V3900 140W x 7.1 channel receiver costs $1799 and features extensive networking features, allowing you to stream music from your PC, Internet Radio, or Rhapsody online music service. A web browser interface allows you to control the receiver via a PC or PDA web browser over a home network. The RX-V3900 also boasts HD Radio with iTunes tagging, four HDMI v1.3a inputs and two outputs, with HDMI up-conversion and scaling to 1080p and extensive multi-zone custom installation compatibilities. It supports the latest HD Audio formats such as Dolby TrueHD and DTS-HD Master Audio (192kHz). The RX-V3900 also features a USB input and Bluetooth support, allowing you to stream music from your PC or Bluetooth wireless device.
We got to see and hear this beauty up close an personal atr the 2008 Audioholic sExpo in Orlando this year. It was powering a suite of brand new EMP speakers that have yet to hit the market. We were impressed with its capabilities and couldn't believe the (Anchor Bay Technologies) video processing capability and prowess this AV receiver possessed. In particular the Progressive Re-interlacing feature (PReP) is out of this world (more on that later).
This receiver has more logos on it than a NASCAR running the Daytona 500. Rhapsody support and their new Network Receiver designation ensure that this product can plug into the Internet and deliver endless hours of music from any source imaginable, be it streaming or via the included USB port. Got an iPod? The RX-V3900 can hook up and control your Apple digital media player via the optional universal iPod dock or even handle audio from Bluetooth sources with its optional YBA-10 Wireless Audio Receiver.
Taking a look at the back panel, the Yamaha RX-V3900 features the same 5-way binding posts for speakers that are found on its lower-end models - just a hole lot more of them. These are perfectly up to the task, but not the high-end posts found in its Z-series AV receivers. The RX-V3900 has 4 HDMI 1.3a inputs and can support two HDMI outputs simultaneously (must be identical resolution and bitrate). The new GUI is superimposed on the video beneath and can even display album art from compatible streaming network software. Three component video inputs and a single output also grace the rea of the receiver and both XM and Sirius satellite radio connections are available. Unlike the x03 series of receivers, the RX-V3900 only has a single subwoofer preamp output.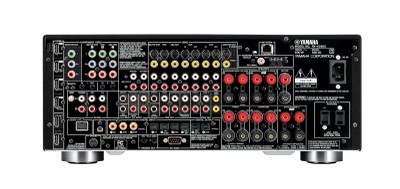 One of the most advanced features of this new AV receiver is ABT's Progressive Reprocessing (PReP). This tech allows the RX-V3900 to take standard and high definition progressive signals, de-interlace them and the re-interlace them and add proper edge and motion adaptive enhancement for a better overall picture. This does wonders for cableTV signals, which are frequently processed poorly and, as a result, are chock full of artifacts. The chip Yamaha uses in this receiver is the ABT 2010 and it's a phenomenal video processor.

The front of the unit has a panel which tilts down to reveal controls for DSP programs, the YPAO room optimizer microphone, tuner controls, multi-zone controls and A/V inputs (though no HDMI). This is also where the USB input is located and the unit does not have a duplicate rear USB input.

The RX-V3900 comes with two remote controls, one backlit unit for the main receiver and a second simpler remote for multi-zone use (remote IR receiver required). The remote is loosely based on prior models except for several key differences. Among them are color and the presence of a 4-way control pad (prior models had individual buttons for navigation controls). The transport controls have moved from the bottom of the remote to just underneath the navigation and menu controls. This is an excellent change and means that Yamaha is taking feedback from consumers on how to develop more ergonomic and logical layouts for its remotes. The main remote still possesses a simple single-line monochrome LCD display which indicates the current source, but also adds indicators for which Zone is being controlled.
For just under $1800 the RX-V3900 promises to be a primary contender in this price bracket, competing aggressively with the other major manufacturers for most capable and feature-rich product at this price point. Yamaha seems to have nailed this one out of the park.  This is a nice receiver!

Unless otherwise indicated, this is a preview article for the featured product. A formal review may or may not follow in the future.
MichaelJHuman posts on November 08, 2008 06:54
I am curious about something related to the 3900/Z7. When playing a poor looking SD channel through the 3900 with processing on, I saw nothing that would tell me it's edge enchancement or NR was operating. It makes me wonder if they have those turned on on the 3900 but not the Z7.

I admittedly don't know what I am looking for, but I see no obvious improvement of SD images. I can see the improvements from the deinterlacer and PReP using the HQV disc though.
gene posts on November 07, 2008 23:22
It's been extremely difficult acquiring review samples of the latest Yamaha gear. I am hoping to get a Z7 soon but not sure exactly when.
MichaelJHuman posts on November 06, 2008 15:15
ParadigmDawg posts on November 05, 2008 18:22
The 3800 was the worst AVR that I have owned. Powefull but the rest of it sucked.
Dezoris, post: 478395
The small volume db numbers on the 3800 annoy the hell out of me.
seeing a volume bar instead of a number is useless.

And yes does the GUI superimpose over all outputs and resolution without switching resolutions?
Dezoris posts on November 05, 2008 18:02
ParadigmDawg, post: 478391
How about the GUI and OSD?

Can you assign the 12v. triggers? (couldn't with the 3800)

Does it overlay 1080P via HDMI? (Once again the 3800 could not)

Does the volume display stay small or does the size increase when you adjust the volume?
The small volume db numbers on the 3800 annoy the hell out of me.
seeing a volume bar instead of a number is useless.
And yes does the GUI superimpose over all outputs and resolution without switching resolutions?
Post Reply
Confused about what AV Gear to buy or how to set it up? Join our Exclusive Audioholics E-Book Membership Program!