Harman Kardon AVR-347 Receiver Preview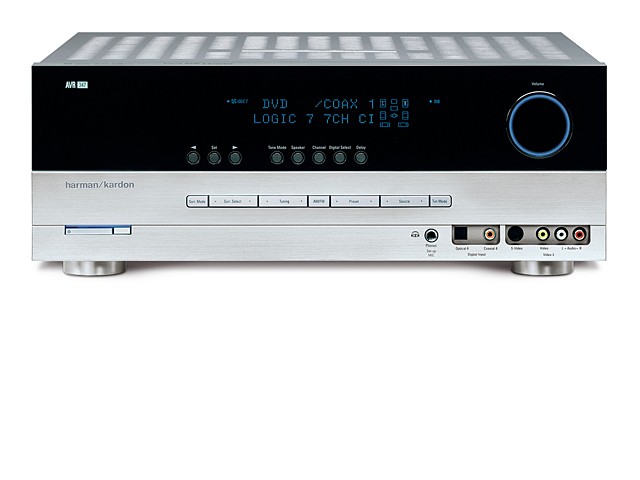 Harman Kardon AVR-347
Summary
Power: 55 watts x 7 (All channels operating at full-rated power), THD <0.07%, 20Hz - 20kHz into 8 ohms
Amplifier Channels: 7
THD: 0.07%
Onscreen Display: Yes
Remote Control: Learning
Remote Backlit: Yes
Zone 2/3 Remote: Yes
Dimensions: 6-1/2" H x 17-5/16" W x 15" D
Weight: 30.6 lbs

Surround and DSP
Dolby Digital: Yes
Dolby Digital EX: Yes
Dolby Pro Logic II: Yes
Dolby Pro Logic IIx: Yes
DTS: Yes
DTS-ES/Neo:6: Yes
DSP Soundfields: 12

Connections, Inputs & Outputs
Speaker Connections: Binding Posts
Audio-Video Inputs: 5
Front Audio-Video Inputs
Yes: Audio-Only Inputs: 2
Digital Audio Inputs, Optical: 3
Digital Audio Inputs, Coaxial: 3
Digital Audio Outputs, Optical: 1
Digital Audio Outputs, Coaxial: 1
Multi-channel Inputs: 7.1
Pre-amp Outputs: 7.1
Subwoofer Outputs: 1


Video
Composite Video Monitor Outputs: 1
S-Video Inputs: 5
S-Video Outputs: 2
S-Video Monitor Outputs: 1
S-Video Upconversion: Yes
Component Video Inputs: 3
Component Video Monitor Outputs: 1
Component Video Switching: Yes
Component Video Upconversion: Yes
HDMI Inputs: 2
HDMI Outputs: 1
HDMI Switching: Yes
HDMI Upconversion: Yes
HDMI Version: 1.1 repeating

Misc
XM Radio: Yes
iPod Integration: Yes (optional The Bridge)
USB Input
Multiple Zones/Sources: 2/2
Zone 2: Powered
Zone 3 Not Powered
Assignable Power Amps: Yes
Auto Setup: Yes
Auto Room EQ: Yes
Headphone Jack: Yes
12VDC Trigger Outputs: No
RS-232C: Sort of (firmware only)
Executive Overview
The Harman/Kardon AVR-347 is one of the lower-priced 1080p HDMI receivers available on the market today for those looking to get updated to the newest technologies. The receiver delivers plenty of power along with 1080p compatibility and upconversion over HDMI. The Harman/Kardon AVR-347 appears to be a no-compromise head unit capable of driving a fully-equipped home theater. With a host of features and a unique visual appeal, this receiver will also fit right in among the most elegant of home decors. But don't let its good looks deceive you, because this receiver is more than capable of driving most speaker systems made to extremely high levels. The AVR-347 has more about it than a pretty face.
Some of the more notable features include 7.1 channel digital audio decoding, Logic 7 audio processing for 2 channel sources, and analogue video upconversion to HDMI (v1.1) at up to 720p resolutions (1080i or 1080p is not available as an upconverted resolution via HDMI though 1080i component analogue input will be passed through HDMI unchanged). DCDi by Faroudja handles the deinterlacing and scaling, so your video should look pristine. Some notes: 1080p resolution is only available as a pass-through and repeater for increased cable lengths without signal degradation. Since the HDMI chip in this system is 1.1, it will handle all the high definition audio formats, but only in either PCM format or native MLP for DVD-Audio discs. Native SACD isn't supported and can only be transmitted via PCM conversion (or analogue transmission) on the part of the player. The EzSet/EQ feature, Dolby Digital and dts DSP modes and XM satellite radio and iPod support (with optional and awkwardly-named "The Bridge" docking station) make this a well-rounded product suitable for nearly everyone. An RS-232C port is available "for software upgrades" but is not configured for use with advanced home automation systems or direct serial control of the receiver. That just about kills the chances of the HK being used for professional high-end installations. The HDMI repeater functions alone make this a noteworthy upgrade over the AVR-247 and also justifies the extra cost.
The AVR-347 is conservatively rated at 55 watts x 7 (All channels operating at full-rated power, THD <0.07%, 20Hz - 20kHz into 8 ohms) and 70 Watts per channel (20Hz – 20kHz, @ <0.07% THD, 2 channels driven into 8 ohms). There's even a "standard" rating of 95 watts x 7, THD <0.07%, @1kHz into 8ohms which is what a lot of the competition uses. That's a whole lot of ratings, but it just means that Harman Kardon is serious about its power. We're convinced it could handle all but the most difficult loads in any reasonably-sized listening room.
The AVR-347 is practically stuffed with inputs and outputs. There are three component video inputs and two Simplay HD-verified HDMI inputs. In addition to the superfluous S-video and composite video inputs, the receiver is also equipped with a 6/8-channel analogue audio input and 6/8-channel preamp outputs. This is just the thing for power hungry people that may want to add some external amplifiers in the future and it certainly takes care of legacy SACD and DVD-Audio players with multi-channel analogue outputs. A set of stereo preamp outputs can also be used for a discrete second zone - something we truly value in AV receivers. The only downside we found is that if you use a second zone you have to assign the Surround Back amplifiers to the Zone 2 - even if you are only using the preamp Zone 2 outputs. This is a flaw that should be fixed in future versions of the receiver.
Like it's lesser-priced companion products, the AVR-347 also features Harman/Kardon's EzSet/EQ setup which makes configuring this AV receiver a very simple process. With a nice on-screen menu and an above-average user manual, even the most audiophyte users will have little problem getting up and running quickly. As with every receiver we've reviewed from Harman/Kardon, the audio quality is above-par. The only thing missing at this price we think is the native decoding of the new HD audio formats and additional HDMI inputs. That would have turned this from a good buy into a fantastic buy.

Unless otherwise indicated, this is a preview article for the featured product. A formal review may or may not follow in the future.
Ron Temple posts on May 25, 2008 14:24
Those refurb prices are a real bargain. However, I've had 3 of them…replacing 2 in the first 2 years. Also, however, I tried to replace my HK with both Denon and Pioneer receivers and couldn't live without the HK sound for music. Works as a great pre-pro.
Alex2507 posts on May 25, 2008 07:14
Audioholics posts on May 23, 2008 11:54
I actually didnt realize it had been discontinued when I posted the rather late First Look which we had written some time ago. It will probably be read 5 years from now by guys looking to buy the unit used on eBay… lol
smurphy522 posts on May 23, 2008 10:02
autoboy, post: 415357
Yawn…

Why the "pretty cool" rating if the receiver is already obsolete?

I give the review a "pretty late" rating.
Ditto - same can be said (as I already did) about the late H/K AVR-147
"first look"
, forum posting
here
autoboy posts on May 22, 2008 19:54
Yawn…

Why the "pretty cool" rating if the receiver is already obsolete?

I give the review a "pretty late" rating.
Post Reply
Confused about what AV Gear to buy or how to set it up? Join our Exclusive Audioholics E-Book Membership Program!