Yamaha RX-V663 A/V Receiver Preview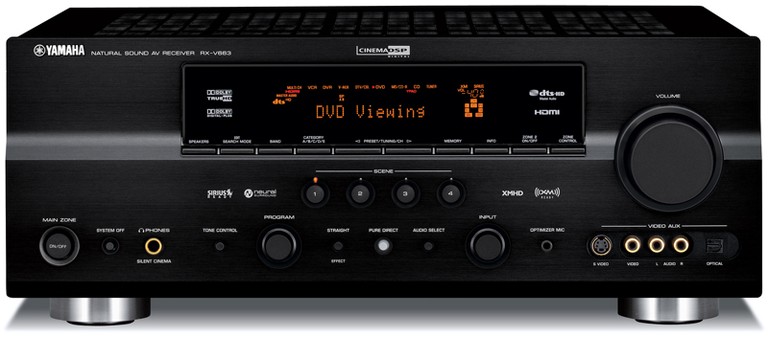 Yamaha RX-V663 AV Receiver
Summary
High Sound Quality

HD Audio format support: Dolby Digital Plus, Dolby Digital TrueHD, DTS-HD High Resolution Audio and DTS-HD Master Audio
7-channel 665W powerful surround sound (95W x 7)
Digital ToP-ART and High Current Amplification
Pure Direct for higher fidelity sound reproduction
Burr-Brown 192kHz/24-bit DACs used in all channels
Assignable amplifiers for bi-amp connection

Advanced Features

4 SCENE buttons offering greater operating ease (with 18 preset SCENE templates)
XM ready with XM HD Surround powered by Neural Surround
SIRIUS Satellite Radio ready
Improved YPAO for automatic speaker setup
iPod compatibility via Yamaha Universal Dock
Bluetooth (A2DP) compatibility with Yamaha Bluetooth® Wireless Audio Receiver (YBA-10)
Superior multi-zone control compatibility

High Picture Quality

1080p-compatible HDMI (2 in/1 out)
Supports Deep Color (up to 36 bit), x.v.Color, a double speed Refresh Rates of 120Hz and 1080p/24Hz transmission, and Auto Lip-Sync compenzation
Analog video to HDMI digital video upconversion and deinterlacing with TBC

Surround Realism

Fine-tuned CINEMA DSP and Adaptive DSP level
Improved Compressed Music Enhancer
Adaptive DRC (Dynamic Range Control)

Other Notable Features

XM Satellite Radio ready with XM HD Surround powered by Neural Surround
SIRIUS Satellite Radio ready
40-station preset tuning / Auto preset tuning
HD Audio LPCM 7.1-channel reception (up to 192kHz)
High dynamic power and Linear Damping
Low Jitter PLL Circuitry
Assignable amplifiers for bi-amp connection
Initial Volume and Maximum Volume Setting
iPod song titles displayed in English and Western European languages ISO 8859-1 (Latin 1) on the front panel and on-screen display
SILENT CINEMA and Virtual CINEMA DSP
Dialogue Lift for dialogue to screen center
Preout terminals for front, center, surround and surround back, and dual mono subwoofer out
9 selectable subwoofer crossover frequencies
Subwoofer phase select
8-channel or 6-channel external input
Speaker A, B, A+B selection
Preset remote unit
Executive Overview
One thing I always say when making recommendations on AV equipment (on AV Rant or other places) is to set priorities. If you know what you need versus what you want (or what you think you want based on what other people tell you you need), you're in a much better position to buy. You might want to re-read that last sentence again. The Yamaha RX-V663 has many of the same features as the RX-V863 but with some notable omissions. First the similarities:
Both decode all the latest audio formats including Dolby Digital Plus, Dolby TrueHD, and DTS HD. Both have HDMI 1.3 inputs and plenty of analogue connections (including 3 in / 1 out component video). Both have 17 surround modes, YPAO auto calibration, and are XM and Sirius ready. While the RX-V663 is sporting 10 less watts per channel, you'll probably never notice. They both have two subwoofer outputs which is a very desirable feature in our book. Quality Burr-Brown 192kHz/24 bit DACs and ADCs are in use and your rear channels can be assigned to zone two or to bi-amp your mains. In fact, the two receivers are more alike than dissimilar.

So where does your extra $450 go? Sure there are some extra connections on the RX-V863 (2 more optical, one more HDMI) which takes up a little of it. The RX-V663 lacks an HD radio tuner and SRS circle surround II (another matrixing algorithm) and probably a bigger power supply and transformer but that's not really $450 is it? No, it's the lack of 1080p upscaling for 480i/p analogue video sources.
While for some, this is not a deal-breaker, for others it very well may be. Upconversion and scaling is not cheap and if you are looking for a quality external scaler, $450 might not seem that unreasonable to you. Now if your sources are usually a Blu-ray player and a high def digital cable box, you may not see the need for internal scaling (and you'd be right). But if you are still holding on to that old VHS collection or perhaps just want your home movies to look as good as possible on your new big screen, the internal scaling might be very attractive to you. In our experience most displays do a fine job without the AV receiver lending a hand.
Regardless, the RX-V663 looks to be a very feature-laden receiver for very little cost. The two subwoofer outputs are especially attractive as is the internal decoding of the high definition dts-HD and Dolby TrueHD audio formats. As you are working through your "wants" and "needs", make sure you take a close look at this receiver. For more information, please visit www.yamaha.com/yec or check it out online at store.audioholics.com.

Unless otherwise indicated, this is a preview article for the featured product. A formal review may or may not follow in the future.
Confused about what AV Gear to buy or how to set it up? Join our Exclusive Audioholics E-Book Membership Program!
Recent Forum Posts:
Motobis posts on March 09, 2009 01:09
I'm into day 2 of my new RX-V663 and the last time I had surround sound was in the early 80's with a Sansui 5000 with a rear channel decoder so I can say good surround sound has come a long way since then.

I was puzzled with one instruction I found in the manual though. It said to not use both the pre-amp out and have speakers hooked up to the speaker output as well on the same outs. On the front stereo pair I have a pair of Infinity towers hooked up to the speaker output and have a Crown XL5-402 Power Amp coming off of the Pre-amp out for the front stereo pair powering a pair of JBL 4412A's and it works just fine. Anybody have any ideas why they might advise that?

Thanks! : )
josephga posts on February 17, 2009 20:43
I'm thinking of getting one of these. With a coupon code i can get it for $374.25 shipped at 6th ave
I doubt ill find a better deal
andrewb773 posts on February 13, 2009 18:56
Hey Vol Fan, are you in the Knoxville area? This is the exact setup I am planning on buying…. was wondering if indeed you were in the area, we could arrange a demo….
thanks!
Andrew
UTVOLSFAN, post: 460518
I purchased the 663 and coupled it to an Emotiva amp. WOW!!
Anyway, I purchased the bluray DVD 88 Minutes with Al Pacino. In the audio set up it has the true HD option but I was not able to get the True HD to display on the receiver. I may not be doing something right as I am still learning about the unit. Can anyone offer any suggestions here?
Thanks
fresno1232001 posts on February 11, 2009 17:32
I'll just suggest that you see the review Gene Della Salla did recently of the Pioneer SC-07 receiver. It only has one 10 -dB option for dealing with the LFE bug, and to use it he suggested ON AVS FORUM in the SC-07 thread that users should have their players send the signal to the receiver using bitstream. He posted that early in Jan. 2009 I think.
So your advice is probably generally true, but I just point this out. You have LOTS of knowledge and I'm almost reluctant to pipe up here. His advice to have the player output bitstream may only apply to a receiver like the pio. SC-07. So maybe if you have an O7 and want it to handle the LFE bug right, you have your br player output bitstream. Then if you want to hear the audio commentary on a movie, switch it to PCM.
Seth=L, post: 394629
Oh, I didn't notice this.

Concerning the audio from the commentary and from the movie being done at the same time… this only applies to people that have HDMI 1.3 blu-ray players set to bitstream the HD audio to the receiver (there is no audible benefit of doing this). Having the Blu-ray player decode the HD audio internally and convert it to PCM for output over HDMI is the better route. Because all these processes for audio decoding (for multiple audio streams such as a commentary and the feature film) you must have it do the decoding and conversion to uncompressed PCM. Again I say there is no audio loss through doing this, it is the prefered way of handling sound on Blu-ray players. The only thing that will be different is that the receiver will not show a Dolby TrueHD logo, it will instead be receiving multichannel lossless PCM.
John91722 posts on December 18, 2008 12:54
Works well.

So far the RXV663 is really working out well for me. I like the performance, it seems to be able to handle all sorts of source audio and video. The power is more than sufficient for my living room which is about 12X14. I have several Yamaha speakers sets with the NS-555 as the mains, a yamaha center and the 4 rears are smaller book shelf Yamahas. As long as I don't blast it at uncomfortable loud levels every thing sounds really great for DVD's. Eventually I'll re-work the Living Room to utilize the 2 sub-woofer set up and get the rear speaker placement closer to the way it should be. I'd like to upgrade the rears at some point too.

As for music: at low to medium loud volume (-10db) using all the speakers works well but the NS-555 set on their own shine with this AV receiver as plain old stereo mains. It's easy to overwhelm the room volume wise with this set up and I don't want to annoy the neighbors, but some times the music just needs to be LOUD and i tend to switch to plain old stereo with these NS-555's. It's also fun and revealing to use the Straight and Direct settings for stereo music, but the enhanced settings smooths out some of the poorly recorded regular cds. I occasionally flip thru some of the other sound parameters (different size venues) while listening but rarely utilize them.

I have have some DVD audio discs, SACD, HDCD and regular CDs. The OPPO 983 handles them all and is a great source for music as well as the DVD movies, it pairs well with the RXV663.

The RXV663 has a lot of capabilities which I haven't even learned about yet but I am working into them slowly. When I re-arrange the room I will use the automatic room setting system for the first time. In the mean time it just sounds really good and I am pretty darn happy with it.
Post Reply