Pioneer Elite SC-07 A/V Receiver Review
Pioneer Elite SC-07 A/V Receiver Review
Pioneer Elite SC-07 A/V Receiver
140W x 7 Class D ICE Amplifier (20Hz - 20kHz, .09% [email protected] 8ohms, All Channels Driven)
Digital Engine: Freescale x 2
Air Studios Tuning
Room Calibration: Advanced MCACC 9 Band EQ with Phase & Standing Wave Control
Advanced MCACC Graphic PC Output
Advanced Surround Modes: (13+1) Modes
THX Ultra 2 Plus
Dolby True HD / DTS HD Master Audio / DD Plus / DTS HD
HDMI SACD & DVD-A Support
HDMI Jitter Reduction Plus (with compatible Pioneer BD player)
HDMI Video Up-Scaling: Faroudja DCDi
Digital Video Converter - HDMI
Video Parameter Adjustment
HDMI 1080p Video Transfer
4 HDMI Inputs / 2 Simultaneous HDMI Outputs
2 Component Video Outputs (Main/Zone 2)
3 Multi Room / Source Outputs with Amplifier assignability (bi-amp, zone 2)
XM /Sirius Capable
Home Media Gallery with FLAC support
7.1 Multi-channel Pre-out and Inputs
2 Year Elite Warranty
Dimensions: 16.54" x 7.87" x 18.09" (WxHxD)
Weight: 40 lbs, 13 oz
Pros
Ease of setup
Decodes all the latest formats
Flexible auto setup and editing
Cons
Design compromises of ICE amplifier may cause difficulties driving 4 ohm speaker loads
No HDMI video processing
Pioneer SC-07 Introduction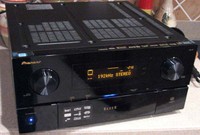 Someday they're going to have the technology to build a fully functional A/V receiver on a single chip the size of your thumb that will run on solar power.  If you believe that, then you probably think we will also be traveling at warp speed and fighting Klingons in a few hundred years.  Pioneer, on the other hand, is attempting to take the next evolutionary step in A/V receivers by employing Class D amplifier technology which not only runs more efficiently (> 90% vs 50% of classic linear AB designs), but can also deliver more available power to your loudspeakers.  The question remains, however: Can it do it with the same level of finesses and poise as yesterday's amplifiers?  Read on to find out.

Confused about what AV Gear to buy or how to set it up? Join our Exclusive Audioholics E-Book Membership Program!
Recent Forum Posts:
bradberry11 posts on February 14, 2016 21:35
Great review. FYI, component video supports up to 720p or 1080i max, so the xBox 360 was simply unable to do that test (of analog 1080p).
Dan Banquer posts on December 29, 2008 18:56
Bandwidth Limiting

I would like to add a bit more fuel to this fire.
Back in the 70's and 80's linear amps were doing some very similar things as the ICE power module unit in question. What was found was this caused slew rate limitations giving what is still known as slewing induced distortion. This was observed on in band impulse response testing. Contrary to some beliefs one does not need a DC to light bandwidth to NOT have slewing induced distrotion but one must have a near flat response to 20 kHz independent of power for the load the amp is designed for.
Too see audio go back in history and make the same mistakes all over again is just a bit disheartening.
d.b.
Sherardp posts on December 29, 2008 15:42
I read this review on the SC07, very informative to say the least. However I've owned the SC-07 for some time and I have to say its an exceptional unit. I did side by side comparisons with the Denons and felt they were a little too laid back for my personal tastes. Granted I use external amplication for powering my speakers, however if I were in the market today, I'd buy it or the 05 again. IMHO they are pretty good AVRS and capable of being a pretty darn good pre/pro.
Gov posts on December 29, 2008 14:24
Looking forward to it
gene posts on December 28, 2008 15:29
Even though a lot of people there disagree with you (and still do) they (like I) appreciate your review and your posts there.
What I did not agree with is how you announced your last post on that thread and said you were done with it. Why not continue to defend your review? You never got any personal attacks or insults.
I don't need to "defend" my review that has objective measurements done by the most advanced and industry standard Audio Analyzer with a test in accordance to how the FTC has measured amplifiers for the last 30 years. There are people that would like to believe full bandwidth power tests are irrelevant and I'd say more power to them (no pun intended), but there are those that also believe in testing products to their limits and ensuring they are getting an amplifier that can deliver maximum full bandwidth power into low impedance loads. I am not on a quest to change peoples minds. I do however test all amplifiers under the same test conditions and hold the same criteria regardless of amplifier classification. You will see soon a review of a Class D amp that can deliver full power bandwidth into 8, 4 and 2 ohm loads as an example as well as a series of articles on this very topic.
Post Reply