Denon AVR-X4000 AirPlay AV Receiver Review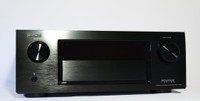 The Denon AVR-X4000 4K Ultra HD Networking Receiver is the replacement to the AVR-3313CI. Although it sports a new model number scheme, much of what we loved about the 3000 series is still here. Denon has somehow managed to put together a new receiver that can appeal to everyone, the picky audiophile, the custom installer, and the feature happy Gen-Xer. Full 11.2 pre-outs, Audyssey MulEQ XT32 & SubEQ HT, HDMI audio support in multiple zones, network control, and more, all with a $1299 MSRP. In fact, the AVR-X4000 has some new bells and whistles not found on any other Denon receiver, ever. And we are the first publication to have a full review. Read on to see why we're such a fan of this new AVR.
The Denon AVR-X4000 AV Receiver is more than worthy successor to the AVR-3313CI. We review a lot of receivers, but rarely come across one we like this much. Read on to see why we're such fans.