Denon AVR-391 Receiver Preview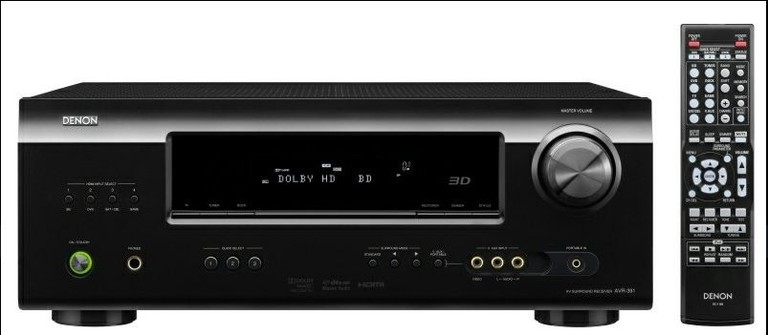 Denon AVR-391 Receiver
Summary
5 by 75 watts per channel
HD Decoding (we think)
4 HDMI 1.4a inputs
Supports all mandated 3D formats
24-bit/192-kHz Analog Devices DACS
New remote
Available in July
Executive Overview
With everyone and their dog releasing new receivers these days, we were starting to get worried about Denon. Denon Electronics has been fairly dominant in this area for the last few years so we knew they had something up their sleeves. We just didn't know what. Now we do. Sort of.
As a whole, Denon seems to be focusing on the same things they always do - features and performance. They like to have the best of everything. Sometimes you have to pay for these features, but if you want it, Denon usually has it. With their new line, you're going to see a lot of this. Since you can tell a lot about a company by how they treat their lowliest members, we're starting off our evaluation of the new line of Denon receivers with their entry level AVR-391.
The Denon AVR-391 comes in at a price point that we've never seen from the electronics giant - $249. You know at that price they had to cut corners. That's to be expected. The question is what corners and how deep are the cuts. First let's talk about the features of the new receiver.
Almost every new receiver on the market is boasting HDMI 1.4 functionality. This is the first HDMI spec that supports the new 3D spec. According to Denon, before hardware for HDMI 1.4 was even in stores, the HDMI Consortium had released HDMI 1.4a. The differences? According to Denon: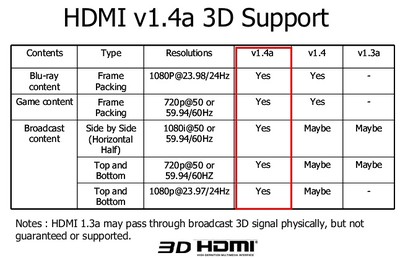 While we're guessing that Pioneer, Onkyo, Yamaha and others with 1.4 capable receivers and devices might contest some of those "maybes" in the v1.4 column, this is straight from Denon. The fact is that 1.4a will work for sure while we'd still put money on 1.4 working as well (even if it isn't official yet). That being said, consumer confidence is important and that one little letter at the end of the HDMI specification might make all the difference in buying decisions - especially at this price point.
What is important to remember is that the new AVR-391 sports four HDMI 1.4a inputs. That's a lot at this price point. What is really cool is that the AVR-391 will be able decode HD audio such as DTS-HD Master Audio and Dolby TrueHD natively. This is incredibly huge at this price point. For those that are in to the audio side of things, Denon hasn't left you hanging. The amps in the AVR-391 are fully discrete and sport 75 watts per channel. While this might seem to be much less than the competition, once we see how the others measure in a real world situation, you might find that you prefer the Denon amps. While we'd expect (and Denon delivers) a 5.1 receiver at this price point, Denon has included two addition preouts for Surround Back channels or for Dolby ProLogic IIz decoding. Dolby ProLogic IIz adds height channels for a larger front soundstage.
One thing that Denon has done with their new line of receivers is to reduce the number of analogue video and audio inputs. Basically you'll have one component video, three combo composite video/analogue audio, and one each coaxial/optical digital audio inputs. At this point, that's basically what we know about the AVR-391. We know that other models with have Networking capabilities, video upconversion, iPod connectivity, and a slew of other features. For $249, Denon seems to have done quite well with the AVR-391 so we're not complaining. 
Conclusion
You had us at discrete amplifiers and HD audio decoding. With a real focus on what people need and not what history has told us they need (like a bazillion composite/s-video inputs), Denon has pared the AVR-391 to it's bare essentials. Should you buy it? Probably. As it stands, this receiver is VERY competitive with the rest of the offerings on the market (and crushes a few of them). If this is what we can expect from this year's receiver lineup, we're in for a very good year indeed.
For more information, please visit www.usa.denon.com.

Confused about what AV Gear to buy or how to set it up? Join our Exclusive Audioholics E-Book Membership Program!
Recent Forum Posts:
nateandrews6 posts on March 01, 2011 12:14
satisfying AVR-391

i have a pair of 260 watt technics.at 0 db,it sufficiently rattles the house.for the size output of the receiver,i am very satisfied.i have not hooked it up to surround yet.i need to get a center sub,before i do so.i've seen a few comments of being let down because of power drain.due to adding surround.my own experience,add a pre amped sub, or go buy a larger receiver.the ones that have $1000 price tag on receiver alone
RaT posts on May 09, 2010 19:55
admin, post: 714444
The Denon AVR-391 comes in at a price point that we've never seen from the electronics giant - $249. The new AVR-391 sports four HDMI 1.4a inputs, discrete amplifiers, and HD audio decoding. Also Denon has included two addition preouts for Surround Back channels or for Dolby ProLogic IIz decoding. That a lot for only $250.


Discuss "Denon AVR-391 Receiver First Look" here. Read the article.
This is exactly what I would get IF Denon like Yamaha like everyone that I am aware of would simply install front LF & RF preouts on the receiver. Without that one thing, I am simply not interested. I am still considering the UMC-1 once Loser reports back on his upgrades.
tom67 posts on May 04, 2010 18:23
Denon

Their units look like the best bet at this point in the low range….
B1-66ER posts on May 04, 2010 00:33
391 with Klipsch = WIN

If I was one of the big chains, I'd pair this with some bottom line, even mid line Klipsch speakers. Klipsch is known for hi efficiency, and while not the most accurate, I've never seen/heard a set to not thrill with lower power setups. At this price it makes me wonder how cheap the 791 and 891 would be. We really are getting bang for buck with these receivers. Time for me to look at getting rid of my 1601 (yes, 1601) for something new!
Seth=L posts on May 03, 2010 16:30
It seems that the Insignia R5101HD is very disimilar in layout from the Denon AVR-391 in both connectivity and controls. Denon's case work is also dimensionally different. The display quality on the Denon far surpasses the Insignia (Sherwood) receiver as well. Naturally the AVR-391 has a different motivation and design intent including the addition of HDMI 1.4a and an additional HDMI input. The Denon has significantly less analog type connections as well. The Denon also has a more sophisticated auto calibration.

I don't doubt they are based on the same platform, but I believe that platform is mostly the amplifier section on the Denon receivers, the rest seems to be by their design. The entry level Pioneer receivers have much more in common with the Sherwood brand receivers.
Post Reply