Onkyo TX-NR5008 Networked AV Receiver Preview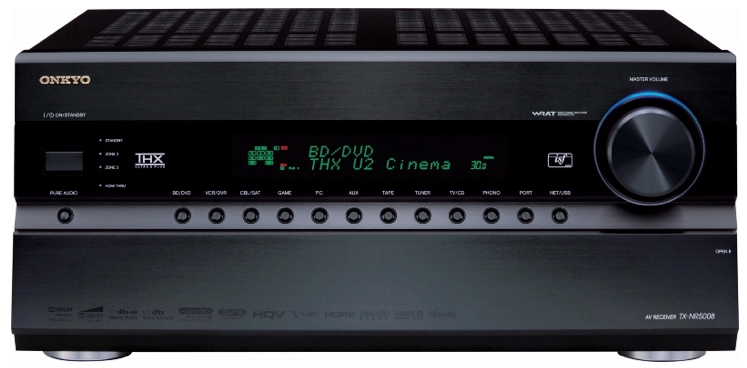 Onkyo TX-NR5008 Network receiver
Summary
Eight 1080p capable HDMI inputs (V1.4a repeater) including 1 Front with 2 outputs
THX Ultra2 Plus Certification
Massive Toroidal transformer for High current drive
4 Independent Power Supply for cleaner sound
Finest 192kHz/32bit Burr-Brown DACs
isf Certified
HDMI 1080p video upconversion by HVQ Reon VX
WRAT technology and discrete amp construction for cleaner sound
TrueHD/DTS-HD decoding to support the latest Blu-ray technology
PC Input
Front and Rear Panel USB Inputs for Memory Devices and iPhone®/iPod® Models (Enables Display of Album Artwork)
Optional iPod Dock / HDradio module via U.Port
4 DSP Gaming Modes: Rock, Sports, Action, and Role Playing
Audyssey MultEQ XTw/ Dynamic EQ & Dynamic Volume
Executive Overview
Onkyo has begun refreshing its line up of receivers and at the top of the heap is the new TX-NR5008 networked model, updating the TX-NR5007.  A few years back, with the advent of lossless audio formats to compliment HD video, Onkyo jumped ahead of the pack by offering a lot of functionality across its product line.  Nothing as major as the introduction of Blu-ray and HD-DVD has occurred since then, but Onkyo appears to have pressed on with stuffing in as much of the available technology as the can.
Audio
I will start with the audio amplifier portion of the TX-NR5008, which sounds impressive to say the least.  The TX-NR5008 has nine amplified channels and dual subwoofer outputs making it a 9.2 design.  The THX Ultra2 Plus certified amplifier channels are configurable as height or width channels using Audyssey DSX or height channels using Dolby Pro Logic IIz.  Additionally, the amplifier channels can be configured between the main zone and zones 2/3 as either 7.2 + 2 or 5.2 + 2 + 2 or they can be assigned to bi-amp or bridge with the main L/R channels.  There are 11 binding post type speaker terminals on the TX-NR5008 in all, depending on the configuration.
The nine separate amplified channels in the TX-NR5008 are all rated at 145W at 8-ohms over the full audible range from 20-20,000Hz with two channels driven and can drive speakers rated from 4-ohm to 16-ohm impedance.  The power usage according to the rear of the units is 12.8A at 120V yielding a 1536W power demand that is not out of line with the channel rating of 9 x 145W = 1305W.  Believe me, I've seen receivers where the power draw from the wall is lower than the number of channels by the rated wattage per channel, which definitely makes the performance of these receivers suspect.  This output comes from a beefy power supply that pushes the TX-NR5008 to 55.1 lbs which consists of a toroidal main audio transformer and three standard EI transformers configured to isolate audio and video functionality and backed with 22,000 uF of power supply capacitance.
Processing

On the A/V processing front, the TX-NR5008 uses advanced 192kHz/32bit Burr Brown DACs for audio processing and HQV-Reon VX for video processing.  The audio DSP is augmented with Onkyo's proprietary Vector Linear Shaping Circuitry, which is said to smooth digital audio converted to analog, and PLL jitter-cleaning circuit technology.  The TX-NR5008's Reon VX video processing can upscale sources to 1080p, providing deinterlacing, artifact filtering, mosquito and block noise reduction, and color enhancement.
The receiver handles all of the necessary HD audio formats including Dolby TrueHD and DTS Master Audio with additional A/V processing beyond the obligatory manufacturer modes that includes THX Neural Surround, Audyssey DSX, and Dolby PLIIz.  The TX-NR5008 also features a host of audio and video calibration features.  The receiver includes Audyssey MultEQ XT to provide acoustic room correction based on up to an 8 position measurement.  Video calibration on the TX-NR5008 comes in the form of ISF based video calibration for each independent video channel.  All of the processor functionality is handled by a new overlaid OSD menu system that does not force the user to exit out to make setting adjustments.
Connectivity
As is expected with a high-end receiver, the TX-NR5008 offers an extensive array of both digital and analog A/V connectivity options.  Featuring eight HDMI 1.4a inputs, one front and seven rear connectors, and two HDMI outputs, it is unlikely that you will find that there are too few connectors.  The HDMI 1.4a specification that the TX-NR5008 conforms to allows it to provide compatibility with 3D video and includes an Audio Return Channel.  The HDMI connections also include repeater functionality for longer HDMI runs and allows audio pass through for when the receiver is not being used.  On top of this, TX-NR5008 also includes 3 optical and 3 coaxial S/PDIF inputs and DSD Direct connectivity for SA-CD sources.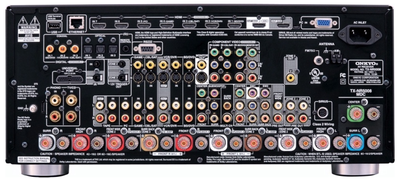 As for analog, the TX-NR5008 has 7.1 channel input and a 9.2 channel preamp output for use with multi-channel analog sources or external amplification.  There are five standard analog A/V inputs that include composite and S-video connections, one front and four rear connections, a 15-pin D-sub PC video connection, a VCR A/V out, video out to a monitor, and audio in from a monitor.  The zone 2/3 connectivity options include separate zone 2/3 preamp outputs for when amplifier channels are not reassigned and a zone 2 video output.  There is even an audio input for connection to a turntable, although the turntable input may require a phono preamp, depending on the cartridge type.
The TX-NR5008 network capabilities are accessed though an Ethernet port on the rear and are Windows 7 compatible and DLNA 1.5 certified and can stream networked audio, Internet radio, or download firmware upgrades directly from the Internet.  The TX-NR5008 is compatible with Pandora, Rhapsody, Napster, Slacker, Mediafly, Sirius Internet Radio, and vTuner.  There are also USB connections at the front and rear that can stream audio files directly from flash media as well as from either an iPhone/iPod or satellite radio with separately available USB docks.  The TX-NR5008 is capable of decoding a wide array of formats that include FLAC, MP3, WAV, Ogg Vorbis, WMA, WMA Lossless, AAC, and LPCM.
Conclusion
Although, not a huge upgrade in features from its predecessor, the TX-NR5007 which already had just about every feature known to A/V receivers, the TX-NR5008 does have several notable improvements.  The HDMI compliance has been updated to 1.4a for 3D video capability, the number of compatible Internet radio websites has been increased, support has been added iPhone/iPod streaming via USB, and it has been certified for Windows 7 and DLNA.  This is quite a lot of functionality, making the TX-NR5008 a very capable A/V receiver.  So, if you are looking for just about every feature that is currently available, the TX-NR5008 is likely to have it.

Unless otherwise indicated, this is a preview article for the featured product. A formal review may or may not follow in the future.
See also:
Confused about what AV Gear to buy or how to set it up? Join our Exclusive Audioholics E-Book Membership Program!
Recent Forum Posts:
Seth=L posts on September 07, 2010 16:27
ichigo, post: 748933
22,000uF seems pretty small for the capacitance of a flagship amplifier, and wasn't the Audioholics review commenting on the weakness of the Pioneer SC ICEpower amp having only 20,000uF?

Even the old mid-end Onkyo TX-SR805 had 30,000uF.

According to Audioholics competing receivers like the Z-11 has 54,000uF and the Denon 5308 has 66,000uF.
Now that I think about it it pretty much has to be 22,000uF each for a total of 44,000uF. I'm not saying a 11,000uF capacitor does not exist (as I'm sure it does exist), but there's no logical reason to put one in receiver. A 10,000uF capacitor of slightly higher voltage or quality would yield the same results and cost a lot less because it's a common capacitor value for home audio. 22,000uF is also a common single capacitor value, and I'm fairly certain that audio manufacturers got away from single large capacitor amplifiers back in the 70's.
ichigo posts on September 07, 2010 05:01
22,000uF seems pretty small for the capacitance of a flagship amplifier, and wasn't the Audioholics review commenting on the weakness of the Pioneer SC ICEpower amp having only 20,000uF?

Even the old mid-end Onkyo TX-SR805 had 30,000uF.

According to Audioholics competing receivers like the Z-11 has 54,000uF and the Denon 5308 has 66,000uF.
blydakid posts on July 27, 2010 06:39
Onkyo lover

So, I have the Onkyo TX-DS898, it was the "best" at the time and have never been disappointed for 9 years. Still I have had recent trouble sync-ing the audio and video timing. I am at my max delay of 75ms and still have problems. I have been looking to "refresh" the reciever and this is certainly one that catches my eye. Being able to use and switch HDMI is worth it alone and the upsampling to 1080p is really jazzed! But what about audio / video timing? Will just the use of HDMI correct that or in combination with the reciever or will I still have to be adjusting regularly?
gene posts on July 06, 2010 20:33
is the 192khz/24 DACs a typo ?

in the 5007 didn't Onkyo use a 32bit DAC ?
I updated to 32 bit, but 32 bit is a bit of a misnomer much like a 10:0000:1 contrast ratio on a TV. Thermal noise / Johnson noise limits actual real world analog noise floors (SNR) to around 20-22 bits of resolution or 120-132 dB (6dB for every bit).
AccessGuy posts on July 06, 2010 20:07
dalumberjack, post: 731611
I have the 5007. Must say I am still impressed with it every time I watch a movie. It does one heck of a job up-scaling the Wii and other material on TV.

Just makes me a little jealous on how cheap you can get a 5007 (I was a first adopter) and more jealous that a 5008 1.4a model is out now.

oh well.
Having decided NOT to go the 3D route, I am opting to get the great savings on the 5007, refurbished, at 50% off list price. It has everything I am looking for in a home theater receiver.
Post Reply