Integra DTR-30.2 Receiver Preview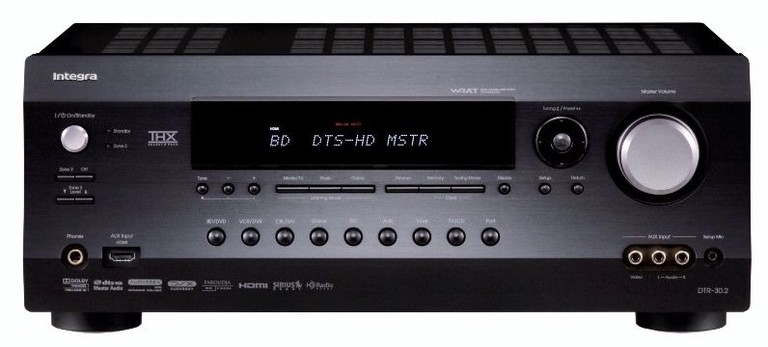 Integra DTR-30.2 Receiver
Summary
THX Select2 Plus
2-Zone
7.2 Channels
100 Watts per channel
Dolby TrueHD / DTS-HD Master Audio
Dolby Pro Logic IIz (Front High Channels)
Audyssey 2EQ
Audyssey DSX (Front High / Wide Channels)
Audyssey Dynamic EQ & Dynamic Volume
Burr-Brown (PCM1690) 192K / 24-Bit Audio DACs
HDMI v1.4a (3D Support, Audio Return Channel)
HDMI Upscaling & Upconversion 1080p DCDi Cinema
7.2 Analog Pre-outs
D-Sub (15-pin) VGA Input

Onscreen GUI
Executive Overview
With the rush of manufacturers trying to get their 3D products to ground in time to cash in on the 3D craze before everyone figures out how expensive the glasses will be, receiver manufacturers are in a perfect position. A few years ago, Blu-ray and HD DVD were fighting over high definition and receiver manufacturers were trying to meet customer demand for products that accepted all the audio and video formats even as HDMI was changing the spec. HDMI recently has been little different with receivers released only a few months ago now touting the "old" HDMI 1.4. We've already written an article explaining the difference but to sum up - HDMI 1.4 can theoretically do everything HDMI 1.4a can do, but it may take a firmware update to make it happen. With HDMI 1.4a, you get not only the Blu-ray and game versions of 3D, but guaranteed compatibility with the four planned broadcast versions of 3D.
A few months ago, Onkyo, the consumer version of the installer focused Integra, announced their new lineup on HDMI 1.4 receivers to much fanfare. Integra follows them with a pair of HDMI 1.4a receivers. Because of the focus on custom installers, we usually expect a premium price on the Integra units. Surprisingly, the DTR-30.2 checks in at a reasonable $800.
Lets' start with the basics. The Integra DTR-30.2 is a THX Select2 Plus certified 7.2 channel receiver with 100 watts per channel with the company's Wide Range Amplifier Technology (WRAT) with three-stage inverted Darlington circuits. As to be expected with a custom installer focused product, there is a focus on amplifier quality and Integra doesn't disappoint with their discrete output stages for all channels and push-pull amplifier design. Integra and Onkyo have been dedicated to multiple subwoofer outputs for a few generations now and for custom installers, this can be a big selling point. It would be more so if the subwoofers were independently controlled but according to the manual, it seems like they are dual mono. Included with this model is an HDMI pass through option which allows you to view and HDMI source even when the unit is in standby mode. The DTR-30.2 sports all the latest HD audio decoders including DTS-HD Master Audio and Dolby TrueHD plus a slew of the newest DSPs. Users will love to see Dolby Pro Logic IIz (with their front high channels) and Audyssey DSX (with their front high and width channels) on board. For those with large rooms or projection screens, expanding that front soundstage can be a huge boon. With the surround back channels assignable to these new channels, you won't need an extra amp for these speakers. You can't, however, assign the internal amps for a 7.2 configuration and use additional amps connected to the pre-outs for the high/wide channels so you are limited to 5.2 when adding these speakers.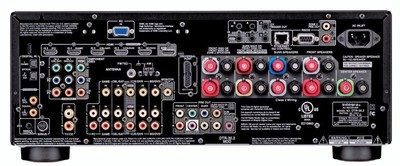 Taking a look at the back, you'll notice five way binding posts for all channels, 7.2 channel analogue outputs (for integration with separate amps), and an extra set of binding posts for your high/wide channels. Basically, you can set up for a full 7.2 system and switch, on the fly, to 5.2 with high/wide channels and back without having to change speaker wire. This is great for integrators and users that want as much flexibility as possible. There are five HDMI 1.4a inputs on the back with one output and an additional HDMI input on the front panel. Gone are the banks of s-video connections with two each component video, coaxial audio, and optical audio inputs. There is a component video output and a handful of composite video/analogue audio inputs for legacy gear. The vertically oriented large port is a universal port for integration with Integra's HD radio receiver and iPod dock (extra purchase required) as well as a Sirius radio port.
Of course, the focus with Integra is custom installations so you'll have to expect a few goodies that only an installer would know what do do with. There are three DC triggers, two IR inputs and one output, bidirectional RS-232, PC-input, Zone 2 capabilities, separate dealer settings for quick system restore, RiHD, and optional rack mounting kit. Along with the VGA input, you'll find a lot of functionality for integration into a whole home setup. Zone 2 can be volume controlled from the receiver or at the source and the VGA input can actually be upconverted to HDMI.
Speaking of upconversion, the Integra DTR-30.2 utilizes the well known Faroudja DCDi chipset to upconvert and upscale all your sources (including composite, component, and VGA) to 1080p. Additional features include HDMI Audio Return Channel, Audyssey Dynamic EQ & Dynamic Volume, THX Loudness Plus, Burr-Brown (PCM1690) 192K / 24-Bit Audio DACs on all channels, and onscreen GUI. If you are thinking those three in the middle are basically the same thing... you're right. Dolby Volume, Audyssey Dynamic Volume and THX Loundness Plus are all solutions to keep volume steady across time. That way, when those loud commercials come on, your receiver will keep you from blowing a tweeter. Do you need all three - no. But think of them like all those channels you get when you want to get ESPN 8 - The Ocho. You may not use them, but they all come with the other stuff you want so you'll have the chance to at least experiment with them.
Some of the areas of concern for this receiver (and there aren't many) is the inclusion of Audyssey 2EQ instead of MultEQ. While 2EQ is perfectly fine in general, MultEQ is better and is included on receivers at less than half this asking price from other manufacturers. We love the analogue outputs for integration with amps but an installer focused receiver really should have analogue inputs as well. We were also disappointed to note that the included Ethernet port is only used for installer control and not for networking. This is a missed opportunity for Integra as people are getting more and more interested in internet radio and streamed services like Pandora.
Conclusion
The Integra DTR-30.2 is a receiver that installers are sure to excited about. With an $800 price point, users are going to be surprised by all the functionality and cutting edge features. Of course the HDMI 1.4a connections with their 3D ability and audio return channel will be the first thing out of everyone's mouths but the fact is that there is so much more. THX Select2 Plus certification, Audyssey 2EQ with DSX, Dynamic EQ, and Dynamic volume, and Faroudja video upconversion is just the tip of the iceberg. This is the sort of custom installation product that won't be limited to custom installers. We're betting that more than a few consumers will like the feature set, power, and price point of this receiver.
For more information, please visit www.integrahometheater.com.

Unless otherwise indicated, this is a preview article for the featured product. A formal review may or may not follow in the future.