Sherwood R-904n NetBoxx Slimline Receiver Preview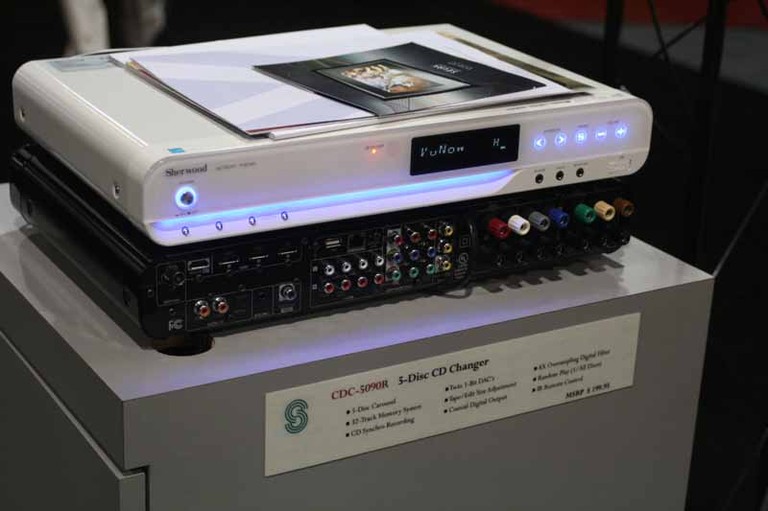 Sherwood R-904n NetBoxx Receiver
Summary
- HD Audio Decoding for Blu-Ray
- DTS-HD(Master Audio / High Resolution Audio)
- Dolby TrueHD, Dolby Digital Plus
- Legacy Audio Decoding
- DTS-ES(Discrete / Matrix)
- DTS-96/26, DTS Neo:6 (Cinema/Music)
- Dolby Digital, Dolby Digital-EX, Dolby Digital Prologic Ilx
- Dual Advanced 32-bit processing DSP chip
- Dolby Volume
- Multi channel PCM Decoding
- 7 DSP Mode (Theater, Hall, Stadium, Room, Panorama, Classic, Multi CH Stereo)
- One Touch Automatic Speaker Setup
- Room Acoustic Calibration with EQ
- 192kHz / 24Bit D/A converter (All channels)
- 3 In /1 Out HDMI Repeater (Ver 1.3)
- 2 In / 1 Out Component Video
- 2 In / 2 Out Composite Video
- Digital Audio Input (1 Optical / 2 Coaxial)
- 7 Analog Audio Inputs
- 2 Zone multi room/ Multi source for audio
- iPod Connectivity with DS-10
| | |
| --- | --- |
| - Digital Amplifier | - 100W x [email protected]Ω, 20Hz~20kHz, 0.5% THD in Stereo Mode |
| - 110W x 7 (1kHz, THD 1%)@6Ω / Only Channel | - Heavy Duty Speaker Binding Post |
| | |
| --- | --- |
| - FM Stereo Tuner | - Quartz Synthesized Digital Tuning |
| - 30 Station Presets | - RDS Function : PS, TA, RT, CT etc (Europe Version) |
| | |
| --- | --- |
| - Color Coded Terminal | - Preprogrammed Remote Controller |
| - Color Availability : Black / White | - Dimension (WxHxD) : 18" x 2.8" x 11" |
| - Weight : 4.7kg | |
Executive Overview
We finally got to put our hands and eyes on the new Sherwood R-904n NetBoxx Receiver. Now there is a fine line between additional functionality and a Swiss Army Knife. While people love Swiss Army Knives, few would consider them the epitome of knife-dom. What they like about them is how many different tasks they can help out with. But when you are chopping veggies or filleting a fish, do you reach for your Swiss Army Knife? Didn't think so.
This is the danger that manufacturers of AV gear run into. They want to add functionality because, not only does set them apart from other offerings, it is something that people want. If they can find a piece of gear that does the job of two, well, they might be willing to pay a premium. But add in too much functionality, too many different tools, and you risk over-complicating the device or worse, sacrificing performance across the board. The phase, "Jack of all trades, master of none" comes to mind. When you are buying a TV, no one cares if it streams Netflix or does your taxes if the picture looks terrible.
There are two schools of thought in the receiver world - large and bulky or slim and sleek. Large and bulky attracts the more traditional buyer who associates size and weight with features and amplifier power. The slim and sleek crowd tend to be more interested in space savings than raw power output and value aesthetics over the black rectangle so common with most receivers. Sherwood's R-904n definitely falls into the "sleek and slim" camp. Check it out: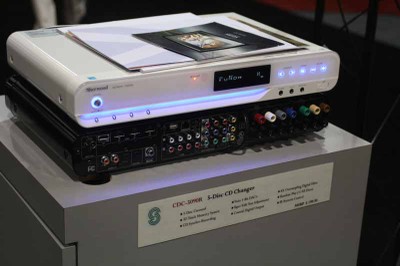 Receivers have long been the brains of the home theater. At first, all they did was switching, amplification, and tuning (radio). Nowadays, for many, this is where everything from switching to amplification to scaling to streaming is happening. Receivers are upconverting and upscaling video, they are upconverting signals from one input type to another, they are decoding audio formats, and they are ready to receive not only terrestrial, but also HD and satellite radio. Sherwood is looking to get in on these new features with the R-904n NetBoxx.
At a bit over 10 pounds and the height of many DVD players, the R-904n NetBoxx will fit in most any installation. The corners are rounded with a slightly offset front display. There are a few controls on the front but all are buttons instead of the traditional knobs. Also included on the front panel is a USB port under a rubber cover and Aux 3.5mm jack. Both of these are great for adding devices like MP3 players or other external storage mediums. One thing that is missing from the front of the unit is any sort of traditional input. We would have liked to have seen an HDMI port here for those with video cameras or other such devices.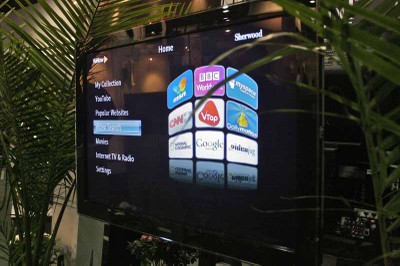 The major buttons glow blue when powered on along with the power button and a vanity light that looks to us like it might light up a bit too much. This vanity light illuminates the lower half of the unit for more than half the width of the receiver. While we appreciate the aesthetic value of the buttons, there is something to be said for the pure functionality of the volume knob. While not exactly a slam against the R-904n since most of the time the control will be via the remote, it does deserve a mention.
The back of the R-904N NetBoxx is really a lesson is space saving. We were really impressed that Sherwood was able not only to get as many connections as they did back there, but how well they laid them all out. On the right side of the back are all the 5-way binding posts for up to seven speakers. With this form factor you mostly expect a 5.1 offering so the extra two channels are definitely a check in the "Pro" column for the R-904n. From the left side you'll find a terrestrial antenna connection, 3/1 HDMI in/out, 2 coax and 1 optical digital audio inputs, a DegiLink input, and a subwoofer pre-out. There is a second USB port as well as a LAN connection. Four analogue stereo inputs are available as well as two Component and two Composite video. There both Component and Composite video outputs. From an input/output standpoint, very little has be left out of the R-904n.

Now that you have everything hooked up, what do you have? Well, according to Sherwood, 700 watts of power - according to the specs measured 110W x 7 (1kHz, THD 1%)@6Ω / 1 Channel which is code for "just fine with 8 ohm speakers but don't push it too hard." What we liked was that you can use the surround back channels for a second zone. In a receiver with this form factor, you wouldn't expect Zone 2 support. Also included is an auto calibration program and mic, Dolby Volume, and native decoding of all the current audio formats. Missing was any sort of video upconversion. We're not just talking about upconversion and scaling to 1080p, but converting from component to HDMI. So if you have an component video input, you'll have to run a component cable to your display.
What, of course, is the claim to fame of the R-904n NetBoxx is it's streaming ability. First you can stream content from the USB interface. There is an Ethernet port for a wired connection but Sherwood also includes a 802.11g adapter. This gets you on your home network so that you can stream content from connected computers or the Internet.
Conclusion
Sherwood certainly has gotten the form-factor right with the R-904n NetBoxx. While the lights might be a little overdone, the aesthetics and size seem to be on point. The receiver functions all seem there with Dolby Volume, used to keep the volume constant, adding a pretty important benefit. We could really see this unit fitting right in a family room in a contemporary setting. While the streaming ability is pretty cool, we're not sure it adds as much as no video conversion takes away. Still, if all your devices are HDMI, maybe it won't be an issue. With a wireless connection, the network content becomes much more attractive. For those looking for a small box, bright lights, and streaming with the ability to expand to a second zone, the Sherwood R-904n NetBoxx might be the solution.
For more information, please contact www.sherwoodusa.com.

Unless otherwise indicated, this is a preview article for the featured product. A formal review may or may not follow in the future.
B1-66ER posts on March 09, 2010 17:32
Cool receiver, i can see this making way for a decent apt setup or even a master bedroom setup. I'm not too familiar with Sherwood, but have heard they weren't exactly the first button on speed dial when it comes to quality. I hope they've lived past that name.


P.S. Audioholics, PLEASE please if you have pictures of a product, give me a bigger pic than whats stock. I like to read the back of products, and its useless if the pic is some thumbnail size.
ratso posts on March 08, 2010 14:32
as i said in the marantz slimline thread, i would have bought this in a heartbeat if it had pre-outs.
Post Reply
Confused about what AV Gear to buy or how to set it up? Join our Exclusive Audioholics E-Book Membership Program!