Yamaha YID-W10 Wireless iPod Dock System Review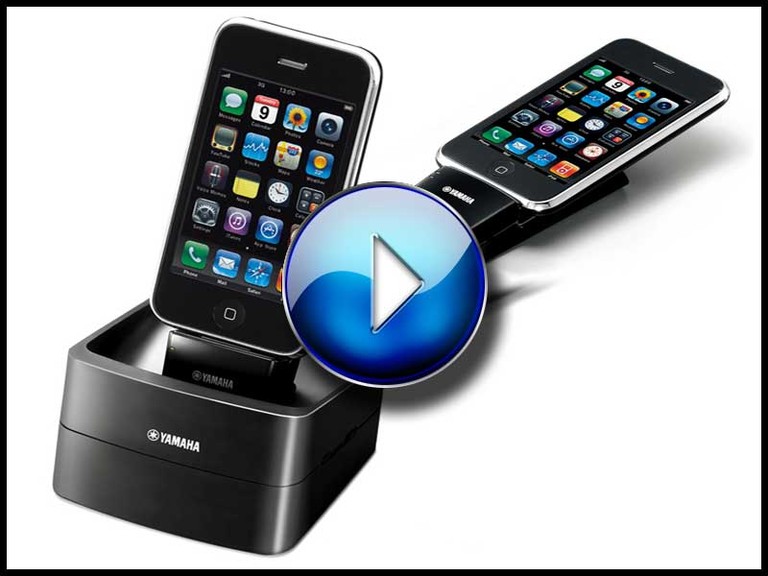 Yamaha YID-W10 Wireless Dock System for iPod/iPhone
Summary
Technology: Stereo Bluetooth
Compatibility: RX-V667 A/V Receiver
Rechargeable transmitter
Dock allows dual, simultaneous charging

Executive Overview
One of the things we frequently hear about is a request for receiver manufacturers to allow for the use of wireless transfer of music via popular mp3 players. Yamaha solves this in a unique way with their YID-W10 Wireless System for iPod. Until iOS 4.0, the iPod has been strictly a mono device when it comes to Bluetooth. As a result, manufacturers had to resort to dongles in order to send stereo music wirelessly from the device to a receiver unit attached to an AV receiver. Yamaha is no different, and their transmitter is one of the smallest we've seen for this type of device.
Yamaha uses a proprietary format they call yAired, which is more or less just an A2DP-compatible external Bluetooth module. That's a Bluetooth format that supports full stereo transmission - something that's pretty important if you want to send music from your iPod across the room and enjoy it on your stereo receiver.
The system only has two components, the transmitter, which attaches to your iPod or iPhone, and the receiver, which plugs into the back of your compatible Yamaha AV receiver. You can actually use up to six of these thanks to some available Group ID switches that Yamaha has included on both units. Once you successfully plug in both units, a green LED lights on the transmitter and a blue LED lights on the receiver, letting you know the system is correctly paired and ready for use. The lights on both units also offer various conditions and flash modes to alert you to other scenarios such as low battery, unsupported units and adjustments to volume.
One thing we liked about the system is that it could charge both the iPod/iPhone AND the transmitter by docking both into the receiver module. Contrast this to a system that used batteries on the transmitter, or which required separate charging methods for each. It's also a very easy system to use and we found it to work without the typical pairing issues associated with Bluetooth. yAired indeed takes some of the complexity out of the Bluetooth connection process.
Overall this is an excellent solution, however it has some limitations. For one, it is currently only compatible with the new RX-V667 receiver, though additional compatibility is sure to come as Yamaha rolls out new products. Also, the yAired system doesn't support the transfer of video, so this is really an audio-only solution. At $119 this is an accessory that can add a significant amount of convenience to your home theater. For those who want similar functionality, but with the wireless convenience or a compatible receiver, you can always use playlists and use an iPod to analogue cable connection to the front of your AV receiver.

Unless otherwise indicated, this is a preview article for the featured product. A formal review may or may not follow in the future.
Alika Low posts on December 19, 2010 03:51
It will be good to use NAS and control via Yamaha Web Browser Center on iPhone / PC / iPad. But not everyone has that. Up to individual preferences.


DonIsGood posts on November 10, 2010 03:04
Curious to say that wouldn't it be easier to store all the songs/video onto the NAS server (provided that you have a server); play the songs from the receiver via DLNA and control it all from the remote/Android/ipod/etc?
Post Reply
Confused about what AV Gear to buy or how to set it up? Join our Exclusive Audioholics E-Book Membership Program!