Integra DTR-80.2 9.2-Channel Receiver Preview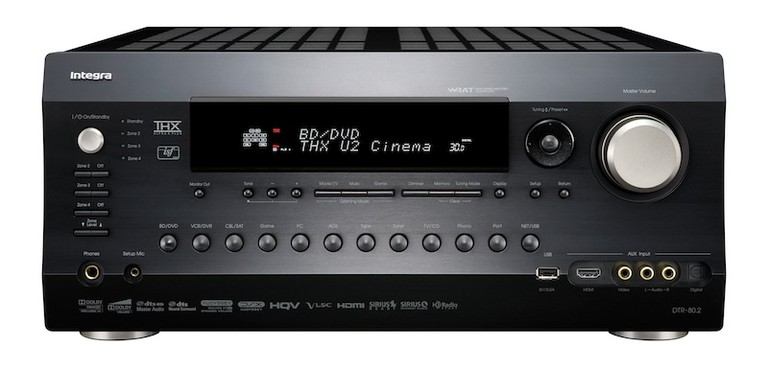 Integra DTR-80.2
Summary
THX® Ultra2 Plus Certified

HDMI® (Version 1.4a to Support 3D and Audio Return Channel) with Deep Color, x.v.Color, LipSync, Dolby® TrueHD, DTS-HD Master Audio, DVD-Audio, Super Audio CD,
Multichannel PCM, and CEC

8 HDMI Inputs (1 Front/7 Rear) and 2 Outputs

Dual HDMI Outputs (Simultaneously Active Capable)

2 USB Ports (Front and Rear Panel)

Front-Panel USB Port for Memory Devices and iPhone® / iPod® Models (Enables Display of Album Artwork)

Network Capability for Streaming Audio Files (MP3, WMA, WMA Lossless, FLAC, WAV, Ogg Vorbis, AAC, and LPCM)

Internet Radio Connectivity (Pandora®, Rhapsody®, SIRIUS Internet Radio®, Napster, Mediafly, Slacker, and vTuner)

Certified with Windows® 7 and DLNA Version 1.5

Firmware Updates via Ethernet and USB

ISF (Imaging Science Foundation) Video Calibration for Optimal Video Performance

HDMI Video Upscaling to 1080p/24 with HQV Reon-VX

VLSCTM (Vector Linear Shaping Circuitry) for All Channels

H.C.P.S. Massive Toroidal Transformer and Two Separate Transformers for Audio and Video
Processing

Large-Size Transistors for High-Current Drive

Burr-Brown 192 kHz/32-Bit DACs (PCM1796 x 6) for All Channels

Three-Stage Inverted Darlington Circuitry (Certified 4-ohms Performance)

PLL Jitter-Cleaning Circuit Technology

DSD Direct for Super Audio CD

Dolby® Volume for Reference-Quality Listening Experience at Any Volume

Dolby® TrueHD, DTS-HD Master Audio, Dolby® Digital Plus, DTS-HD High-Resolution Audio Decoding

DTS Neural Surround Decoding

Audyssey DSX and Dolby® Pro Logic® IIz for New Surround Channels

Audyssey MultEQ® XT32 for Room Acoustic Correction

Audyssey MultEQ® Pro Ready with Target EQ Curve Editing

Audyssey Dynamic EQ® for Loudness Correction

Audyssey Dynamic Volume® to Maintain Optimal Listening Level and Dynamic Range

Overlaid Graphical On-Screen Display (OSD) via All Video Outputs

4 DSP Modes for Gaming: Rock, Sports, Action, and Role Playing Game (RPG)

Analog RGB Video Input (D-sub, 15 pin) and Audio Input for PC

Gold-Plated, Machined Solid Brass, 3/4" (19 mm)-Pitch Audio Inputs (TV/CD and Phono)

Universal Port for Single-Cable Connection of Optional Onkyo Dock for iPhone® / iPod® or HD

RadioTM Tuner

OTHER FEATURES

145 Watts per Channel at 8 Ohms, 20 Hz–20 kHz, 0.05%, 2 Channels Driven, FTC

Three 32-Bit Processing DSP Chips (DA830 x 1, DA788 x 2)

7 Digital Inputs (4 Optical and 3 Coaxial)

HDTV-Capable Component Video Switching (3 Inputs and 1 Output)

Linear Optimum Gain Volume Circuitry

Bi-Amping and BTL (Bridged Transless) Capability

WRAT (Wide Range Amplifier Technology)

Music Optimizer for Compressed Digital Music Files

A-Form Listening Mode Memory

Direct Mode

Independent Crossover Adjustment for F/C/S/SB
(40/45/50/55/60/70/80/90/100/110/120/130/150/200 Hz)

A/V Sync Control Function (Up to 250 ms in 2 ms Steps)

Color-Coded, 9.2 Multichannel Pre Outs (Including 2 Independent Subwoofer Pre Outs)

Color-Coded, 7.1 Multichannel Inputs

Customized, Gold-Plated, Color-Coded, Banana Plug-Compatible Speaker Posts

SIRIUS Satellite Radio® Ready* and HD Radio Ready

40 FM/AM/SIRIUS Random Presets

Compatible with RI (Remote Interactive) Dock for iPod

Bi-Directional, Preprogrammed, and Customizable RI Remote Control with Backlight, On-Screen Setup, Mode-Key LEDs, and Macro Presets for Four Activities

5 A/V Inputs (1 Front/4 Rear) and 1 Output

Video/S-Video Outputs (Monitor)

1 Audio Input and 1 Output

CUSTOM INTEGRATION FEATURES

Bi-Directional Ethernet and RS232 Port for Control

Powered Zone 2/3/4 and Zone 2/3 Pre Outs for Distributed Audio Playback in Multiple Rooms

Zone 2 and Zone 3 Subwoofer Outputs

Zone 2 Monitor Output (Component and Composite Video)

Independent Zone 2 and Zone 3 Bass/Treble/Balance Controls

Max & Power On Volume Settings for Main Zone & Zone 2/Zone 3

Dealer Settings Memory Store & Recall with Lock/Unlock

Permanently Stored Settings

2 IR Inputs and 1 Output

3 Programmable 12V Triggers (with Adjustable Delay)

Optional Rack Mount Kit Available (IRK-180-4)

RIHD (Remote Interactive over HDMI) for System Control
Executive Overview
The home theater world can be validly likened to the nuclear arms race of the Cold War era. When one manufacturer comes out with a new feature, a new weapon if you will, the others have to follow suit or risk annihilation (or at least a loss of sales). At lower price points, the key is to cherry-pick your features carefully. Manufacturers have to guess what consumers want most and shoehorn as many of them in at each price point. Guess wrong and you've got thousands of units in boxes on shelves collecting dust. Guess correctly and you can't keep them in stock. At higher price points, you have a bit more leeway. It isn't so much about what you have as it is about what you're missing. With feature lists as long as your arm, it's easiest for consumers to focus on what is missing.
It might take a while to figure out what is missing from the new THX Ultra2 Plus certified Integra DTR-80.2. The laundry list of features is as long as your arm (single spaced). We can start with the basics - 145 Watts per channel at 8 ohms, 20 Hz–20 kHz, 0.05%, two channels driven. The DTR-80.2 has an advanced, audiophile grade power supply with a massive, high-current, low-noise, toroidal power transformer that is dedicated exclusively to audio amplification. The receiver also has two other separate transformers and power supplies, one dedicated to the audio circuitry and the other to the video circuits. The back of the unit sports 11 pairs of binding posts with 9 channels of amplification. The Integra DTR-80.2 supports four zones of audio. This allows you to to connect up multiple speakers in different configurations and switch between them without having to manually switch speaker wires. There are 8 HDMI 1.4a inputs (one on the front panel) that support all the current 3D formats, Audio Return Channel, and HDMI Thru and two simultaneously active capable outputs.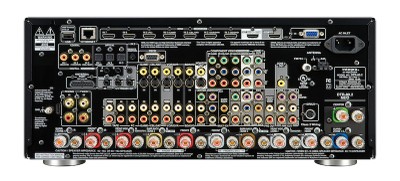 Inputs and outputs abound on the back of the DTR-80.2. There are three each optical and coaxial digital audio, three component video inputs (with two outputs - one of which can send video to a second zone), and a dedicated PC input. Of course at this level you'd expect networking features and you won't be disappointed. The DTR-80.2 is DLNA 1.5 certified and can stream Pandora, Rhapsody, SIRIUS Internet Radio, Napster, Mediafly, Slacker, and vTuner via it's Ethernet port. You can install firmware updates from the network or one of the two USB ports (front and rear) which can also be used to connect an iPod (and display album artwork) or stream MP3, WMA, WMA Lossless, FLAC, WAV, Ogg Vorbis, AAC, and LPCM audio files. 
As you'd expect, the Integra DTR-80.2 decodes all the latest audio formats including DTS-HD and Dolby TrueHD. Plus you can connect either through the 9.2 pre-outs or the internal amps the height and width channels of Audyssey DSX or the height channels of Dolby PLIIz. State of the art Audyssey MultEQ XT32 is on board as is the Pro Ready version which allows custom installers to customize the EQ setting for a particular installation.
Speaking of custom installers, there are a ton of features on the Integra DTR-80.2 for them. Other than the four zones support (with subwoofer pre-outs for Zones 2 and 3, component and composite video for Zone 2 and assignable amps for Zone 4) and Audyssey MultEQ Pro mentioned above, there is the expected RS-232 support, multiple IR inputs and 12 volt trigger outputs onboard. The DTR-80.2 features full ISFccc Certified Calibration Controls to support individual color calibration for all video inputs which is imperative for the ultimate in video experience. The Ethernet port is bi-directional and the receiver sports lockable dealer settings to keep customers from "fixing" their dealer settings to death.
Conclusion
Have we covered everything in the new Integra DTR-80.2 receiver? Not by a long shot. We didn't cover the three 32-Bit processing DSP chips, the bi-amping and BTL (Bridged Transless) capability, or the HDMI video upscaling to 1080p/24 with HQV Reon-VX. We didn't touch on the WRAT (Wide Range Amplifier Technology), the VLSCTM (Vector Linear Shaping Circuitry) for all channels, or the Burr-Brown 192 kHz/32-Bit DACs for all channels. We didn't mention the two independently controlled subwoofer outputs which can be calibrated by the new Audyssey solution. We didn't mention graphical overlay on all outputs. Heck, we barely scratched the surface here. What we hope we've done is piqued your interest. The Integra DTR-80.2 is a monster of a machine. For $2800 it better be. If you are looking for something a little cheaper, Integra has simultaneously announced the DTR-70.2. This receiver sports almost all the same features except for slightly less power, a few less inputs, and without the separate transformers and power supplies for $2000. So, we started this off with saying that with this quality of receiver, you look for what isn't there. In the case of the Integra DTR-80.2 the only thing we could find missing is a Zone 2/3/4 remote. Since the consumer of a product at this level probably has a dedicated universal remote system integrated anyhow, that's not much.
For more information, please visit integrahometheater.com.

Confused about what AV Gear to buy or how to set it up? Join our Exclusive Audioholics E-Book Membership Program!
Recent Forum Posts:
Kaps posts on August 14, 2015 19:40
I bought one of the DTR 80.1, I was told at the time of sale why they are better than the Onkyo range.
1) they come with 5 Year Replacement warranty - not repair
2) Components are hand picked instead of manufactured in assembly line
They said its like Lexus from Toyota

So I bought it. The system kind of worked for just over an Year and then decided to start playing up. No display and no audio etc. I contacted Ambertech, the distributor in Australia and they asked me to take to authorized repairer. I was handed over the unit back after repair only to find out, that now it won't do anything at all. Frustrated, contacted Ambertech again and they asked me to send the unit to them. Instead of replacing as mentioned at time of sale they repaired it and sent it back. I now have a repaired unit, which I can only run upto a max of 55-60% of the volume, with only 3 speakers 2 front and 1 centre. If I add another side or rear speakers or a passive SUB, which it supports, the unit shuts itself down. It heats up a lot even when the Aircon is running. Please note I only use this unit to watch movies now and then and its not that its heavily used everyday. But simply it appears to be a cheap unit.
Doesn't matter how you caliberate it, it can not play music that will sound in any form that you are using a good home theatre or music system. Its only good with DTS input. Even dolby signals are pretty boomy at times.
My Computer using a Cretative XFi Titanium sound card and Logitech Z5500 sounds 100 times better than Integra.
These units are not what they used to be years ago. It appears they are just another product from assembly line now, very poorly built and you don't get that value from your money anymore.
Retailers sell them to get good margin out of it and will say anything or everything (like replacement warranty) to push the sale. I see a lot of them being repaired and sold by Ambertech, the Australian Distributor selling them as refurbished on ebay at 1/3rd or half of the RR Price.
I read an article that Ambertech recorded major loss for the previous financial years. I am not sure if its the Distributor who has stopped honoring the replacement warranty or they are simply not making any profit because of the number of faults increasing in these units simple because of the poor built quality and the supplier can not cope up with replacements.
I would stay away from this unit and will never buy an Integra product again. It is currently sitting in my living room and only turn it on every now and then, to watch a movie with only 3 speakers connected and keeping the volume at only 55 %.
I am deeply disappointed in this unit and simply decided to wait until it dies and will then look for some other brand, and do a bit of research before buying it. Retailer and Distributor, bluntly refused to offer replacement or fix it any further. NAD seems to be a better brand.
Sylvester_L posts on February 09, 2011 09:13
Will you be reviewing this unit ?
AVRat posts on January 07, 2011 21:32
The answer to both is yes.
rpthecoder posts on January 07, 2011 20:53
Integra dtr 80.2

Hi Tom,

Do you know if Integra dtr 80.2 (avr) apply audyssey correction on bitstream HD audio like Dolby TrueHD and DTS MA inputs?


A relaed question, Do you know if Integra dhc 80.2 (pre/pro) apply audyssey correction on bitstream HD audio like Dolby TrueHD and DTS MA inputs?

cheers,

rp
sweazy posts on October 24, 2010 06:33
Integra DTR-80.2 / 9.2

My home Theatre configuration are as follows:
Integra 6.5 receiver, Integra DVD player, Interga CD player
Tru Audio inwall speakers Ht66 5.1 original set up, just ugraded to now 7.1
I have tru Audio inwall ceiling speakers for Surround back, and i also i have 3 additional ceiling speakers that can give me a configuration of 11.2 if need be.
I'm looking to upgrade all my equipments to HMDI as well.
Post Reply