Marantz SR6004 7.1CH AV Receiver Review
Marantz SR6004 7.1CH AV Receiver Review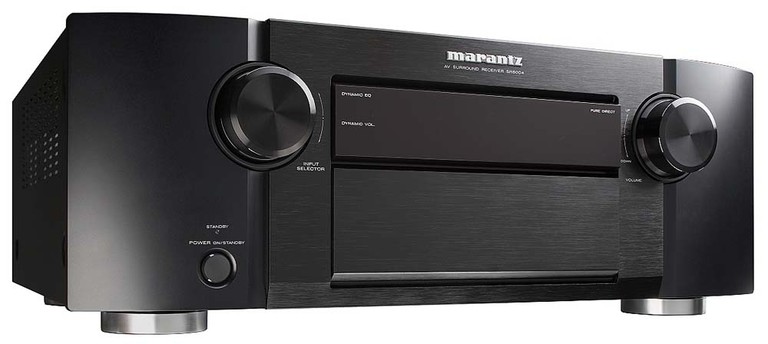 RX101 Bluetooth/IR Receiver included
Front USB audio input for iPod/iPhone digital connection or USB Memory
Dolby TrueHD/Pro Logic IIz, dts-HD Master Audio Decoder
Audyssey Dynamic EQ, Dynamic Volume and MultEQ Auto Calibration
Sophisticated aluminum/reinforced resin front panel with Front door design for Clean Panel
HDMI (v1.3) Repeating: Four Inputs, Two Outputs
Graphical User Interface (GUI) for Setup
GUI through HDMI out
110 watts x 7 (8 ohms)
Analog, Digital Independent PWBs design to minimize mutual interference
Component Video output for 2nd Zone
Marantz Custom High Quality Block Capacitor
Full 10-bit Video Processing
M-DAX(Marantz Dynamic Audio eXpander)
2nd Zone Analog audio output (Individual source) w/discrete command
3rd Zone Digital audio output (for Digital input source)
SIRIUS & XM Ready with discrete IR commands
Bi-Amp Drive Capability for Front L/R
RS-232C, DC Trigger out, Flasher In and Marantz D-BUS (RC-5) In/Out
LCD Learning Backlight system remote
Available Option Rack Mount Kit RMK6504SR
Dimensions: 17-3/8" W x 6-3/8" H x 15-3/8" D
Weight: 28 lbs
Pros
Excellent sound quality
Easy to setup and operate (main zone)
Compact and attractive design
Cons
Confusing multi zone operation
Mediocre HDMI video upconversion
No networking
Marantz SR6004 Introduction

Marantz has been going at it for over 50 years producing audio equipment.  Like any company that's been bought and sold over the years, they've had their share of up and down cycles.  Lately it seems Marantz is back on the up cycle, releasing a series of high performance receivers that have the critical features everyone wants while packing the punch necessary to drive a full surround system to theatrical levels.  I was interested in checking out their middle-of-the-road product, the SR6004, which retails for $1,249.  At this price manufacturers must choose the right balance of performance and features.  My job was to see how well Marantz executed this delicate balance while holding true to their strong audio-focused heritage.
Design Overview

The SR6004 is what I call a midsized receiver.  It doesn't take a forklift to move, yet it has a solid feel to it which implies a decent sized power supply to amply drive a full 5.1 or 7.1 speaker configuration.  The SR6004 employs a class A/B power amplifier design and is rated for 110wpc x 7.  I always pop the top off of any receiver I review prior to hooking it up as I like to know what's under the hood.  The EI core transformer appeared to be quite sizable for a receiver of this price class, but those power capacitors I saw near the transformer looked puny.  They were 20,000uF but only rated for 16V.  The minimum voltage caps that should be used to produce the rated 110wpc should be at least 50V.  At first glance I thought I found a major design error in this receiver until Marantz engineering pointed out that the actual power supply caps were hidden underneath the HDMI board and were in fact 10,000uf, 63V rated.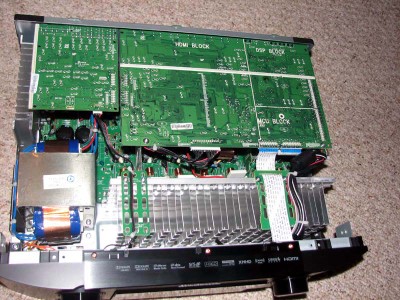 Marantz SR6004 No Cover
Marantz engineering also informed me that all of their SR series receivers (including the SR6004) were designed to maintain 70% (77wpc) power output under a 5 channel load and 50% (55wpc) power output under 7 channels driven against its two-channel driven spec.  Of course I planned on validating this claim which you will see in the measurements portion of this review.
Marantz SR6004 Power Supply Capacitors
Marantz SR6004 Back panel View
The SR6004 back panel is laid out quite nicely.  It's not a cluster of connections like you find on many other receivers these days partly due to the absence of S-video connections.  There are binding post connections on all 9 pairs of speaker terminals, 4 HDMI inputs and dual HDMI outputs.  The SR6004 has a two-prong detachable power cord, one switched and one unswitched outlet and 7.1 preamp inputs and outputs to allow for future format expansion and external amplifier, respectively. 

Marantz SR6004 Front panel View
The SR6004 doesn't have the typical boxy feel you get with most receivers.  Instead it sports some sexy curves given it the feeling of a high end gear not dissimilar to their beautifully crafted two-channel reference gear.  The front panel has an array of buttons and inputs.  Oddly, there is an S-video connection which in my opinion would have been better to be an HDMI connector instead.  The front panel also includes a phono input, USB connector for use with flash drives, or music streaming devices such as an iPod, analog audio and composite video and Toslink for digital music sources.


Confused about what AV Gear to buy or how to set it up? Join our Exclusive Audioholics E-Book Membership Program!
Recent Forum Posts:
chadfs posts on June 16, 2010 21:41
SR6004 Bluetooth

The Blue tooth didn't work well with my i touch either. However it works great with my Samsung phone so I blame Apple not Marantz.
Lee Bailey posts on June 16, 2010 00:26
Audyssey with HD soundtracks

Even though the unit will not enable Audyssey when playing any of the HD bitstreams, you can send LPCM from the source unit instead, and Audyssey processing will be available to you.
Seth=L posts on June 13, 2010 22:06
gene, post: 725348
Heat sinks are pretty generic parts. The same heatsink is likely used on many different brands and model#s of A/V receivers. Marantz and Sherwood receivers are not shared platforms as far as I can see.
You may be right. However, it is known that Sherwood builds Denon's lower end receivers to Denon's specification. Being that both companies fall under the same umbrella it's not outside the realm of possibility that Marantz receivers could be made in part or whole by Sherwood completely to Marantz's specifications. This says nothing about the quality of the end product as Sherwood has made a name for itself in the production of quality OEMs and spec'd builds. IMO, if the Marantz receivers are made by Sherwood it's a cost effective route to take.
bellevegasj posts on June 13, 2010 21:07
I wish these shared the same video upscaling as the upper Denon line. I would jump on this for sure if they did. I use this feature.
gene posts on June 13, 2010 12:33
Marantz seems to have made some modifications to the heatsink, although it mostly looks like a typical Sherwood heatsink. If this receiver is made by Sherwood, it was definitely made to Marantz's exact specifications. That is a bold beautiful machine.
Heat sinks are pretty generic parts. The same heatsink is likely used on many different brands and model#s of A/V receivers. Marantz and Sherwood receivers are not shared platforms as far as I can see.
Post Reply