Yamaha R-S700 Stereo Receiver Preview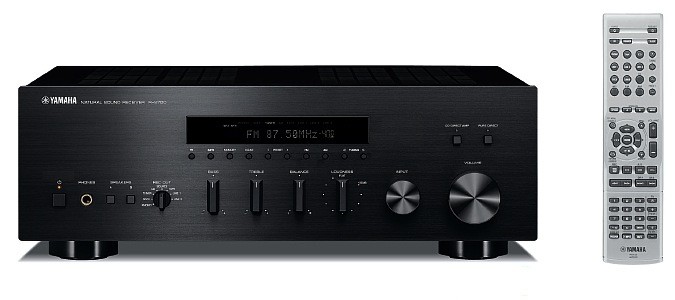 Yamaha R-S700 Stereo receiver
Summary
100W x 2 high power output
ToP-ART (Total Performance Anti-Resonance Technology)
40-station AM/FM random access preset tuning
Pure Direct for short and direct signal path
Continuously Variable Loudness Control
Speaker A, B or A+B selection
Subwoofer out
Rec Out selector
Pre-main coupler
Power management (Auto power off)
Terminal for detachable AC cable
Preset and Zone 2 remote controls
Dimensions (W x H x D): 17-1/8" x 6" x 15-1/4"
Executive Overview
While we may be inundated with images and advertisements about home theater, surround sound, and 3D, for some, stereo is still king. There are many reasons. Some people have challenging rooms with limited placements. For them, perhaps a stereo setup is preferable to the quasi-surround you get from the surround bars. Perhaps the room is an office and a full surround system isn't warranted or wanted. Most likely, however, the person is just a two-channel lover. They believe that stereo is all that they need. Maybe they have an extensive vinyl collection or perhaps they just find a full surround system perfectly fine for movies but prefer their music in stereo. Regardless, these customers need quality products. While some (too many it seems sometimes) think that only stereo components older than them are of any value, others would like to find something a little newer. Yamaha has them covered with their new R-S700 Stereo Receiver. 
It's a bit of a misnomer to say that the R-S700 is new - it's only new to the US. The R-S700 (and it's cousins the R-S500 and R-S300 plus integrated amp A-S500) haven been on sale in the UK (where stereo is much more popular) for some time. It must be doing well as they are porting over to the US market. While the obvious difference from a traditional home theater receiver is the number of channels, the R-S700 is not lacking in power or features. Sporting 100 watts per channel, the R-S700 has more than enough oomph to be the centerpiece of any two-channel setup. 

Note: This picture is from the UK version - the US version is slightly different

Glancing at the rear panel, we see a lot that is familiar and a few surprises. First we have the expected five-way binding posts. In this case, there are two sets, for an A and B set of speakers which can be selected individually or played together. There are a number of RCA stereo inputs plus a phono inputs with a ground (a necessary feature on such a product). The only video input is for iPod integration (we would think if you are going to support video, you might as well add a few more for other inputs but that isn't the case here). Yamaha has included their Dock port in the R-S700 for adding on one of their add-ons. Of course, a receiver wouldn't be a receiver without an antenna input and the R-S700 includes 40-station AM/FM random access preset tuning.
While you might expect only full range speakers to be supported, Yamaha has included a subwoofer output. There is a switch on the back to enable power management. This, as the name suggests, shuts off the power after a period of time. Why Yamaha placed the switch on the back is a bit baffling to us. It makes more sense for it to be on the remote or on the front where it would be more accessible. The R-S700 supports two zones of audio through dedicated pre-outs and includes a second Zone-2 remote. It has a dedicated port for Sirius Radio, a 12 volt trigger output, and IR in and out - all of which are specific to the US version. There are Tape outputs for recording and a removable power cord.
The R-S700 has what is called a "Pre-main Coupler." This is basically a pair of RCA ports that are accessible from the back panel that allows users access to the point between the processor/preamp and the amps. So if you wanted to use different amplification, you could connect it to the pre-outs. But, if you wanted to use a different processor, you could connect it to the main-in. This is a very unique, and potentially useful for the consummate tweaker, feature.
The front of the unit has enough controls to take care of just about anything you'd want to do. There is volume, input, Zone 2, Speaker (A/B/A+B), and Loudness, Bass, Treble, and Balance plus Pure Direct and CD Direct modes. While Pure Direct shuts down all unnecessary functions on the receiver to minimize noise and distortion, with a straight connection to the CD input, CD Direct Amplification maximizes CD source signal to noise ratio.
Conclusion
The US version of Yamaha's R-S700 has some definite improvements over the UK version. Most notably is included Zone 2 support with a dedicated remote. With high quality components, 100 watts per channel, Pure and CD Direct modes, and a host of features, two-channel enthusiasts have a lot to think about. All but the price. At a suggested $549.95, this is practically a bargain buy for many esoterics out there. While the features and power of the R-S700 indicate that Yamaha has envisioned it as the brains of a music-oriented system, the price is much lower than we'd expect. We fully expect this product to do well is select groups. We really think many an executive or anyone that spends a lot of time in an office would be interested in the R-S700 or one of its lower cost cousins. The R-S500 and R-S300 drop a bit of power (75 and 50 watts per channel respectively), a few features (neither has the Pre-main Coupler and the R-S300 doesn't have Zone 2) but command only $399.95 and $329.95.
For more information, please visit www.yamaha.com.

Confused about what AV Gear to buy or how to set it up? Join our Exclusive Audioholics E-Book Membership Program!
Recent Forum Posts:
PearlcorderS701 posts on January 21, 2011 02:41
Glad to hear you are enjoying the receiver – I cannot help with discussing the same model with you, as I don't have the Yamaha, but I'd like to discuss some things with you as well as ask some questions…

You mentioned your "CD decks" and "mixers"…what kind of system is this hooked up to? And how do you feel about the "Direct" mode when listening to CDs? I too have a Direct mode on my Onkyo stereo receiver, but don't really use it, as it seems Direct and Stereo sound about the same to me…
Medwynn posts on January 21, 2011 00:13
I would like to say I've had the Yamaha R-S700 Receiver for a little over a month. An early Christmas gift along with a pair of Energy RC-50 speakers.

It was a part of me wanting just a decent 2 channel audio setup. I haven't hooked up a subwoofer yet to it since the RC-50's do their job in the lower frequencies. The subwoofer output is full range.

Now i'm not an audio expert by any means but I think this receiver is a great buy with some of the features it has.

I constantly use the Pure Direct switch when playing music through our CD decks and mixer. It does switch from A/B through the remote also.

Is there anyone else out there that has this receiver? I can't find any reviews on it.
PearlcorderS701 posts on October 06, 2010 18:22
I'd like to make a bit of an edit here to my original reply; it seems that upon read of the full review article, there is indeed reference to this receiver "providing enough oooomph as the centerpiece of a two channel system" or some such words, so my initial response of the review lacking enthusiast focus in terms of stereo receivers was a bit premature.
3db posts on October 06, 2010 07:04
we need more information here
mike c posts on October 06, 2010 04:12
is the subwoofer out lowpassed or full range?
Post Reply