Denon AVR-4311CI AirPlay Receiver Preview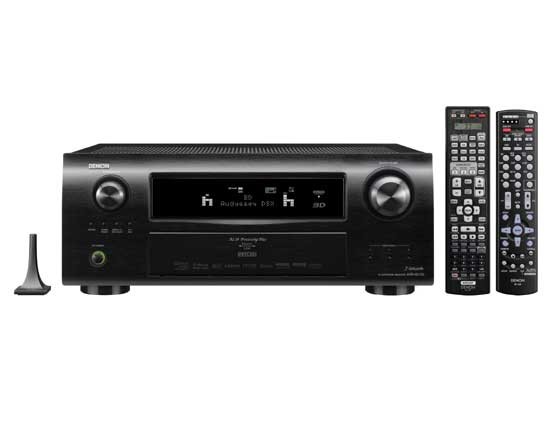 Denon AVR-4311CI Airplay Receiver
Summary
140 wpc x 9 (full bandwidth) discrete amplification

Apple iTunes AirPlay support (

Coming Fall 2010)

Ethernet connectivity
PC streaming
Pandora/Flickr access
Dolby True HD, DTS-HD Master Audio
9.2 channels with independent subwoofer outputs and other assignable configurations

Audyssey MultiEQ room correction
Dolby Volume
HDMI 1.4a with full 3D support and Audio Return Channel

Blu-Ray compatibility
HD radio
Discrete power amplification system
7 HDMI inputs
2 parallel HDMI inputs
Anchor Bay Technologies VRS
HDMI clock control
Dimensions: 17-3/32" x 6-47/64" x 16-19/64"
Weight: 38.2lbs

Executive Overview
So, what do you want in a receiver? What do you need? More importantly, what do you think you'll need a year from now? Two years? Three? Are you interested in the latest protocols, like Apple's new iTunes AirPlay? If you are only shucking out $200, $300, $500 for a receiver, you may well expect to upgrade every year or three. At that price point, for many, it is practically an impulse buy. But you know you're not getting the latest features, the best amps, or all the current technology and components that are available. But if price is all that matters and you'd rather take a $500 hit every couple of years rather than a $2000 one and hope that your receiver keep you happy long enough to justify the price, that's up to you.
Eventually, you'll be tempted. You'll see a new receiver come out and look at the feature set and think, "My God, it's full of stars," (or something to that effect). You'll take a look at the bank, remember you've got a bonus check on the way, and start value shopping for B-stock. But right as you are about to pull the trigger, you have a moment of panic. Should you do it? Should you spend all that money? Will you feel like a new man the next day or will you feel like sitting in the shower, fully clothed, crying?
And then, on top of that, Denon recently announced support for Apple AirPlay, the company's new wireless audio protocol that will support multiple products across the board. According to the Denon website:
Coming in the Fall of 2010 is a planned upgrade that provides Apple iTunes AirPlay compatibility that lets you stream your favorite music to the AVR-4311CI.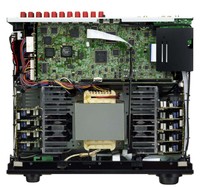 Denon knows who you are and is trying to push you over the edge. The new Apple iTunes AirPlay compatibility is just one function that shows the company is staying on top of technology and monitoring what's really hot in the industry. The update won't require any hardware adjustments, just a firmware update via the included Ethernet port. If you've got an Internet connection, you should be ready to go and streaming music to and from AirPlay compatible devices will be possible. Is this the next step in the solution of whole house audio? We're not sure, but it will be interesting to see what other manufacturers pick up the torch and carry it along.
We reviewed the AVR-4310CI a while back and were impressed with it's staying power. Denon has one-upped the 4310 with it's newly announced (shipping in September) AVR-4311CI. This receiver will have all the features of its predecessor and a few you've (and we've for that matter) never heard of. Let's start with what you know.  For starters, the new AVR-4311 is 10wpc more powerful than its predecessor (up from 130wpc to 140wpc) while Denon also packed in two more amplifiers so you can now run simultaneous front height and back channels to take advantage of PLIIz decoding.  Unlike many manufacturers these days packing in more features and amplifier channels, Denon obviously didn't compromise quality here as evident by the new AVR-4311CI weight increase of 4lbs to accommodate a bigger power supply.  Denon utilizes discrete amplification for all channels as you can see in the dual rows of heatsinks flanked by a large E-core transformer at the center.
The inclusion of two additional internal amplifier channels over the AVR-4311CI's predecessor makes this receiver a true 9.2 channel system.  This gives the user and the installer much more flexibility to use the additional height/width channels now available for in the advanced processing of the latest DSPs or just more flexibility when powering more zones of audio.  Denon also claims the AVR-4311CI is expandable to 11.2 channels to handle any future formats wanting to add speakers to the ceiling or the bathroom so you don't miss a beat while doing your business.
Of course the Denon AVR-4311CI will have all the latest audio processing for Dolby TrueHD, DTS-HD Master Audio, Dolby ProLogic IIz, and Audyssey DSX. Such processing is available at price points much below the the $2000 asking price of the AVR-4310CI. The receiver is networkable with access to Internet radio, Pandora, and Flickr as well as DLNA certification for streaming content from local computers. The AVR-4311CI features dual parallel HDMI outputs and a host of HDMI inputs (six on the back, one on the front) that have all been upgraded to the HDMI 1.4a spec. As you'd expect at this price point, there are a slew of inputs and outputs including three component video, a host of digital audio (both coaxial and optical), IR ins and outs, 12volt control, RS232, and support for up to three zones of audio.
Denon has again included top-of-the-line video upconversion ability via Anchor Bay Technologies VRS processing to HD quality (up to 1080p/24/60). They've also included a built-in HD Radio, DENON Link 4th (a single cable solution for those with other Denon components), featuring HDMI Clock Control – when using the HDMI interface for A/V output for Blu-ray playback in combination with Denon Link, Clock Jitter Control gives the Master Clock and Jitter reduction to be handled by the connected Denon A/V Receiver/Processor.
What's new? Well, there is a lot. First, Denon has made the AVR-4311CI as user and integration friendly as possible. For upgraded iPod/iPhone performance, the AVR-4311CI is 'Works with iPhone' certified which means it will access your content from your iPod/iPhone via a USB cable rather than a separate dock. For integrators, they can access the receiver's menu's over the Internet (reducing the number of costly home visits) and in a first-of-its-kind move for the company, Denon is now creating (and publishing on its dedicated CI Portal) its own complete Crestron remote control modules. In addition, the new AVR-4311CI has Control4 Certification for smooth integration with all Control4 IP-based home automation and etertainment systems. It is also officially "Compatible with Windows 7," ensuring full compatibility with the updated 'Play To' functionality of the new Microsoft operating system.
Two additional features have caught our attention. First, the Denon AVR-4311CI is the first receiver to include Audyssey's MultEQ XT 32 Room Correction, with 32 times the resolution quality of the current MultEQ XT system. With the addition of Audyssey's new Sub EQ HT, the AVR-4311CI will provide users with the highest level of audio playback quality even in the most demanding of listening environments. This should greatly increase the receivers ability not only to provide a quality listening experience, but to integrate more seamlessly subwoofer(s) into the system.  The AVR-4311CI is the first Denon Audyssey enabled system that will provide the user the option to simultaneously calibrate all subs with a single correction curve to ensure the best integration possible.  This is what we recommend when calibrating multiple subs and we've asked Denon to implement this option for many years.  See Home Theater Multiple Subwoofer Set-Up Calibration Guide
Lastly, the AVR-4311CI has a feature that we've only seen on two other receivers before (Yamaha RX-Z7 and RX-Z11)  - Pre Amp Mode. For years we've been suggesting to our readers that they get a receiver with pre-outs so that, if they feel the need, they can add an amp later. Dedicated separates were (for a very long time) out of the reach of most consumers and were (until recently) usually lacking some of the most recent features. Opponents of using a receiver as a pre amp often sited multiple reasons (not all of which were valid ) for not using one. Denon has addressed all that with their new Pre Amp Mode. Now, the external amplifiers can be disconnected from the power supply section, thereby allowing all other operating components to receive the purest power and also eliminating any chance of "noise" from the amplifier section infiltrating and potentially degrading the audio/video paths.  In a brilliant move, Denon has allowed the  Pre Amp Mode optional setting in which selected amplifier channels may also be configured for multi-zone use, while the main zone amplifiers are shut down. This gives users a tremendous amount of flexibility in setting up their system in a variety of ways without compromising fidelity or features.
Conclusion
What do you want out of a receiver? Do you want power? Video upconversion? Networking and streaming? 9.2 decoding and amplification with the ability to expand to 11.2?  Do you want it all plus the ability to shutdown the internal amps to use your receiver as a dedicated Pre/Pro without risk of contamination of the signal by noise and heat? If we have one bad thing to say about Denon in general and the AVR-4311CI specifically it's that they keep exceeding our expectations. When we reviewed the AVR-4310CI we thought it had more than it's price point suggested. Now, the AVR-4311CI has addressed most of our minor gripes with it's predecessor, added features we didn't even know existed, and did it all without changing the retail price. If this isn't a home run of a product, we don't know what is.

Unless otherwise indicated, this is a preview article for the featured product. A formal review may or may not follow in the future.
See also:
Confused about what AV Gear to buy or how to set it up? Join our Exclusive Audioholics E-Book Membership Program!
Recent Forum Posts:
audio013 posts on November 29, 2011 01:56
Well, first of all I thanked to you for such kind of the post, I hope this helps others like me searching hours for more info. So far so good, I do not regret. My concern is about its little large bass. But feel 140 watts enough to stream powerful sound, plenty of stores have it, I got my one at Audio Solutions, because it is on my way, and nice to talk to these guys there, but possibly you get it everywhere cheaper now.
Alex2507 posts on February 27, 2011 22:26
PENG, post: 796356
I consider bright as something that hurts my ears after a while, and at loud level.
I guess that means my girl is a genius.
PENG posts on February 27, 2011 20:05
trouling, post: 765916
Wow lots of information on features and Denon 4311 really packs all of the latest. Judging from a picture, beefy unit well designed. So far so good. From the little I've read on other forums sound wise Denon trails a little in sound quality to some other products like the Pioneer Elites with the ICE amps (SC-35, SC-37, etc.). My local dealer that indicated the new Marantz sound a little better as well. Is any of this true? Any useful information sound comparisons available?
To me, none of those are true. It may be true to them because of what they chose to believe. I had owned a few Denon from 1705 to 4308, Sony ES, Yamaha RXV, and now Marantz, plus a few amps along the way. To me there isn't a whole lot of things to say about which one is warm, cold, hot, bright or whatever. I think those talks were mainly originated from long time ago and over time, has become popular hearsays.
That being said, I did find the Pioneer SC-XX ICE amps sounding less transparent but it was just my feeling at the time. I don't think there is enough difference for me to identify it the majority of times in a DBT. Likewise, I owned a couple of older (not the oldest) ES AVRs and had the feeling that they were most transparent, perhaps to the point so people thought they were bright. To me transparent is different than bright as I consider bright as something that hurt my ears after a while, and at loud level.
highfigh posts on February 26, 2011 18:17
sycoanalyst, post: 795986
Trouling - I found your quote on the Pioneer and Marantz relative to the Denon somewhat interesting if not amusing. I just left my local Magnolia store (West Hills Ca) where I sat through a 1 hour + listening comparison of some of the latest receivers, including the the Denon 4311, and a Pioneer and Marantz (I also sampled a McIntosh, but that system is so far outside the parameters price-wise its not valid to make any type of comparison.) Personally, I find the "religious" debates of "this brand" vs "that brand" and the battle for audio supremacy pretty lame. I understand the impulse of wanting to promote ones choices and proselytize the corresponding gospel, but the bottom line is the only way to make a choice is to sit down and actually listen to whatever you are considering buying. Ironically re; your post, I just happened to listen to comparable models the Denon, Pioneer and the Morantz head-to-head on the same set of top line speakers today and I had the exact opposite opinion of your "local dealer." On a stand alone basis, all three sounded great (I am not an audiophile but I am fastidious none the less.) But relative to one another, all things being equal, the Denon had the more balanced and warmer sound. The Pioneer was nice, but not as "rich" sounding. The Marantz, again was nice, but the high notes sounded a bit harsh. Ian, my dealer guy (who btw, is an audiophile and one of the rare capable sales people) had the identical observations. His reasoning being the Denon had a better "amp" system (not sure if technically true, but that's what he said). I'm not a Denon guy (I own a Sony ES) but after today I am now a Denon "believer." No doubt, the 4311 is a top notch AVR. Relative to the other brands, I would would rate it 1st. But ultimately, you have to let your own ears decide the winner, not the sales people or the blogs. You listen to music with your ears, not your ego.
Did you find the Denon similar in sound to the ES? I had worked for a large Sony ES dealer and used one of the ES integrated amps until I decided to stock a Denon receiver as a demo unit. I didn't hear a pronounced difference and that's one of the reasons I kept this one. I have almost no direct experience with Marantz in the last 20 years and it would seem that there's little to no exchange of technology between Denon and Marantz, even though they're stable-mates in D&M Holdings and Marantz is sometimes portrayed as the up-scale brand. To me, Yamaha tends toward a thinner sound and Pioneer is kind of in-between Denon and Yamaha. IMO, Sony hasn't been putting out the quality of gear they had been, but they seem to be trying to make a push to return to their "glory days" quality.
highfigh posts on February 26, 2011 18:04
golfnut, post: 766712
I've yet to be at a dealer where they had run Audyssey. How do you compare two units if neither of them have been installed properly? I'm not sure anything short of a side by side comparison at home is valid.
If both are without changes to the setup, you can compare them on their own sonic merits, not post-processing. That would be the first step in finding one that sounds good, especially if you have the same speakers. Also, you may be surprised to learn that most people don't run or use Audyssey, or any other software like that because A) the people selling/installing it didn't tell them what it is or what it can do, B) if it was run, it wasn't setup properly or C) someone turned it off, if it was left on at all.
With all of the conflicting info about how it's supposed to be run, coming from all sources- not only people on a forum like this but from sales reps, dealers and those who consider themselves to be "experts", it's impossible for a newb to know what's correct. People who have no knowledge of acoustics are extremely unlikely to mess with it. Plus, when you add the fact that many of the independent retail outlets for audio/video are gone, what's left is usually a big box store that has high turnover and little product training. The independents that remain and are struggling to compete and that means they're just pushing boxes out the door or the ones that aren't struggling don't take the time to set it up in a demo space that changes frequently.
Post Reply