Yamaha RX-A1000 Aventage Receiver Preview

Yamaha RX-A1000 Aventage Receiver
Summary
Channels : 7.2
RMS Output Power (20Hz - 20kHz): 105W x 7
Total Power (20Hz - 20kHz): 735W
Dolby TrueHD, Dolby Digital EX/ Dolby Pro Logic IIx
DTS-HD Master Audio, DTS-ES Discrete 6.1
DTS 96/24 / DTS Neo:6
High Quality Parts Allowed Sound Tuning for Optimum Performance
5th Foot w/ Anti-Resonance Technology (A.R.T. Wedge)
Low Jitter PLL Circuity
Symmetrical Power Amplifier Layout
DAC on Pure Ground Circuitry with High Quality Burr-Brown DACs
Four SCENE Buttons (SCENE Plus)
Pure Direct
HD Radio Tuner
iPod Compatibility (With Optional YDS-11/12 or YID-W10)
Bluetooth Compatibility (With Optional YBA-10)
Compressed Music Enhancer
Sirius Satellite Radio Ready
HDMI (In/Out): (8 / 2 ) Ver 1.4a [Zone B Capable]
Component Video (In/Out): (4 / 1)
A/V Inputs (S-Video): 5 (All S-Video)
Digital Inputs/Outputs [O: Optical, C: Coaxial]: (O: 4, C: 3 / O: 1)
Front A/V with Digital Input (With HDMI / S-Video / Optical / USB)
Front USB Input For Flash Memory Drives
Network Receiver Functions: (DLNA 1.5 / Win 7 / Rhapsody / SIRIUS Int Radio)
D/A Conversion: 192 kHz / 24 bit
Surround Programs: 17
Time Base Corrector

HDMI 3D Capable
HDMI Audio Return Channel (ARC), HDMI CEC
HDMI Standby-through (can change inputs in standby)
Analog Video to HDMI Upconversion (upscaling to 1080p)
HDMI to HDMI Upscaling (480 input to 720/1080p)
HDMI Video Processing
Component Video Upconversion, S-Video Upconversion
Dialogue Lift
YPAO (w/Optimizer Microphone) (Multi-Point)
On-Screen Display (OSD) (GUI)
Auto Power Down
Assignable Power Amp
Zone Speaker Terminals
Zone 2 Output (Component / Composite)
Zone 3 Output (Component / Composite)
Zone Power Switching
Web Browser Control
RS-232C Interface
+12V Trigger Output (x 2)
IR Inputs/Outputs
Receiver Manager Software
Selectable Subwoofer Crossover (9-band)
Multi-Channel Decoder Inputs: 8-Channel
Pre-Out All Channels
Learning Remote Capability: Preset
Product Dimensions (W x H x D): 17-1/8" x 7-1/8" x 16-7/8"
Product Weight: 32.4 lbs.
Executive Overview
Yamaha has done away with their RX-V designation for a new line of AV receiver products it is dubbing its Aventage line. There are five products, and the most entry level in the line is the new RX-A700 (MSRP: $599).  All of the receivers in the Aventage line feature discrete amplification, optimized amplifier layout and construction, custom designed parts, high grade speaker terminals, ultra low jitter circuitry and according to Yamaha, best in class processing.
The new RX-A1000 A/V  receiver features a  more rigidly constructed frame (new double bottom construction available on the RX-A3000), plus Yamaha has added a fifth foot (which they call the "A.R.T. wedge") to stabilize the center of the receiver as well as a stabilizing bar they call an H-cross frame. Yamaha claims that their physical case modifications are yielding "noticeable sound improvements". We'll leave that to the listener to decide, but we'll reserve judgment on just how much audible difference a fifth foot or crossmember will yield in the typical listening room.
The power amplifier layout has been optimized, with improved signal to noise ratio and "uniform vibration control". The improvement also extends to providing improved left/right channel separation. They have implemented an ultra low jitter clock that is designed especially to deal with multiple media inputs with wide-ranging timing circuits. A hybrid power supply delivers independent power to analogue and digital circuits which increases efficiency, yielding more power where it is needed. Even the DACs seem to have been improved on this receiver verses earlier models at this price point.  All five models incorporate discrete amplification and beefed up power supplies which is obvious when you examine the weight of each model.  The RX-A1000 is rated at 105wpc x 7 (full bandwidth measurement) and tops the scale at 32lbs. 
On the back, the receiver features seven (yes SEVEN!) HDMI inputs and two parallel HDMI outputs. Back are the S-video inputs for all inputs and there are WBT-style high-end 5-way binding posts in place of Yamaha's typical red and black plastic monstrosities we all love to hate. There are preamp outputs for 7.1 channels with dual (parallel) subwoofer outputs. Zone 2 has a preamp out, with analogue video support, and the dedicated Zones 3 (RX-A2000) and Zone 4 outputs (RX-A3000) are analogue audio only. The RX-A1000 has four component video inputs and a network jack for bringing audio in from the Internet or streaming from DLNA-certified sources (PCs). USB audio is also possible thanks to the front USB jack. Finally, an iPod dock connection (compatible with the YID-W10 Wireless Dock System for iPod/iPhone) and phono inputs make this about the most robust receiver we've seen from Yamaha yet - at this price point.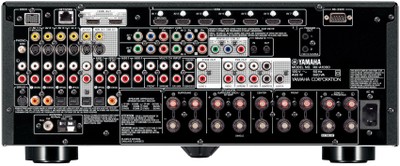 The RX-A1000 A/V receiver comes with a three year warranty and tons of Yamaha proprietary video processing.   Advanced GUI with OSD overlay (even over 3D and HD sources), high quality video processing with precise deinterlacing, motion adaptive and edge adaptive deinterlacing and multi-cadence (incl. 3-2 pull-down) detection, deep color support and full analog up-conversion to 1080p all make for a receiver ready to handle all of your video needs.
For videophile purists, you can step up to the RX-A2000 (MSRP: $1499) or the RX-A3000 (MSRP: $1899) to take advantage the new on board HQV Vida processor, which enhances image detail and quality with four-field motion adaptive de-interlacing, multi cadence tracking, expanded 12-bit color processing and detail enhancement. The result enhances standard-definition sources to near-HD quality and makes HD look even more detailed. Moreover, the IDT VHD1900 incorporates two new IDT HQV technologies - Auto HQV and HQV StreamClean - which automatically enhance the incoming image and provide powerful clean-up of source video, allowing the picture to be as crisp and clean as possible.
The RX-A1000 allows the use of Web Control where you can control the receiver from a web browser and there is also Yamaha's iPhone/iTouch app which allows your portable device to take over and adjust receiver functions. The RX-A1000 A/V receiver is one of the hottest products we've seen in some time. Considering Yamaha practically snuck this one out in advance of CEDIA, we were shocked and caught off guard. Look for a more thorough review soon once we can pry one out of their hands.
For more information, visit Yamaha Aventage receivers

Confused about what AV Gear to buy or how to set it up? Join our Exclusive Audioholics E-Book Membership Program!
Recent Forum Posts:
Magda43Fr posts on April 17, 2012 08:19
We'll leave that to the listener to decide,



Grador posts on April 15, 2012 17:50
If you look under the posts for the surround back pair I believe you'll find that the left channel has "SINGLE" written below it. Use this for your single surround back speaker.
Kenhsh posts on April 15, 2012 13:07
Confuse and wonder how to connect AVENTAGE RX-A1010 for my BOSE Acoustimass 16 Series

I'm wonder and confuse with how to connect my 6.1 sound system with AVENTAGE RX-A1010.

:oI didn't see any Center Rear (CR) at the Back Panel of AVENTAGE RX-A1010.

There are only Front (L & R), Center, Surround (L & R), Surround Back (L & R).

Which one I should connect?:o
Sisko posts on October 02, 2011 14:25
Multi-channel question

I was wondering if anyone could give me a tip on how to select a video signal to use when the multi-channel input is engaged. When I push the multi button it goes to that input, but I can't figure out how to use the video signal coming from my Blu-ray player. This doesn't work the way it has in previous yamaha receivers that I have owned. The manual says it can be done, just not how to do it.
3db posts on April 03, 2011 10:48
meterman228, post: 804304
I just replaced my old Yamaha RXV 496 (about 10 years old) with a Yamaha RXA- 1000. I set it up with the Ypao mic. It sounds crappy. I reset it manually and had it sound a bit better. I have my HD pvr connected with an HDMI still does not sound near as good as my old receiver. Also I have my Blu-ray connected with HDMI. It doesn't sound that good either, even with DTS HD master. Is there a setting I am missing? I set the sub to max in the manual speaker menu and still had to turn up the volume on the sub itself to get a reasonable amount of bass. Can someone help me? or do I need to return it and go back to my old receiver?
To assist in getting a better result using YPAO, set all of your speakers to small manually and skip speaker sizeing from the YPAO test suite. Also ensure that wiring is checked to ensure none of your speakers are wired out of phase. Try it again. Its very important that you keep the room as quiet as possible while YPAO is runnning.
Post Reply