Yamaha RX-A3000 Aventage Receiver Review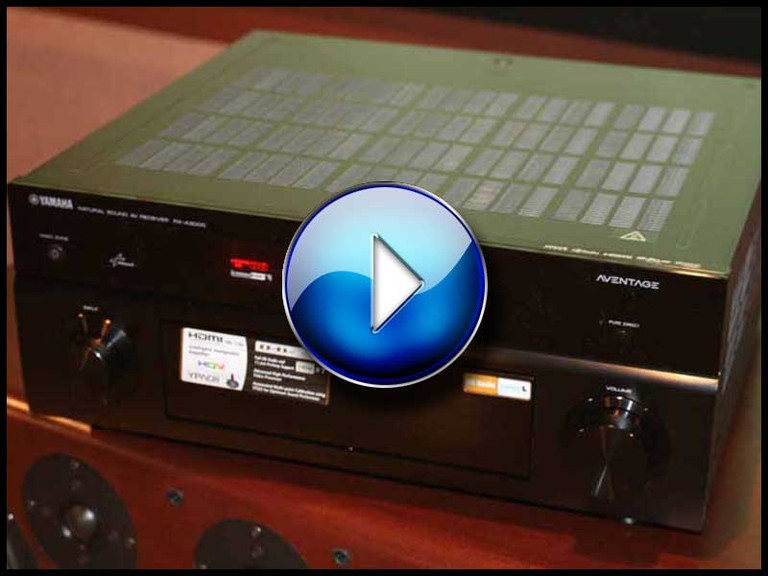 Yamaha RX-A3000 Aventage Receiver
Summary
Channels: 7.2
RMS Output Power (20Hz - 20kHz): 140W x 7
Total Power (20Hz - 20kHz): 980W

Audio
Dolby TrueHD
Dolby Digital EX / Pro Logic IIx
DTS-HD Master Audio
DTS-ES Discrete 6.1
DTS 96/24 / DTS Neo:6
Pure Direct
D/A Conversion: 192 kHz / 24 bit
Selectable Subwoofer Crossover (9-band)

Video
Time Base Corrector
HDMI 3D Capable
Analog Video to HDMI Upconversion (up to 1080p)
HDMI Video Adjustments (Adjustable)
HDMI to HDMI Upscaling
HDMI Video Processing (HQV Vida)
Component Video Upconversion
S-Video Upconversion
5th Foot w/ Anti-Resonance Technology
Low Jitter PLL Circuitry (Ultra Low)
H-shape Cross Member Frame
Symmetrical Power Amplifier Layout

Connections
HDMI 1.4a (In/Out): 8/2
Component Video (In/Out): (4/1)
A/V Inputs (S-Video): 5
Optical Inputs: 4
Coaxial inputs: 3
Optical Outputs: 1
Front A/V with Digital Input (HDMI/S-Video/Optical0)
Front USB Input For Flash Memory Drives
RS-232C Interface
8-Channel Decoder Inputs

Advanced Features
Four SCENE Buttons
HD Radio Tuner
iPod Compatibility (With Optional YDS-11/12 or YID-W10)
Bluetooth Compatibility
Compressed Music Enhancer
Network Receiver Functions (DLNA 1.5/Win 7/Rhapsody/SIRIUS/Internet Radio)
SIRIUS Satellite Radio Ready
HDMI Audio Return Channel (ARC)
HDMI CEC (Consumer Electronics Control)
HDMI Standby-through (can change inputs)
Dialogue Lift
YPAO (w/Optimizer Microphone)
On-Screen Display (also w/ Zone GUI)
Auto Power Down
Web Browser Control
Learning Remote w/macro Capability
DSP Programs: 17

Custom Features
12V Trigger Outputs (x 2)
Assignable Power Amp
Channel Expandability w/ Ext. Amp (Up to 11.2)
Zone Speaker Terminals
Zone 2 Output (Component / Composite)
Zone 3 Output (Component / Composite)
Zone 4 Output (Optical)
Zone Power Switching
Zone Remote Control
IR Inputs/Outputs (x 2)
Receiver Manager Software
Pre-Out All Channels
Dimensions: 17-1/8" W x 7-1/8" H x 16-7/8" D
Weight: 37.5 lbs.
Executive Overview
AV receivers are constantly changing, constantly leap-frogging one another in features and capabilities. This year Yamaha announced its Aventage line and, in the process, jumped over a lot of the competition. And not a little jump, more like an Olympic gold medal long jump. There are five receivers in the Aventage lineup and this one, the Yamaha RX-A3000  - she's the flagship.
Back in 2008 Yamaha released its top of the line RX-Z7 AV receiver. It had 7 channels of amplification with 140 watts each. All manner of video upscaling (analogue and digital), 5 HDMI inputs, 2 outputs... It even supported an advanced room calibration system and 4 Zones of audio. It weighed just over 40 pounds and cost $2700.
Two years later, Yamaha has released the RX-A3000 Aventage receiver. It too has 7 channels of 140Watts each, the same analogue and digital upconversion. But it has 8 HDMI inputs and 2 outputs, all 3D compatible and supporting the latest features like Audio Return Channel. It can bypass HDMI while in standby, so you can use your TV without having to turn on the receiver. It has the same advanced room correction system and network features and the 4 Zones of audio. It adds another component video input, bringing the total to 4 - which is more than enough in our opinion. It does remove one digital audio input and output. It also removed the two switched outlets on the back. But here's the kicker. It weighs over 45 pounds and costs just $1800. Now we're not going to say that the amplifier section is exactly the same as the Z7, but given the feature set, weight and $900 cost savings, Yamaha's RX-A3000 just became the big man on campus and it's going to take quite a bit to topple this Goliath.
We'll be running a full suite of amplifier tests on this receiver shortly, but for now let's talk some more about features - cause there's a LOT of them (too many to cover in this video). One of the things we really like about the RX-A3000 is its new and improved GUI with snappy, animated menus that can also superimpose itself over video. Earlier menu systems were gussied up text-based interfaces - this is more like an app.
Speaking of apps, Yamaha also released an Aventage iPhone app which allows user control over features like Zone volume and source selection and even controlling the tuner section of the receiver. We have to be honest, the app is a bit of a dog, with slow feedback and a quirky interface, but it's a great start - and for free it's hard to complain. Particularly with respect to using multiple Zones, it's almost a life-saver.
Within the system menu we found that the RX-A3000 unlocks an almost limitless amount of options for the amplifiers, inputs, HDMI and DSP. We're talking a massive amount of configurability, and the visual representation of what you are doing makes it easy to understand the settings. There are both Front and Rear Presence channels that can be assigned, and the way the 11-PAIRS of speaker connections are laid out on the rear of the receiver, you can bet that you are going to be able to find a configuration that that works for your whole home. Look, there is so much to say about the Yamaha that we're just going to have to stop talking and force you to wait for the full review to see how it measured, and how it performed in our listening tests.
Read our comprehensive review of the
Yamaha RX-A3000 11.2 CH A/V Receiver

Unless otherwise indicated, this is a preview article for the featured product. A formal review may or may not follow in the future.
steveproxy04 posts on May 22, 2012 05:44
I've done a few comparisons recently.I am thinking about buying a receiver for 2ch HT should consider buying a DAC with multiple digital inputs instead.
MODIA posts on March 14, 2012 15:26
Good Brand

Being around many brands in my industry, we do find Yamaha does bring alot to the table. Our stores may not carry many products from yamaha but we do get to test their brand. This is a good video breaking down the receiver
christo777 posts on March 03, 2012 07:07
very high power !
amppeters posts on December 09, 2011 05:19
If you evaluate Yamaha and HK AVRs in the same budget you will find that in common Yamaha versions have healthier amplifiers while their materials are more or less equivalent. I certainly observed small information never observed before. Every little aspect from the popular music were very well taking place, and the popular music seemed to circulation from nowhere. I actually experienced these loudspeakers so much I almost did get to sleep.
towgavinfree posts on September 14, 2011 03:03
The good news is our review is coming out and Gene did full measurements
Post Reply
Confused about what AV Gear to buy or how to set it up? Join our Exclusive Audioholics E-Book Membership Program!