Onkyo HT-RC260 7.2 Channel Home Theater Receiver Preview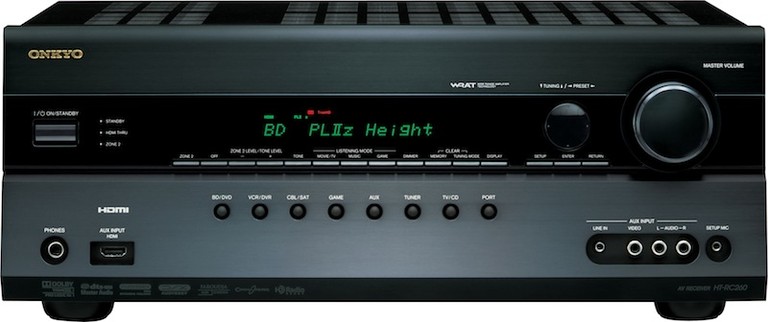 Onkyo HT-RC260 Receiver
Summary
| | |
| --- | --- |
| Amplifier | |
| # Channels | 7.2 |
| Power (8ohms 20-20kHz 0.08%) /Ch | 100W |
| Continuous 6ohms Rated | |
| All Discrete Circuitry | |
| 3-Stage Inverted Darlington Circuitry | |
| Bi-amp Capability For Front | |
| Processing | |
| DOLBY Decoder | True HD, DD Plus, PLIIz |
| DTS Decoder | DTS-HD Master Audio |
| Dolby PLIIz | |
| ONKYO GAME Surround Modes | |
| Audyssey Dynamic EQ | |
| Audyssey Dynamic Volume | |
| Direct Mode | |
| Music Optimizer | |
| 192K/24 Bit DACs | (Burr-Brown) |
| Connectivity | |
| Audio I/O | 7 / 2 |
| Digital Audio IN (OPT/COAX) | 2 / 2 |
| Composite I/O | 5 / 1 |
| Component Video I/O | 2 / 1 |
| Front-Panel A/V | L / R / V |
| Front-Panel Portable input (stereo mini jack) | |
| HDMI I/O | 6 (5+1)/ 1 |
| HDMI Version | V1.4a supporting 3D video and audio return channel |
| Analog To HDMI UpConversion | |
| 1080i Upscaling | (DCDi Cinema) |
| 1080p Upscaling | (DCDi Cinema) |
| Analog Pre-Outs | Sub |
| Powered Zone2 | |
| Zone 2 Line Out | |
| U-Port | |
| iPod Ready | (optional UP-A1) |
| HD Radio Ready | (optional UP-HT1) |
| Integration Access | |
| ONKYO-RI System Control | |
| Miscellaneous | |
| Pre-Programmed remote | |
| Color-Coded Speaker Terminals | |
| Auto Speaker Calibration W/Mic. | (Audyssey 2EQ) |
| OSD Out | (advanced "Home" GUI) |
| Solid Aluminum Front | |
| Warranty | 2 years |
Executive Overview
Large electronics manufacturers, and Onkyo is no exception, have to deal with a lot of different types of consumers. If they want to be successful, it is all about making sure they are at the very least meeting the expectations of the consumers at each price point. Take the HT-RC260 Receiver, for example. If they really want to be successful, they'll exceed those expectations. The hard part is knowing what people expect at each level. At the high end, it's fairly easy - They want everything and they want it in a pretty (usually very heavy) chassis. They want form and function, features and power, easy of use and the ability to fine to and tweak to their heart's content. Most of all, however, they are willing to pay for it.
Most of us, however, are not in that boat.
Most consumers have their pet needs. They have the options they have to have, the ones they'd like to have, and the ones they would take if you threw them in but they certainly wouldn't pay for them and probably won't use them. They've also, hopefully, got this thing called a budget. The onus is on the manufacturers to figure out what those needs and wants are and shove them in a product at a price point just a little lower than the consumer thought they were going to pay. If you can do that, you'll make a mint.
Onkyo's two newest receivers are only one model number apart, but $350 separates them. That's a pretty large jump for a receiver manufacturer. What that usually means is that the higher priced model has a lot more features and is probably a good bang for the buck. In this case, the HT-RC270 is a very nice receiver if you are in to networking and streaming and you think you'll use the Zone 2 and/or height or width channels. If all of that falls into your "would be nice but I'm not paying for it" column, then you'll want to take a hard look at the HT-RC260.
The Onkyo HT-RC260 shares a lot of features with its bigger and more expensive brother. It has the same amp section (100 watts per channel into seven channels with Onkyo's proprietary WRAT (Wide Range Amplifier Technology) amplifiers with new three-stage inverted Darlington circuitry for high dynamics and low distortion). It has Burr-Brown 192kHz/24-bit DACs on all channels. It has the same number of HDMI inputs (five on the back, one on the front all HDMI 1.4a with 3D and Audio Return Channel) with and on screen display over HDMI. It even has Faroudja DCDI Cinema video processing to upscale video to full 1080p output regardless of the source resolution. But of course, some features are missing - most notably the Ethernet port and all the network and streaming features. 

The Onkyo HT-RC260 has Audyssey 2EQ (which is a step down from the offering in the HT-RC270) though it maintains the Audyssey Dynamic EQ and Volume features as well as the height channels from Dolby ProLogic IIz. It features all the latest processing including Dolby TrueHD and DTS HD Master Audio. It doesn't have the THX certification of the 270 so you won't have access to any of the THX specific modes but then again, the certification price hasn't been tacked on to the receiver either. 
The "Universal" port is still available as are two component video and two coaxial digital audio inputs. There are two optical digital audio inputs (one less than the 270). Most notably lacking are the 7.1 channel analogue inputs for integrating legacy gear or 7.2 channel outputs for adding and amp. The HT-RC260 does have analogue outputs for Zone 2 as well as dual subwoofer outputs. Most notably lacking are the extra five-way binding posts that would make switching between Zone 2 and one of the height/width channels that Dolby PLIIz/Audyssey DSX provides. Instead, you have five-way binding posts for seven channels with two pairs of spring-type binding posts for switching. Not nearly as convenient as the bigger brother's 11 pairs of five-way binding posts.
Conclusion
For $500 (a full $350 less than the HT-RC270), the Onkyo HT-RC260 packs in a lot of features. What are you missing are a few speaker connection points to make switching configurations easier, an input or two, analogue pre-ins and pre-outs, THX certification, and all of the network features. What you get is virtually the same amp section, Faroudja DCDI Cinema video processing, a ton of HDMI 1.4a inputs, dual subwoofer outputs, and all the latest audio processing. If you aren't that interested in networking and streaming, you can save a cool $350 by going with the HT-RC260 over the 270. Hey, that's like two pairs of shutter glasses and a 3D Blu-ray player! For some that is money well saved. 
For more information, please visit www.us.onkyo.com.

Unless otherwise indicated, this is a preview article for the featured product. A formal review may or may not follow in the future.
Confused about what AV Gear to buy or how to set it up? Join our Exclusive Audioholics E-Book Membership Program!
Recent Forum Posts:
Cygnus posts on October 18, 2010 10:56
Kennydee, post: 758423
Tom, I and I am sure everyone who visit Audioholics have enjoyed reading on your several Onkyo receivers "first looks" these past few weeks/months but we have yet to see a full pro review on them.
This. I've seen a lot of "First Looks" but not much else. What's goin' on? :o
smurphy522 posts on October 18, 2010 08:29
Tom,
Nice coverage on Onkyo…once again. They look to be offering some of the best values in the industry even farther out pacing the competition from years past. I recently purchased a similar offering (a complete HTIB the HT-S6300). It comes with the HT-R680 receiver (not offered separately). Most likely the same amplifier section as the HT-RC series (130 W/ch though rated at only 1 kHz bandwidth). Also note this HTIB comes with a 10" powered subwoofer and an iPod dock and some decent "starter" speakers. Onkyo's product page is
here
I am currently using the speakers and they are decent and will keep them until I have completed my media and game rooms; currently in progress. I actually got the HTIB so that I could use my better speakers and H/K receiver in my media room. I can recommend this HT-S6300 as a great starter system although I do note that it does not have full pre-out section which you highly suggest.
With some diligent online searching one should be able to finds this HTIB for $500 shipped and no tax. A steal for the whole package!
Kennydee posts on October 12, 2010 09:27
Onkyo products

Tom, I and I am sure everyone who visit Audioholics have enjoyed reading on your several Onkyo receivers "first looks" these past few weeks/months but we have yet to see a full pro review on them. I would be very interested to read one on Onkyo's flagship model(s) and the other less expensive models so they could be compared. I personally am interested in how the amp sections fare once they are passed through your usual exhaustive testing. Hoping you could find some time to write on them.

Many thanks
Post Reply