Sony STR-DA5600ES AV Receiver Preview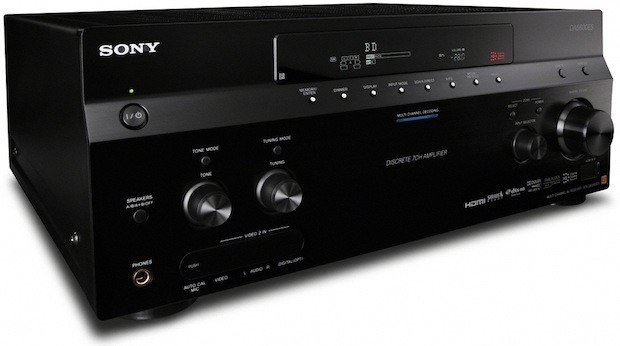 Sony STR-DA5600ES AV Receiver
Summary
130 watt x7 @ 8-ohms, 1kHz, .09% THD

Six HDMI 1.4 inputs (five rear, one front) and two switched or simultaneous HDMI outputs

DCAC EX Speaker Auto-Calibration with Speaker Relocation (distance and degree) and Automatic Phase Matching (APM)

3D pass-through

Integrated four port Ethernet switch

Second zone CAT5e output

DLNA Client and Live Audio Server

iPhone / iPod Touch remote control application

Quick Click feature for multi-room source control (with iPhone/iPod touch app)

On-screen graphical user interface with overlay (main and second zones)

H.A.T.S. clock synchronization for HDMI and DSD

Standby pass-through of audio and video via HDMI

Control system integration via control over IP, RS232 or IR

PC set up manager

Audio Return Channel for TV audio over a single HDMI cable

Shoutcast Internet Radio and Rhapsody Music Service

Dolby TrueHD and dts HD Enhanced audio codecs

Executive Overview
Adding to its high-end 3D capabilities Sony has announced new entries into its ES line that feature HDMI 1.4 capable receivers and even a Blu-ray player. The newest Sony ES receiver is the STR-DA5600ES and is designed to sit alongside your BRAVIA HDTV with 3D capabilities. But if you want to spend mid-fi money on products with the Sony logo, you'll now have to go to the brick-and-mortar store to buy your hardware as internet dealers are getting a big "no-go" for launch. Sony has announced the new ES line of products are only available at specialty AV shops and custom installers.
The STR-DA5600ES features IR input jacks and two-way serial control plus control over IP, making for excellent installation options for custom installers who want to network entire systems together and provide remote support and easily integrate the receivers into control systems like Control4, Crestron, AMX and others. 
The new Sony ES AV receiver is DLNA compliant and can access digital photos, music and videos from windows machines or even USB. The receiver also functions as an Ethernet hub with four ports that connect other network devices. That's quite impressive and a feature that makes a lot of sense for a device that is increasngly becoming the media hub in entertainment rooms.
The Ethernet connection provides access to Shoutcast Internet Radio as well as Rhapsody Music Service, but no Pandora is available. Through this port users can also gain easy access to firmware upgrades via the Internet. Surprisingly, the top of the line Sony STR-DA5600ES can even function as a DLNA Live Audio Server and stream music to other DLNA clients.
Gadget freaks will be happy to note that you can download an app from iTunes to control the player from your iPhone or iPod Touch. The app allows the hand-held to function as a remote control and displays Blu-ray Disc details such as jacket artwork, actors, and film/TV information as well as allow you to search for related video clips online. It is also available for Android devices. 
The Sony STR-DA5600ES and the Sony STR-DA4600ES offer the ability to distribute audio and video to multiple rooms via the second HDMI output and video to a second zone via CAT5 output. Both outputs up-scale all sources to 1080p in the main zone and the second zone gets 1080i treatment - all thanks to Faroudja video processing. The connected video zones feature a high-grade, icon-driven menu system that allows for simple device and content navigation.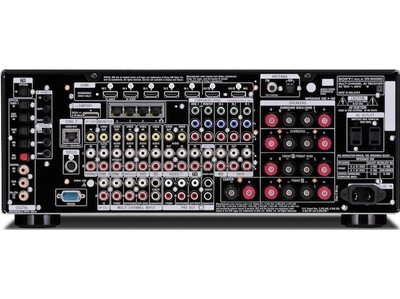 The STR-DA5600ES features Digital Cinema Auto Calibration (DCAC EX) with Automatic Phase Matching (APM). Without changing the front reference speakers, APM corrects for phase differentiation between the front, center, and surround speakers, ensuring an ideal soundstage in nearly any room. It also includes speaker relocation, not only adjusting for the distance but also the angle of the listening position to create an optimal listening environment.
The receivers also feature Sony's new HD Digital Cinema Sound which was developed together with Sony Pictures Entertainment. This is akin to Yamah's "presence" channels and Incorporates a pair of high-mounted front speakers. The effect is designed to transform and replicate both the sound quality and acoustics of a movie theater in the home environment creating an unmatched home theater experience.
The receiver supports 1080/24p video signals and x.v.Color and Deep Color video codecs, as well as all advanced audio formats (Dolby Digital Plus, Dolby TrueHD, dts Master HD, dts ES, Dolby Digital EX, Dolby Pro Logic IIx and 8 channel Linear PCM). For newer displays, the STR-DA5600ES also features audio return channel (ARC) allowing network content originating from the television to be played through HDMI to the receiver without additional cables.
The Sony STR-DA5600ES is both XM and Sirius ready.
The 7.1 channel network multi-room Sony STR-DA5600ES AV receiver features a 130W power amplifier x7 (8 ohms, 20 Hz – 20 kHz, .09 percent THD) With six HDMI 1.4 inputs (five rear, one front) and two switched or simultaneous HDMI outputs. It will be available this September for about $2,000.
See Sony's full press release for the 2010 ES line.

Confused about what AV Gear to buy or how to set it up? Join our Exclusive Audioholics E-Book Membership Program!
Recent Forum Posts:
suzane posts on December 29, 2010 23:43
sony av receiver

The STR-DA5600ES provides a very good presence to help improve video 5.1. The addition of a Sony av receiver DVD player / DVD allows the ability to Bravia, which makes using the system, but all transparent and greatly enhances the enjoyment. The presence of this system in our house, but opposed the use of any of our TV, even if connected to a good home cinema. The only remote control is "worth the price of admission." My wife manages the entire system like a pro and was phobic electronics forever. For the price of its performance appears superior to many higher priced systems.
its phillip posts on September 08, 2010 11:02
More avrs need to have built in network switches - gigabit of course, and i'd like to have more ports as well. That is definitely a nice feature that should be the norm from now on.
bandphan posts on September 08, 2010 10:15
Post Reply