Marantz SR7005 3D Ready 7.1 A/V Networking Receiver Preview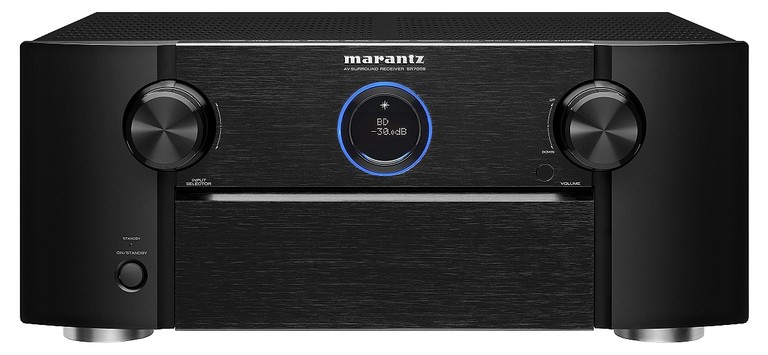 SR7005
Summary
Newly designed clean front panel with a porthole 2nd display
Discrete 125 watts Amp x 7ch (8 ohms, 20Hz-20kHz)
Current Feedback topology featuring Marantz HDAM circuits for Pre-amplifier
Support HDMI ver.1.4a 3D, ARC and Content type, 6 Inputs(Front 1), 2 Outputs
Support HDMI CEC, Deep Color, x.v.Color, Auto Lip Sync and Standby Pass Through (Last or selected one in menu)
Front USB input for iPod/iPhone Digital connection (Audio) or USB Memory (Audio/Photo)
Ethernet port for Audio/Photo streaming (Support DLNA1.5, Windows 7)
Internet Radio through vTuner UI
Streaming service capability: Rhapsody/Napster/Pandora/flickr
Dolby TrueHD, Digital Plus, Prologic IIz, IIx, II, Virtual Speaker, Headphone
dts-HD Master Audio, High Resolution Audio, ES Discete6.1, Matrix6.1, Neo:6, 96/24, Express, Neural Surround
Audyssey DSX, Dynamic Volume and Dynamic EQ
Audyssey MultEQ XT Auto Calibration
Audyssey MultEQ Pro for Custom Installation
Bluetooth Wireless Audio Transmission Capability with option

RX101
Composite/Component to HDMI scaling up to 1080p
HDMI to HDMI scaling
Composite to Component Analog up conversion
OSD overlay on HDMI output
Assignable HDMI, Component inputs
Anchor Bay 10-bit Video Processing/Scaling
M-DAX 2 (Improved Algorithm, Marantz Dynamic Audio eXpander ver.2)
New color GUI On Screen Display
Dot Matrix x2 lines rich info. display in the front door
Input Rename, Skip, Level control
Selectable various volume setup: Power on, Limit and Mute level
8 x7 groups, total 56 Tuner Preset
HD Radio
Sirius ready
Phono (MM) input
11 pair screw type speaker terminals
Zone2 Audio Pre outputs, Component/Composite Video output
Zone3 Audio Pre outputs
7.1ch Pre out + 2nd Subwoofer Pre out
I/P Control
RS-232C for Custom Installation
Flasher In
DC Trigger Out x2
Marantz D-Bus(RC-5) In/Out
External IR Receiver Capability with option

RX101
Detachable Power Code (IEC320 2pin type)
Backlight, LCD, Learning and Precode System Remote Controller
Available Option Rack Mount Kit

RMK8003AV

AC 120 V, 60 Hz
Power consumption: 700 W
Maximum external dimensions: 440 (W) x 187 (H) x 406 (D) mm
Weight: 13 kg

Marantz seems to be a company lately that is NOT resting on its laurels.  Last year they introduced the SR5004/6004 series of receivers that not only looked great but offered very competent performance.  Some features such as OSD overlay over HDMI and networking for streaming audio were lacking, but Marantz has addressed these deficiencies with their latest SR7005 3D TV ready 7.1 A/V receiver (what a mouthful). 
The SR7005 is positioned to replace the SR7002 as the second from the top of the line flagship model yet to be announced.  The SR7005 (MSRP: $1599) retails for $200 more than the SR7002 but lacks the THX Select2 certification of the latter.  The new SR7005 looks strikingly similar to their high end audiophile reference gear.  In fact, the SR7005 shares the same dimensions as their AV8003 reference A/V pre/pro.  Personally I find this look to be a significant cut above your run of the mill  A/V receiver.  One can't help but gawk at the simple and elegant chassis with rounded edges.   While THX certification may be gone with this new baby, it more than makes up for it with a host of new and much needed features.
The Power

Power has been increased from 110wpc x 7 of the SR7002 to 125wpc x 7 for the SR7005.  It's a bit perplexing to us how this was achieved considering the SR7002's power consumption (750 watts) was 50 watts more than the SR7005 (700 watts), and the weight dropped from 33.1lbs (SR7002) to 28.7lbs (SR7005), but we will reserve judgment until we put a unit through our rigorous bench tests.  Marantz did inform us the weight difference between the two units is mostly chassis related.  They also informed us power consumption is being measured differently through UL today than it was back when the SR7002 was developed and that the SR7005 is a more efficient design than the SR7002. 
Marantz employs a current feedback amplifier circuit with their proprietary HDAMs and an oversized low impedance transformer for instantaneous current supply. Marantz claims the impedance at the current feedback point is kept very low (infinity low amplifier output impedance is ideal in theory).  In achieving this, Marantz boasts minimized phase shift.  This approach was originally developed for Super Audio CD signals and is now also implemented for DTS-HD Master Audio and Dolby True HD.   The SR7005 employs a segmented power structure with separate power supplies for each key audio section, and extensive shielding on critical components to avoid electrical interference.  Of course there is a "pure direct" mode to shut down all non essential circuits, including the display, during audio only playback mode.
The SR7005 is rated at 125wpc x 7 into 8 ohms.  Marantz engineering  informed me that all of their SR series receivers (including the SR7005) were designed to maintain 70% (88wpc) power output under a 5 channel load and 50% (63wpc) power output under 7 channels driven against its two-channel driven spec.   This was something we were able to confirm when we reviewed the SR6004 so we have no reason to doubt this will be the case with the SR7005. 
The Features

The Marantz SR7005 A/V sports complete compatibility with 3D TV and HD audio. It's 3D ready with HDMI audio return channel and CEC functionality support as well as pass-through in standby mode.  Upscaling and upconversion of standard-definition video sources uses an Anchor Bay Technolo0gies ABT2015 chipset which should be a great improvement over their previous generation receivers. 
The TI DSP chipset used in the SR7002 has been replaced by a more advanced 400Mhz, 32-bit Sharc DSP from Analog Devices serving all DSP functions used for HD audio decoding and Audyssey equalization.   The SR7005 also steps up from Audyssey MultEQ to the more advanced MultEQ XT Pro system.  The SR7005 will support Audyssey equalization on all HD audio sources (ie. Dolby TrueHD, DTS HD, etc) which was not possible on any previous Audyssey enabled Marantz A/V receivers.
Unlike previous generation Marantz receivers, the SR7005 is a networking receiver featuring a built-in media player to handle streaming music and still images, plus internet radio (ie. Rhapsody/Napster/Pandora/flickr). There is a USB input offering digital connection for iPods, and the Marantz M-XPort for their RX101 wireless Bluetooth receiver.
Marantz SR7005 Backpanel - courtesy of forum.blu-ray.com

I confirmed with Marantz engineering that the new GUI OSD will overlay over HDMI with simultaneous volume control display support, something again that previous Marantz receivers were incapable of doing.  6 HDMI inputs (5 rear, 1 front) and 2 HDMI outputs ensures you have plenty of ports to support all of your HDMI equipment.    In fact, this is a significant step up in HDMI connectivity from the 4 inputs of the SR7002.
There are 11 speaker outputs all utilizing binding post connections.  This gives the user the option of installing a 7.1 system (2x front, 1x center, 2x side, 2x rear or 2 x height) plus 2 speakers for another zone by assigning two of the seven channels to rear, height or zone2).  Best of all they don't have to fiddle with rear panel speaker connections each time they decide to change the allocations of those two channels as it can all be configured through the Marantz setup GUI for each mode of operation.    
Conclusion
It seems that Marantz has addressed every criticism we offered in our SR6004 review and took their receiver line up to the next level with their latest xxxx5 series.  We are looking forward to engaging a formal review of the SR7005 as we have high hopes for its performance and operation given the recent trend of Marantz building a better product which each new generation.  We love their new reference look with the porthole frontpanel display and the oversided dot matrix display conspicuously hidden in the door panel below.
The official USA press event where Marantz will be announcing all of their new A/V products will commence online July 21st.  The SR7005 will begin shipping this August.
For more information, visit the official Marantz SR7005 Product Page

Unless otherwise indicated, this is a preview article for the featured product. A formal review may or may not follow in the future.