Yamaha RX-V867 Receiver Preview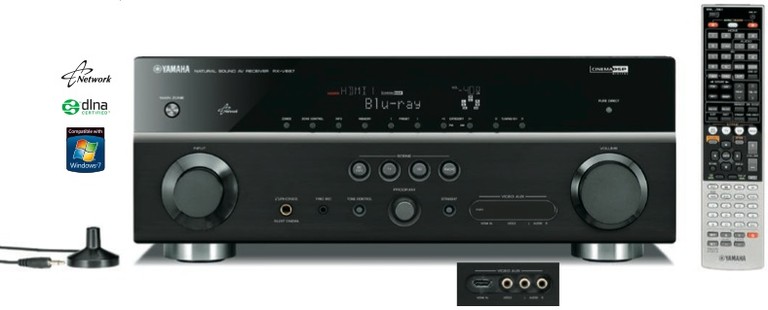 Yamaha RX-V867 AV Receiver
Summary
High Sound Quality
7-channel 665W powerful surround sound (95W x 7)
HD Audio format decoding: Dolby TrueHD and DTS-HD Master Audio; Dolby Digital Plus and DTS-HD High Resolution Audio
Discrete amp configuration
Pure Direct for HD audio and video enjoyment
Low jitter PLL circuitry
Assignable amplifiers for bi-amp connection
Intelligent assignable amplifiers for Surround Back <-> Front Presence or Zone 2
High Picture Quality
Analog and HDMI video upscaling to full HD 1080p
1080p-compatible HDMI: 6 inputs (1 on front) and 2 outputs (simultaneous)
Supports Deep Color (30/36 bit), x.v.Color, 24Hz Refresh Rate and Auto Lip-Sync compensation
High quality video processing with precise deinterlacing: -Motion adaptive and edge adaptive de-interlacing -Multi-cadence (incl. 3-2 pull-down) detection
Advanced Features
SCENE buttons (BD/DVD, TV, CD and Radio) - quick and simple to use
Network functions -Access to Internet Radio (MP3/WMA), Streaming Services (Rhapsody®, SIRIUS Internet Radio) and music files on PC (WAV, MP3, WMA, AAC, FLAC) -DLNA V.1.5 certified

HDMI (V.1.4a with 3D and Audio Return Channel) • HDMI CEC functionality
YPAO sound optimization for automatic speaker setup
SIRIUS Satellite Radio ready
New on-screen display GUI with album art
Ability to change HDMI input while in Standby Through mode
iPod/iPhone compatibility with optional YDS-12 Universal Dock
iPod song titles displayed in English and Western European languages on the front panel and on-screen display
Wireless connection for iPod/iPhone with optional YID-W10
Bluetooth (A2DP) compatibility with optional Yamaha Bluetooth® Wireless Audio Receiver YBA-10
Dialogue Lift • Auto power down function with variable time setting • Preset remote unit
Surround Realism
HD Audio decoding with CINEMA DSP 3D (17 DSP programs)
Compressed Music Enhancer with CINEMA DSP
Virtual Presence Speaker function for CINEMA DSP 3D surround without Front Presence Speakers
Adaptive DRC (Dynamic Range Control) and Adaptive DSP Level
Versatile Zone Control
Zone 2 on/off and control on front panel • Zone sleep and system sleep • Party mode • Remote input/output
Programmable +12V trigger output
Executive Overview
In a competitive market, one of two things has to happen - either prices have to go down or features have to go up. You can't stagnate. Yamaha Electronics seems to acknowledge this with their RX-V867 AV Receiver. There are few consumer dollars on the market and you want to make sure that your product will get them. In a flourishing economy, people spend more freely. They don't do as much research, don't think out purchases as much. If your product is on the right shelf at the right time, it has a good chance of a purchase. With so many consumer dollars around, in some cases all you need to do is show up.
But in a recession or even during more turbulent economic times, you can't sit on your laurels. You have to entice the consumer to buy and you do that by the appearance of value. That "appearance" may come in the form of more features at a price point or it may come from a big red "sale" sticker on the front. In the case of receivers, both work but the former tends to garner all those consumers that are doing their research.
Yamaha has been pumping out new receivers with state of the art features at price points we wouldn't have thought possible only a year or two ago. The new Yamaha RX-V867 receiver shows up with not only 3D capability built in (which equates to HDMI version 1.4a) an Audio Return Channel but also networking features, multiple HDMI inputs and dual outputs, and analogue and HDMI upscaling to 1080p. All this for less than $900? We just had to take a closer look.

There are a few things that Yamaha has been known for and they are unlikely to put out a receiver without these features represented. First, there are a slew of DSP modes - 17 to be exact. They've tacked on the "3D" moniker to their CINEMA DSP label which includes such oldies but goldies as Rock Arena, Jazz Club, and Mom's Basement (not sure about the exact names but you get the gist) but also a few new ones. The compressed music enhancer has been around for a bit as a way of trying to repair the damage done by zealous over-compression looking to shove all 10,000 songs they were promised on their iPods. With the advent of Dolby PLIIz and Audyssey DSX and their front height and front wide channels, Yamaha has been thinking, "Hey, we've been doing that for years!" Now they've one-upped the competition with a "virtual" presence (equates to a height) channel without the need of a speaker.
There are full 7.1 channel analogue inputs and 7.2 channel outputs for integration with legacy gear or external amps. We've been particularly fond of the dual subwoofer outputs and advocate people take advantage of them as often as possible. The Yamaha RX-V867 has six HDMI inputs (one on the front) and dual simultaneous outputs which supports Deep Color (30/36 bit), x.v.Color, 24Hz Refresh Rate and Auto Lip-Sync compensation. Analogue and HDMI upconversion to 1080p is onboard (though the manufacturer is not specified indicating that it is a proprietary solution) with motion adaptive and edge adaptive de-interlacing including multi-cadence (incl. 3-2 pull-down) detection. Provided it works as advertised it should pass most of the HQV tests with flying colors. We won't know until we get a unit in our hands. There is also the ability to change HDMI input while in Standby Through mode with the RX-V867 - something that is only now starting to show up on receivers.
There are dedicated five-way binding posts for each of the seven channels of amplification (95watts per channel) plus an extra set for presence and/or Zone 2 or bi-amping. We love this solution as it allows you to wire all the speakers and change configurations without having to run behind your receiver to switch out speaker wires. The RX-V867 weighs in at a respectable 25lbs and has outputs for component and composite video. We like how the outputs are surrounded by white on the back of the receiver making them easier to identify in the dark of a cabinet. There are a limited number of analogue video inputs including only two component and four composite. There are two each of optical and coaxial digital audio inputs. Zone 2 is supported though the internal amps (if assigned) or stereo analogue outputs. There is a Dock input for connecting one of Yamaha's add-on docks plus a dedicated Sirius Radio input for adding an antenna. 
Yamaha's proprietary YPAO automatic room correction system is on board for setting up your speakers as is an all new GUI (Graphical User Interface) which will now show album art (presumably in conjunction with one of Yamaha's iPod docks). We're getting a little tired of companies like Yamaha (and many others) claiming functionality that requires an addition purchase to actually use. For a $900 receiver not to have a USB port is a bit of a mystery to us. When other manufacturers are including full iPod/iPhone functionality out of the box at much lower price points, not to have at least a USB port for basic compatibility seems a tremendous oversight.
The last big feature on the RX-V867 is networking. With a connection to your router to the Ethernet port on the back of the receiver you'll gain access to Internet Radio (MP3/WMA), Streaming Services (Rhapsody, SIRIUS Internet Radio) and music files on on your PC (WAV, MP3, WMA, AAC, FLAC). The RX-V867 is DLNA v1.5 certified which means you'll probably have little problems integrating the receiver into your system. Perhaps this is why Yamaha neglected the USB port but it seems a poor substitute for those that want to quickly integrate a visitor's iPod/iPhone into their system.
Conclusion
With the exception of one missing feature, the new Yamaha RX-V867 is quite an interesting product. For under $900, you get full analogue and HDMI upconversion to 1080p, HDMI 1.4a with 3D, Audio Return Channel, and input switching while in Standby Through mode, 95 watts per channel, dual subwoofer and HDMI outputs, extra binding posts for Zone 2, and a full suite of networking and streaming features. While you won't be able to integrate your iPod or iPhone without an additional purchase, you sure can do just about everything else. With 7.1 channel inputs for integration of legacy gear and 7.2 outputs for adding an amp later, this is a receiver you can grow old with. Well, at least a little older.
For more information please visit www.yamaha.com.

Confused about what AV Gear to buy or how to set it up? Join our Exclusive Audioholics E-Book Membership Program!
Recent Forum Posts:
languid posts on January 20, 2011 12:23
response to questions

There is a volume trim in the options menu that can be adjusted to increase the volume on this unit. It doesn't take much adjustment to address the issue.

I found the audio quality improved with more use/burn in. A couple of things to consider: This unit supports bi-amping speakers, big improvement with this if your speakers are constructed for this. Second, take the time to set up the surround using the provided microphone. Third, I found that the unit needed a slight increase with bass trim. Last point: I found the digital connectors for my CD player (I have an entry Arcam unit) sound better than the Analog (rca). This is in contrast to my last unit.

Hope this helps. I find the unit to be pleasant for the price.
alisrael posts on January 17, 2011 06:17
Yes, I have the exact same speakers (Infinity RS series), and a Klipsch subwoofer, and RV-1105 sounds much louder than the Onkyo 708 or the new Yamaha. I even asked the Yamaha tech service, and he said the RV-1105 was a much better AMP.

Albert
3db posts on January 07, 2011 16:29
alisrael, post: 780009
Hi,

I have a old RV-1105, which is actually working great. I am planning on upgrading the receiver to a 7.1 channel receiver. I was looking for a comparable receiver, and decided on RX-A800 or Onkyo NR708. The A800 is rated @95W/Channel, and the Onkyo is rated is 105W/Channel. Both of which are higher than my 1105 (rated @85W/Channel). However, what is surprising is I have to be at least @75% of the volume to hear audio levels that I get with my 1105 @30%. Sometime I dont even hear anything till -20db on these new receiver. The RV1105 sounds so much better than the new receivers, and I am not sure how a receiver rated @85W/channel sounds louder than the ones rated @95W or 105w. I know loud is not always better, but some effects are better when they are louder. Anyone has any thoughts?

Albert
Are you saying that you hooked these receivers up to your speakers in the same room as your current system and found the loudness difference/volume?
alisrael posts on January 07, 2011 15:00
Audio levels of new A/V receiver

Hi,

I have a old RV-1105, which is actually working great. I am planning on upgrading the receiver to a 7.1 channel receiver. I was looking for a comparable receiver, and decided on RX-A800 or Onkyo NR708. The A800 is rated @95W/Channel, and the Onkyo is rated is 105W/Channel. Both of which are higher than my 1105 (rated @85W/Channel). However, what is surprising is I have to be at least @75% of the volume to hear audio levels that I get with my 1105 @30%. Sometime I dont even hear anything till -20db on these new receiver. The RV1105 sounds so much better than the new receivers, and I am not sure how a receiver rated @85W/channel sounds louder than the ones rated @95W or 105w. I know loud is not always better, but some effects are better when they are louder. Anyone has any thoughts?

Albert
neveo posts on December 01, 2010 16:17
Where is the best place to enable networking in a home AV system. For example, I have Google TV and the HDMI 1.4a componenta in my system that are IP enabled can share the Google TV connection to my network. I have a Sony DVD that I used for Netflix before I got Google TV and it now shares the Google TV ethernet connection. But to what end? I am replacing my AV receiver with an HDMI 1.4a capable one - it seems that networking on the new AV would add nothing to the functionality of my system. So, unless I am missing something, I will go with the RX-667 and save the money I spent on a Logitech Revue box for Google TV
Post Reply