Yamaha RX-A1010 AVENTAGE 7.1 Channel Networking A/V Receiver Review
Yamaha RX-A1010 AVENTAGE 7.1 Channel Networking A/V Receiver Review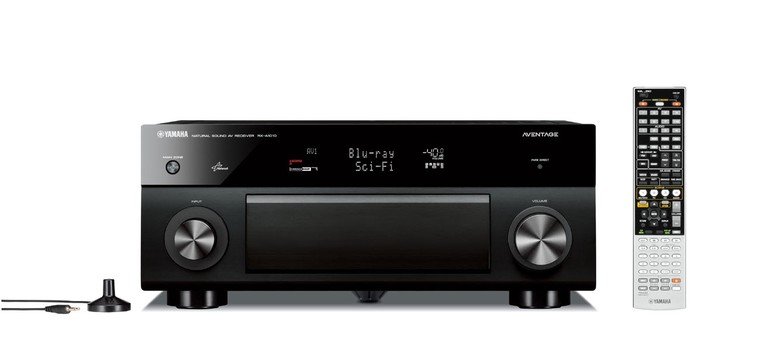 General
Stereo RMS Power (watts) 110wpc
THD in Stereo 0.06 %
Frequency Bandwidth (stereo) 20-20k Hz
Surround Power (watts) 110 x 7
On-Screen Display Yes, Advanced GUI
Multiple Zones 2
HDMI Standby Pass-through Yes
Video Conversion From Composite/S-Video/Component to HDMI
Internet-ready Yes, Ethernet
DLNA Certified Audio
Multibrand Remote Control Yes but not learning
Dimensions (W x H x D) 17-1/8" x 7-1/8" x 16-1/2"
Weight (pounds) 33.3lbs
Warranty 3 Years parts & labor
Surround Processing
Dolby Digital DD, EX, TrueHD, DD+
DTS DTS, ES, HD, HDMA, Neo6, 96/24
Inputs & Outputs
Preamp Outputs 7.2
Phono Input 1
Audio-Video Inputs 8
S-Video Inputs / Outputs 5/1
Component Video Inputs / Outputs 4/1
Optical / Coaxial Digital Inputs 4/3
Optical Digital Outputs 1
HDMI Inputs / Outputs 8/2
Subwoofer Outputs 2
Pros
Excellent performance for music and movies
Full Networking functionality for streaming audio
Slick HDMI control allows you to automatically switch between TV speakers & A/V receiver sound
Plenty of HDMI inputs and legacy connections
Cons
Crammed and limited remote control
Unable to take advantage of front presence & surround back channels simultaneously
Yamaha RX-A1010 Introduction

It's hard to
keep up with technology in such a fast paced tech world, but Yamaha doesn't seem to simply keep up so much as they seem to set trends.  Last year, when Yamaha launched their AVENTAGE line of receivers, we knew they meant business.  AVENTAGE was designed with the audiophile in mind.  Yamaha beefed up the amplifier and analog sections in their entire AVENTAGE line of receivers while still providing a full fledged set of features not found in many of their competitor models.  The RX-A1010 represents the middle of their AVENTAGE lineup of A/V receivers.  At just under $1,100, the 7.1 channel RX-A1010 has just about every networking feature and streaming service currently available while also supporting all of the latest HD audio and video formats, including full 3D support.  Let's take a tour of this receiver to see why it earns its AVENTAGE badge and see why it's NOT just a problematic middle child. 
Build Quality and Features
I was sitting down to do a tabulated comparison list between the RX-A1000 and RX-A1010 when I realized the feature differences between the two receivers isn't long enough to tabulate.  Basically the RX-A1010 builds upon the already solid foundation the RX-A1000 forged by upping the power to 110wpc x 7 from 105wpc x 7, HDMI CEC scene device control and an upgraded graphical user interface which Yamaha calls "Advanced GUI".  The RX-A1010 also weighs nearly1lb more than the RX-A1000 for those interested in using their new receiver as a curling device. 
Comparison of Logos of Yamaha RX-A1010 (left pic) to RX-A1000 (right pic)
Yamaha supports every current audio CODEC on the market and most of the major streaming services. If you can connect it, the RX-A1010 will play it and even convert it to 7.1 surround sound or employ a music enhancer mode to increase the perceived fidelity of compressed MP3 audio.  I, for one, am tickled pink that this receiver supports Pandora streaming services which I use every day around the house and at the office.
Yamaha has thrown a lot of goodies into the RX-A1010 A/V receiver.  We covered many of the similar features in our RX-A3000 review but let's do a brief recap of RX-A1010 specific ones.  For one, you've got full control of your RX-A1010 via a FREE downloadable Apple iPhone or Android App.  In fact, Yamaha just announced an update to their App ver 2.0 which allows you to stream audio directly from your Smart Phone to the receiver.  Want to impress your friends?  Just show them how you are controlling your entire home theater system via your smart phone.  That is certainly a worthy conversational piece at parties while you are slamming some brews with your buds and switching out the tunes (it's even more impressive if you're standing in the back yard listening to outdoor speakers!)  Yamaha's App gives you a lot more control over your AVENTAGE receiver than it did with its first iteration on the RX-Z7 and the graphical interface is much improved too.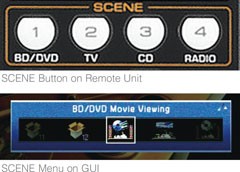 The SCENE PLUS function simplifies operation by providing one touch power-on along with selection of the desired source and the appropriate DSP programs. SCENE PLUS offers a choice of 12 SCENE selections, four of which can be assigned to the second zone in a multi-zone system. SCENE PLUS can be selected from the front panel, remote control, on-screen GUI and even from the AV Controller App for iPhone or Android devices.  Your parents or spouse will really appreciate using a feature like this to quickly get a Blu-ray movie running or a TV channel in surround sound without having to flip through a host of remotes and key commands.  Take the time to program this as it will pay you back in reduced angst from not too tech savvy loved ones trying to operate your system should you not be home.
Yamaha RX-A1010 Back Panel View
The RX-A1010 has a lot of goes-intos and goes-outas on the RX-A1010 just like you would expect from a receiver of this caliber.  Two HDMI outputs (simultaneous, but not independent) and 8 HDMI inputs ensures you've got enough connects for all of your HD devices.  The RX-A1010 will upconvert all of your 480i/p digital or analog video signals to 1080p via HDMI which is great for supporting your legacy devices without having to run legacy type cables to your display device.  You can connect up to 9 pairs of speakers to the RX-A1010 (seven for the main zone and two for zone 2).  The speaker connectors are high quality binding post, no cheesy spring clips here.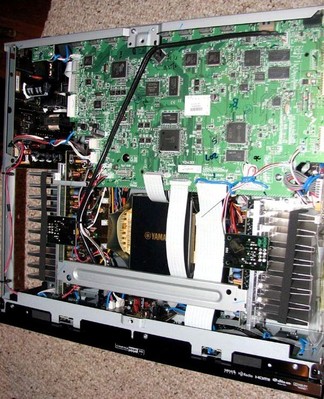 Yamaha RX-A1010 Top View
Yamaha truly lives up to their mantra of "better build quality" with their AVENTAGE lineup of receivers.  Pulling the top cover off the RX-A1010 revealed no wasted space and meticulous attention to detail for reducing mechanical vibrations in the product such as felt taped heatsinks, padding for every contact point to the top cover.  by the way, what do Quentin Tarantino and Yamaha have in common?  Answer: A foot fetish… Anytime I speak to someone at Yamaha about their AVENTAGE line of receivers, they insist on giving me a spiel about the wonders of their 5th foot. I will give them props in the fact that their alleged 5th foot is mounted directly under the centralized E-Core power transformer. At first this appeared to be a marketing gimmick, but there is method to their madness as it's a solid design goal to eliminate mechanical vibrations in a product, especially a transformer that likes to hum. 
Unlike prior Yamaha receivers at this price point, which utilizing a single heatsink for their power devices, the RX-A1010 splits this duty off to smaller dual heatsinks mounted on each side of the power transformer in what Yamaha calls a "dual symmetric power amplifier layout".  At first glance, these heatsinks appear small but more careful observation reveals extra thick metal plating at the base of the heatsink mounted to a very thick bottom cover to help dissipate heat and increase chassis rigidity.  Yamaha also employed brand new thermal control regulated power transistors in this baby to better manage heat.
The power transformer is quite beefy for a receiver of this size.  The two power capacitors are each rated at 12,000uF, 71V which are appropriate sized for a receiver of this power and class.  Yamaha's back panel lists 480 watts power consumption which I suspect is based on two channels driven.
It was clear to us that Yamaha proved their masterful craftsmanship with the execution of this compact, well engineered A/V receiver.
HDMI Features Like Never Before!

There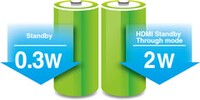 are a lot of HDMI functions that I want to espouse on behalf of the RX-A1010. First off, the receiver can take in anything and output it via HDMI - but we already went into that. Yamaha takes it to the next level by also giving you HDMI Standby which allows your spouse or children to watch TV using the TV speakers without having to power the receiver up.   You can even switch HDMI inputs while in standby mode.  Previous generation receivers were limited to a preselected input only. 
Yamaha ups the ante to the next level by incorporating full HDMI control which automatically switches sound between your TV speakers (when the RX-A1010 is turned off) to your home theater speakers (when the RX-A1010 is turned on).  You can even use the remote control from your HDMI compliant TV to control volume level on your RX-A1010!  We tested this on a new Samsung LED display and it worked flawlessly.  For the first time in my installation history, I was able to install a single cable (HDMI) from the receiver to the TV utilizing just one input on the display to handle all source types (ie. composite, component, HDMI) coming into the A/V receiver without any operational hiccups.  Yamaha I thank you for making installations and usability as easy as pie.  Neophytes of the world rejoice. You no longer have to go through complicated video switching on your display and A/V receiver if you get this receiver!
Power management and efficiency is another strong point of the new AVENTAGE line.  Yamaha makes its receivers eco-friendly with a low standby power consumption of 0.3W (2W in HDMI Standby Through mode).  They do this by employing a hybrid power supply which turns off all of the analog circuits when the receiver is powered down and engaged in HDMI Standby.  This offers tremendous savings on power and heat dissipation compared to older models. Welcome to the new AV receiver standard. Aside from these great features, the Yamaha RX-A1010 also supports Audio Return Channel (ARC) and the latest audio format support. It also can apply video processing to HDMI signals as well as standard definition sources.
See also:
Confused about what AV Gear to buy or how to set it up? Join our Exclusive Audioholics E-Book Membership Program!
Recent Forum Posts:
Darkwing_duck posts on November 15, 2013 12:32
Talk about a thorough review. Very detailed and the power measurements are very informative. I'm sure this took you a while to complete.

This review is the reason why I keep coming back to audioholics for reviews over other websites. The detail in the power measurements is rare.

Next time could you include the score on the video processing? I noticed you gave it a score of 3 out of 5, might as well include the test scores since hoj went through all that work

Also what's the final word of the receivers bi amping ability Gene….you mentioned it could bi amp the unused channels but how effective is it at that
ckpe posts on January 10, 2013 07:38
I have a A1010, but I have a problem - when I turn on an external source for example. iomega TV, DVD or another, then will the rx-a1010 not switch itself to the correct HDMI input, it means that every time I watch a movie or play, I first Should turn on my amplifier, set it to the correct input, and then turn it off again when I need sound out of my TV?? Anyone?
Send Margaritas posts on September 05, 2012 09:06
Ken C., post: 904928
Has anyone had trouble using Pandora and Rhapsody on the Aventage line? I have tried three receivers, two models of the Aventage line and they all stutter at the beginning of every track and sometimes in the middle of a track. Net Radio buffers and works fine. Yamaha has told me there is a defect in the first unit and that they have not experienced this in their personal receivers. I have still another on order, a RX-A120, to see if it is any better. I have upgraded the firmware on one of the machines to no satisfaction.
I have the A2010, and use Pandora a lot. No issues, other than the Pandaora 'Are you still Listening?' message if you leave it on all night.
asddsa541 posts on September 05, 2012 03:23
My older version has this feature

Ken C. posts on September 04, 2012 17:08
Has anyone had trouble using Pandora and Rhapsody on the Aventage line? I have tried three receivers, two models of the Aventage line and they all stutter at the beginning of every track and sometimes in the middle of a track. Net Radio buffers and works fine. Yamaha has told me there is a defect in the first unit and that they have not experienced this in their personal receivers. I have still another on order, a RX-A120, to see if it is any better. I have upgraded the firmware on one of the machines to no satisfaction.
Post Reply