Marantz SR5006 AV Receiver Review
Marantz SR5006 A/V Receiver
Summary
7ch Amp. 7.1ch Processing

Audyssey: Dynamic Volume, Dynamic EQ

DTS: HD Master & High Res. Audio/ES/96/24/Discrete & Matrix6.1/ Neo:6/Express

Dolby True HD/Digital Plus&EX/ Pro Logic IIz, IIx, II/Virtual Speaker/ Headphone

Discrete Amplification, EI Power Transformer

D/A Conversion: 192kHz/24-bit

Digital Signal Processing: Analog Devices SP21487

Video Off (Pure Direct), Source Direct

Chassis: Steel

Video Up-conversion: Composite/Component to HDMI, HDMI to HDMI

Auto Calibration by MIC: Audyssey MultEQ XT

AM/FM tuner

Bass Management, Variable X-over
Lip-sync (digital audio delay)

Software Upgradable: via Internet

Executive Overview
Something happened over at Marantz. Something wonderful. Near as we can tell, the audiophiles took over the design department and now their new line of receivers looks very much like their reference line of 2-channel products. And, quite frankly, it's really awesome. The first thing you notice about the SR5006 is that the huge LCD display that seems ever-present on all brands of AV receivers has been replaced by a minimalist round display. It now only shows source and volume level as well as status messages and track titles for streaming music. There's also an almost comical "Look at your TV, Stupid" banner when the GUI menu is activated. I like it. I mean, I really do. We have jammed so much information on the front of our AV receivers that I think it's all just taken for granted. How much of that information do we actually need to see, anyway? I think Marantz is onto something and I hope it catches.
When we first connected the SR5006 to the Internet, it immediately detected a firmware update and prompted us to install it. That really just set the mentality of how we experienced the rest of this review. Marantz has a product that is both powerful and easy to use and they do a lot of things right. The SR5006 is a 100W x 7.1-channel AV receiver that can do a second Zone. The only exception is that it has only a single pair of speaker binding posts that can be used for either Surround Back or the second Zone. More advanced systems will give you both connections and then just change modes in the software.

As for connectivity, well, you can hook up 6 HDMI sources, 2 component video and 3 composite video inputs, plus USB and Internet streaming. Basically, Marantz gives you an almost infinitely flexible way to route DVD players, cable boxes, music players and more to your theater and around the home. They even support Apple's Airplay, which means you can stream music from your laptop, iPhone, or other i-device. And if you don't use Apple products, you can still connect through the front USB port or even purchase an optional Bluetooth receiver.
We tried out a lot of the Network audio features, including Airplay, Pandora, Rhapsody, and Internet Radio. Speaking of Internet radio, it actually picked up several local stations which was extremely cool - and far better quality than what we get over the air to boot. In fact, all of the streaming functions seemed very high quality - relatively speaking. Airplay, in particular seemed able to stream whatever bitrate we had encoded, including lossless. Going back to the simplicity thing, Marantz just makes it easy to listen to whatever you want. We found ourselves spending more time listening to music, and less worrying about configuration or how we needed to set everything up - it all just worked.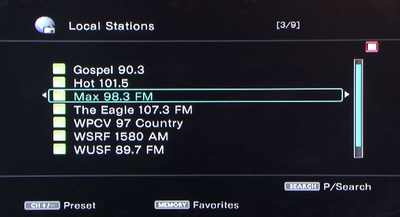 For the configuration we DID do, the on-screen GUI made it easy to set up our speakers - and it overlays on top of the current video, which is what we prefer. The Marantz graphical representation of a room is provided for setting speaker size and assigning the Zone 2/Surround Back Amplifiers. While the GUI is advanced, it's not the full-color version like you see on the next model up, the SR6006. The system does, however, come with a microphone and you can run the Audyssey MultEQ XT system and then take advantage of the included Audyssey Dynamic EQ and Dynamic Volume features.
For some hard core listening we queued up some favorite tracks like Pink Floyd's Dark Side of the Moon on SACD and the Blue Man Group's The Complex. On the Blue Man Group disc in particular, the opening track had a super-wide soundstage that really floated into the room. The "Piano Smasher" track was absolutely over the top with both powerful low end and bright, percussion. Finally, "Up to the Roof" just felt "live" with Tracy Bonham's vocals really sounding as if she was right in the room giving us a private performance.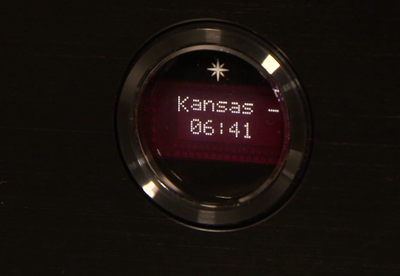 This is a great receiver for a number of reasons.  For under $800, the SR5006 offers power, inputs, and network streaming that go far above and beyond what we'd expect. On top of that it's rugged and looks totally audiophile - in a way that no one else does right now. This is a receiver that stands out in the crowd - and that's been very hard to come by in an age of nearly identical-looking black boxes. Kudos to Marantz for breaking the mold.

Unless otherwise indicated, this is a preview article for the featured product. A formal review may or may not follow in the future.
sholling posts on December 13, 2011 11:27
Nice video preview. I really like how it's digs a bit deeper under the hood rather than a 50,000ft view.
Post Reply
Confused about what AV Gear to buy or how to set it up? Join our Exclusive Audioholics E-Book Membership Program!